A Conversation With Two Black Women Suicide Attempt Survivors
---
I recently had the privilege of talking to two Black women suicide attempt survivors, Kellee Nicole, my former college roommate at the University of Pennsylvania — where she was a varsity cheerleader and her bipolar disorder was misdiagnosed for years — and T-Kea Blackman, a mental health advocate fighting to destigmatize and encourage conversations about suicide and mental health in communities of color with a mental health podcast called Fireflies Unite.
An edited, condensed version of our conversation appears below.
On the Black-White Suicide Paradox
According to the Centers for Disease Control and Prevention, Black women have (and have always had) the lowest rates of suicide in the country compared to white men, Black men and white women.
Kellee: "I don't believe that statistic. Maybe the different ways Black women are dying aren't considered suicide, because from what I know and the research I've done, we are dying… And if you counter in suicidal ideation and all the women who attempt and don't report, Black women are probably up there near the top. I never went to the hospital after any of my attempts.. And then there's all the self-destructive behavior that may not look like a suicide attempt but in reality, it is." 
T-Kea: "I agree. Even though we may die by suicide at lower rates, I would say that we struggle internally more and we probably have thoughts of suicide more, but we just may not act on it for reasons like we hear in church, that if you die by suicide, you're gonna go to hell… But I truly believe we are dying on the inside, because I know before I had my attempt, I felt like I was dead on the inside." 
On Being a Strong Black Woman and Performing Wellness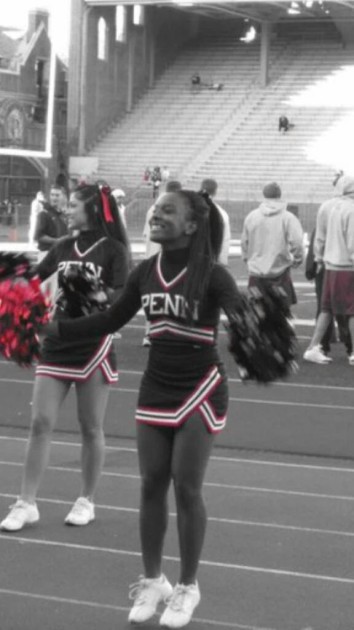 T-Kea: "We are the ones who can't have a mental illness because we have this narrative of the strong Black woman. Yeah, we're strong, we're Black, but that doesn't mean we should have to carry all this weight on our own. Why wouldn't we seek help? Our first instinct is to pray about it or to go to a church. I'm not saying we shouldn't do those things but there's a double standard. If someone has AIDS or cancer, you would tell them to go to the doctor, but because my mental illness is emotional and mental, I'm told to pray about it. It's not given the same amount of severity. We need to understand and accept that cancer and mental illness are both illnesses that can both essentially kill people."
Kellee: "I could go on about the performance of not being depressed or feeling suicidal for years. It takes so much mental energy that it just drains you and makes you, or makes me rather, even more depressed… I believe I learned how to hide my symptoms through cheerleading, a sport I started when I was 11 years old. You are always told to smile and be energetic and this usually overshadowed my depressive symptoms."
On Mental Health and the Black Church 
T-Kea: "The Black church can be very helpful, but it can also be very detrimental. Growing up, I was very religious… church provided me with some sense of hope and relief from my dad's struggles with drug abuse and selling drugs, and my mother being in a verbally and physically abusive relationship… Once I was diagnosed with depression and anxiety, and I went to my church family, they were very supportive. They would say things they believed to be helpful, like a pastor told me I should talk in tongues for 20 minutes a day and people said I'd go to hell if I died by suicide, as opposed to telling me to go see a therapist. I do believe their hearts were in the right place. I just think they are uneducated and ignorant when it comes to mental health.
…My religion at the time of my attempt played a huge role. I was at the point where I didn't care because I was like there's no way I'm supposed to sit here in all this pain. When I get into in an episode, I also experience body aches and body pains in addition to the emotional and mental heaviness of it. I was struggling emotionally, physically and mentally for months at a time and I was not getting any relief, so at the point, I didn't care what a pastor or a book said because I was hurting so much. A person can only take so much. And so I believe that there are a lot of other women who may be in that situation. While they might not have the attempt, I'm pretty sure lots of women have actually have the thoughts."
Kellee: "I grew up Christian. My family is devoutly Black Southern Baptist. I was taught to believe that praying to a God or a Higher Power would somehow 'fix things,' or at least make them more tolerable, so religion, for me is closely linked to my mental health. Telling me that I wasn't getting 'better' because I wasn't 'praying hard enough' was not a fun experience, or knowing that I could never tell my family about being queer out of fear of losing any financial support. Now I identify with atheism, which has made me more tolerant of all forms of mental health treatment, even the types not 'professionally' prescribed." 
On Myths, Shame and Storytelling 
T-Kea: "Telling my story is very liberating because when I was first diagnosed with depression and anxiety, I was really shameful. I thought it was a character flaw, that there was something wrong with me, and that I shouldn't be feeling this way because of my accomplishments and accolades. We're taught to associate material things and accomplishments with whether or not someone can have a mental illness, it's like, you have money, why are you depressed. Yes, money can impact your mental state if you don't have enough of it and it can certainly be triggering… but you can have all the money in the world, you can have all the degrees in the world, but you can still be broken… So for me, I felt really ashamed, but once I started talking about my story, I said, wow, this is very liberating."
Kellee: "I guess I find telling my story therapeutic in a way. It reminds me that these things really happened and sometimes hearing other stories helps, but sometimes it just pushes me into darker places."

On Suicidal Ideation, Misdiagnosis and Events Leading Up to Attempt 
Kellee: "I went to therapy from freshman year of college until the week before I left school, and they misdiagnosed me for four years, and it only made my condition worse, and it made my life at Penn hell. I was on different medications, none of them worked, none of them helped, some of them made me worse. I took two or three semester-long breaks from school. One day, I was depressed about something, really, really depressed. I took all of my [medication] at once, and I sent a message — maybe a cryptic email, wasn't really a goodbye or suicide note, it said 'live your best life' or whatever — and basically didn't expect to wake up the next morning, but I did. I was part of the school gospel choir, and we just happened to be singing at this church that morning, so, I went and sang at the church and acted like nothing was wrong… I just wanted to be around friends." 
T-Kea: "I first started showing symptoms or signs at like 13 or 14, and throughout high school, suicide ideations would come and go, and I would just suppress it. Then in college, the same thing would happen… I think what was triggering in grad school was that I was dealing with financial stuff, how I'm going to pay for school, how I'm going to get a loan and pay it off, and then just trying to simply survive day to day, groceries and my car and those day-to-day things you need to survive. In addition to working every day and being a full-time grad student, my mom was still in this abusive relationship and my siblings were calling me and telling me about fights and things that were happening. Even though I wasn't there, I still had all of that sitting on my back. 
It's only so much a person can take… It just got to the point, around 24, 25, when I just couldn't take it anymore. I was tired of suppressing all of this stuff. I was experiencing body aches, the anxiety was getting really bad, and not being able to get out of bed, and I was just like, I can't do this anymore, and so that's what led to it. I texted some friends that I probably wouldn't be here by the time they find me. I started drafting a letter to my siblings because I'm the oldest of seven. I was hoping I would just fall asleep and wouldn't wake up, but it just so happened my friend ended up calling the police and they got there in time and they rushed me to the hospital." 
On Suicide as Selfish and Suicide as Self-Care 
T-Kea: "I don't view suicide as selfish because for me, it wasn't that I wasn't thinking about other people. I love other people and I know other people love me. I always knew that. I have a great support system. I'm so blessed between family and friends. My situation wasn't that I didn't think anyone cared. I was tired. I was drained of dealing with all of that emotional and mental heaviness. For someone to say that another person is selfish, you're not the one in that person's body, you don't know what they're feeling. You wouldn't say that to someone with another condition, Oh, you're selfish for dying." 
Kellee: "A lot of people think that not dying from suicide is God giving you a sign that you're destined for greater things or something like that, but being an atheist, my thought is that suicide [can be seen as] one of the biggest forms of self-care because even though things may seem temporary or for others they may appear temporary, we don't know how long that person has been suffering." 
On Supporting a Loved One With Mental Illness
Nineteen out of 20 people who attempt suicide do not die. How do we help those who struggle with suicide ideation and/or have attempted suicide? 
T-Kea: "It's not necessarily what you say but your approach… One friend was very dismissive when I told her about my attempt, and when you're in that state, to have someone dismissive, that could have been the very trigger. But they didn't think about that… A friend for me is someone who can take me when I'm doing great and you can take me when I'm low. You can't just pick and choose when you want to be bothered with me because that's not what a friendship is." 
Kellee: "When you know someone has suicidal thoughts or depression, check on them every day, even if it's just a text, even if they don't respond. There could be that one day they respond… But just the constant knowing that someone is out there, that someone cares, is a good reminder that someone is thinking about you."
 O
n Each One, Teach One
Kellee: "I honestly don't believe there's a reason I'm still alive… but since I am, I may as well write about it. I plan to write about how both gymnastics and being a cheerleader over half of my life shaped my mental illnesses, both positively and negatively, from pre-adolescence to early adulthood to now. Being a college athlete and involved with Division I sports while being improperly treated for Bipolar I disorder was a disastrous environment, hence me never graduating from Penn. Basically, I want to be a cautionary tale." 
T-Kea: "I want to start building a community for my people, people of color, Black people, to be able to have these conversations and to create a safe space for people to feel like their life matters and their story matters. A lot of times we want to feel validated, we want to feel important, we want to feel like people understand us. Through the podcast, my writing and speaking opportunities, campaigns and programs, I intend to do just that. If I can just help one person, then that one person will help someone else, and it will be like a ripple effect."
For more stories about mental health in the Black community, visit So Black and Blue.
If you or someone you know needs help, visit our suicide prevention resources page.
If you need support right now, call the National Suicide Prevention Lifeline at 1-800-273-8255, the Trevor Project at 1-866-488-7386 or reach the Crisis Text Line by texting "START" to 741741.
We want to hear your story. Become a Mighty contributor here.
Lead photo provided by contributor
Originally published: February 17, 2018