What If Other Deaths Were Discussed Like Suicide?
---
Death is often a difficult subject to discuss, but for many whose lives end with suicide their struggles are misunderstood, ignored or even mocked.

But the staggering statistic is that suicide was the tenth leading cause of death in the U.S. in 2010, and is the second leading cause of death for people between the ages of 25-34.

How we discuss suicide matters. When we write off someone's experiences by thinking them weak or worthless, we ignore the devastating impacts of mental illness and depression which are the real cause behind most suicides.
I made this comic as a man who attempted to end his life in 2010 at the age of 22. My subsequent recovery from injuries as a result of the attempt and depression demonstrates my strength. Trying to end my life had nothing to do with weakness and everything to do with illness – a difference brought clearly to light in this comic.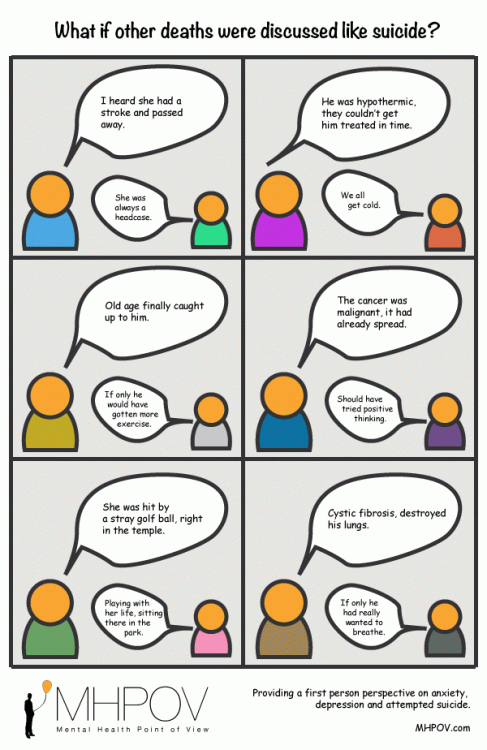 If you or someone you know needs help, see our suicide prevention resources.
If you need support right now, call the Suicide Prevention Lifeline at 1-800-273-8255.
To see more from Joshua R Beharry, visit his website Mental Health Point of View or check out his work for HeadsUpGuys.
Originally published: July 27, 2015