Why We Need to Talk About MENtal Health and the High Rate of Suicide in Men
---
Editor's note: If you experience suicidal thoughts or have lost someone to suicide, the following post could be potentially triggering. You can contact the Crisis Text Line by texting "START" to 741-741.
In October of 2016, a well-respected and much-loved fire battalion chief died by suicide on the Treasure Coast of Florida, where I live. I did not know him or his family, and I would never assume I could relate to or understand his struggle, or the depth of the sadness his friends and loved ones have experienced in the aftermath of his passing. What I do know is that he left behind a public and very important message on Facebook before his death, expressing that post-traumatic stress disorder (PTSD) is real for firefighters, and to please get help for your loved ones quickly if you see the signs. He referenced years of haunting images he simply could not escape.
The facts about men and mental health are startling. Statistics on The American Foundation for Suicide Prevention website indicate that men die by suicide 3.5 times more often than women, and middle-aged white men have the highest suicide risk. For veterans and first responders, that rate increases. According to the most recent study conducted by the U.S. Department of Veterans Affairs, 20 Veterans die by suicide every day.
While there are many factors which contribute to these statistics, I have no doubt the stigma associated with men talking about their feelings, and the cultural expectation that men should be tough and "man up," contributes to this national epidemic. I am not a mental health expert, though I work with many at a nonprofit children's mental health agency, Tykes & Teens, in Florida. In my work in writing grants and reports about mental health programming, I've had the luxury of learning more than the average person about the importance of mental health treatment and maintenance, and the dangerous ramifications of not reaching out for help. As a result, I was able to recognize the symptoms of a mental health issue in my own child, and get help.
I asked the Executive Director at Tykes & Teens, Jeffrey Shearer, ACSW, CAP, LCSW, for his take on why men are more likely to take their own lives than women, and why men don't reach out for help. "While women tend to reach out to other women and connect with them when they are struggling," Shearer said, "Men are far less likely to feel connected enough to other men to reach out about their mental health struggles, and that isolation is very dangerous."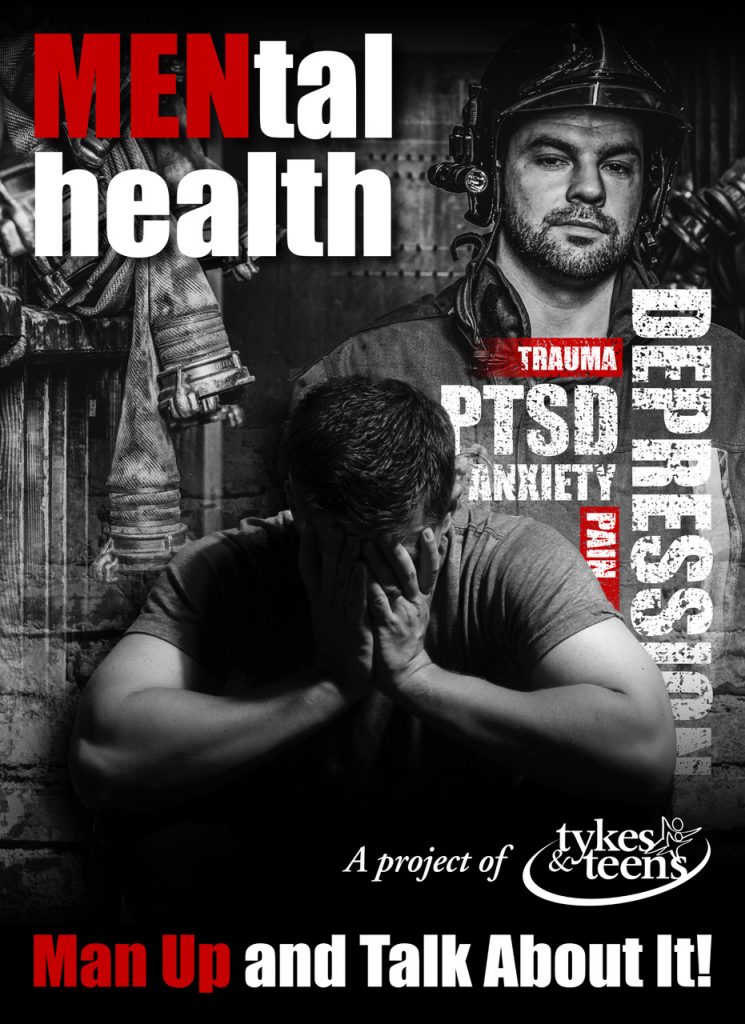 While men don't need to have a high stress career to be at risk for suicide, for those men who do live with the effects of PTSD from combat or first responder work, the isolation can become fatal quickly.
The good news is, we are seeing more men speak out about the importance of removing this stigma. Prince Harry's Heads Together charity and outreach are putting a worldwide spotlight on men's mental health. For our part, at Tykes & Teens we are embarking on a public relations campaign to help encourage men to reach out. If you'd like to learn more about what we hope to do, you can visit this link to watch a brief video and vote for our project to receive funding through the USA Today "A Community Thrives" initiative.
Most importantly, we hope that men will create a conversation about mental health among the other men in their lives. If you've struggled, sharing your story may be all it takes for another man to feel there is hope and that he is not alone.
If you or someone you know needs help, visit our suicide prevention resources page.
If you need support right now, call the National Suicide Prevention Lifeline at 1-800-273-8255, the Trevor Project at 1-866-488-7386 or text "START" to 741-741.
We want to hear your story. Become a Mighty contributor here.
Image via contributor
Originally published: April 21, 2017