What Happened When I Tracked My Mood Every Day After My Suicide Attempt
---
Editor's Note
If you experience suicidal thoughts, the following post could be potentially triggering. You can contact the Crisis Text Line by texting "START" to 741741.
On September 13, 2019, I attempted to kill myself.
Before I could, a police cruiser drove past me and pulled over to ask me what I was doing. After realizing I wasn't in a good state of mind, he drove me to the hospital and I was admitted into the psychiatric ward.
I spent what seemed to be the worst week of my life in the hospital, but oddly enough, it was during that very dark time in my life when I decided I wanted to take back my life and beat my depression.
I got the idea of tracking my mood after my suicide attempt from an old coworker who used to track her eating habits in a similar fashion. I originally just intended to track my days for a month. However, it became such a habit for me at the end of the day that I just kept doing it. Sometimes it can be hard to realize how far you have come, so I wanted to use it as a motivator.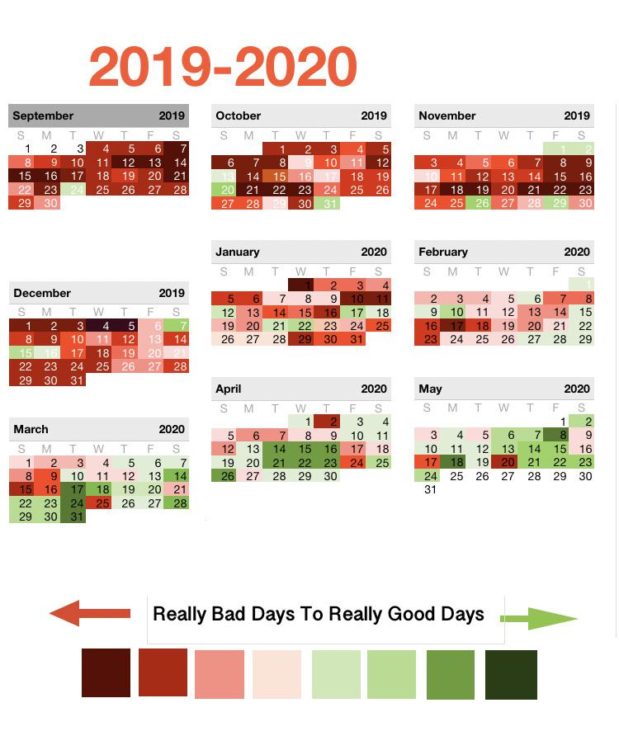 My therapist introduced me to many things I could do to change my mood. One thing she urged me to do was find a support system. See, I was a pretty big loner. I never really did much but stay in my room and hate myself. Finding a group of people who understood me helped me in two ways: it allowed me to change up my environment as well as meet new people.
I was a student at the time and I was doing a lot of studying at my local Starbucks. Although I wasn't really looking for a job at the time, I decided to apply and ended up getting hired there! You wouldn't think that getting a part-time job would change much, but it made a significant impact on my well-being. I surprisingly met a lot of lovely people there, between the customers and my coworkers. For the first time in my life, I was making friends and since I was making friends I was being invited to things! I was finally doing stuff besides sitting alone in my room. I was trying new things and making new memories. I felt like I was a part of something.
Although it was definitely turbulent at times, I began to notice a trend in my mood tracking. My days were transitioning from dark red to pinkish to light green. Seeing that for myself made me feel motivated for the first time in over a year. I felt like I was finally starting to get my life on track.
Now I can't really attribute this to one thing in particular, but more the aggregation of finding a medication that works well for me, going to a therapist weekly and finding myself a support system to help me develop new relationships and get me out of a toxic environment.
Now today, in addition to all the things listed above, I am also starting to do some physical activities as well, which has helped me feel somewhat confident. I can't really remember the last time I felt confident.
I know depression is extremely difficult and gives you a constant feeling that there isn't a point to anything. It's a vicious cycle that eats you alive. I encourage individuals struggling with depression to use multiple methods to combat it. Although it may be hard for you to see when you're clinically depressed, things can get better.
Luckily, I am still here to see that.