We Have to Start Addressing the Real Impact of Suicide
---
My mom's funeral had over 500 people in attendance. She was a high school English teacher and well-loved by her 200 students. She was the leader of my Girl Scouts Troop, and the snack mom of my soccer team. She had countless friends and colleagues that enjoyed her humor and her ability to bring a room together. She was the glue in our family, organizing events and maintaining traditions. Her influence was significant in the lives of others. When she died by suicide our community was rocked. Her suicide impacted more than six.
My cousin made every holiday gathering such a delight. He was hilarious and we played pranks on each other like we were children. I would often find baby carrots at the bottom of my soda and upon discovering them glance over at my cousin to see him uncontrollably laughing. He was a joy to be with and loved by all. He served in the military and was deployed to Iraq. Shortly after his return, at the age of 30, my cousin took his own life. Our family was devastated again, his friends were in shock, and his Army buddies grieved their brother. His suicide impacted more than six.
Statistics typically estimate each suicide "intimately" or "directly" impacts at least six people. Six people? When we account for family members, friends, colleagues, neighbors, church congregations, participation in community organizations and military involvement, the impact of a single suicide can be catastrophic. I would argue suicide always directly impacts more than six.
There are organizations in place to help reduce suicide. Prevention phone lines and text lines are available 24/7 to assist people thinking about taking their own life. There are hospitals that exist to keep individuals struggling with mental illness alive when their depression tells them death would be best. We designate our money, time and efforts into keeping people alive. And we should!
Once a suicide takes place, however, the resources are minimal at best. There are, on average, 117 suicides in the U.S. every single day. Only in the past five years have more realistic numbers become available to account for survivors. In his article Estimating the Population of Survivors of Suicide: Seeking an Evidence Base, Alan Berman estimates that although it is difficult to determine the exact number of survivors directly impacted by each suicide, the average could be as high as 32, not six. If we use this more realistic number, then we have approximately 3,744 people becoming survivors of suicide loss every single day in the United States. At the end of one year, in the U.S alone, the number of survivors would exceed one million people. And for some reason, those one million people feel completely alone, isolated and believe they have no one that understands them. How is that possible?
I want to change this for survivors. Today, when those 3,744 unsuspecting individuals become survivors, I want them to know what is in place, where they can turn and who they can talk with. I want them to know they are not alone because millions of people worldwide know this same loss. To say that only six people are directly affected by a suicide is to minimize the impact on a survivor and glance over the devastation it causes. In his book "Deaths of Man," E. Schneidman wrote, "The largest public health problem is neither the prevention of suicide nor the management of suicide attempts but the alleviation of the effects of stress in the survivors whose lives are forever altered."
Suicide postvention is the best prevention and because of that, we must reach out and do all we can to connect survivors to resources, reduce the stigma and talk about suicide openly. We must take care of those impacted by the suicide of a loved one. After my mom's death, it took me 13 years before meeting another person affected by suicide. But statistically, that cannot be accurate. I believe it took me 13 years because A) nobody wants to talk about suicide, B) nobody knows how to respond to survivors within society, and C) the stigma around suicide is far too great and creates such an uncomfortable setting that we would all just rather ignore suicide completely. If we refuse to openly discuss suicide though, we only reinforce the stigma!
After a suicide, our feelings are ever-changing. Some days we are filled with grief, shock, trauma, pain and millions of unanswered questions, while other days the loneliness, betrayal, isolation, anger and despair are too much for a survivor to process. And, in the midst of all this pain, to feel alone and believe that nobody understands us is sometimes just too much as we contemplate our own suicide.
When we pretend something only impacts six people directly, it is easy to overlook the need for resources to be made available. When we look at numbers honestly though, we see a sincere shortage of assistance and available programs. We cannot magically make new resources become available overnight, but we can point folks in the direction of existing resources. Sometimes, programs exist in our own backyard and we are unaware of them because such little dialogue is taking place.
There are some fantastic resources currently in place:
The Gift of Second– Offering hope, encouragement, and connection through blogs and videos for anyone impacted by a loved one's suicide.
American Foundation for Suicide Prevention– contains resources for survivors as well as a search option for in-person groups in your area.
Our Side of Suicide– offers blogs written by survivors for survivors.
Friends for Survival– offers in-person support groups in California and a national newsletter sent out monthly.
Heartbeat Grief Support– One of the national pioneers of in-person support groups.
American Association of Suicidology– offers online support as well as an annual national conference for survivors.
In honor of the 112,320 people that will become a survivor in the month of April alone, I want to challenge you to share this piece 112,320 times. Share it with someone you know that has been impacted by suicide so survivors are made aware of resources. Then, if you know of other resources that are currently available for survivors, comment below or head over to Twitter, Facebook, and Instagram and use #morethansix to share those resources with other survivors and to start the discussion for postvention care being just as important as prevention. It's a long time overdue and yet invaluable to this demographic.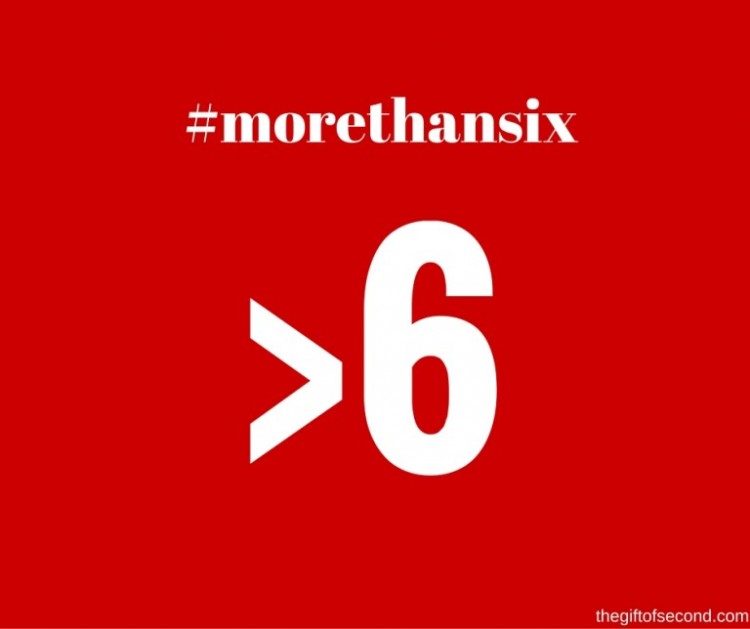 Regardless if the suicide took place 40 years ago or just last night, the grief lasts a lifetime. Most people not impacted by a suicide will never fully understand this. Let's make sure anyone affected by a suicide knows there are people who understand. Let's let survivors of suicide loss know we see them, we haven't forgotten them, we know their pain and we are here for them. Let's start talking.
Mostly, I just want other survivors to know they are not alone. I don't want anyone else to go 13 years without finding someone who understands.
If you or someone you know needs help, see our suicide prevention resources.
If you need support right now, call the Suicide Prevention Lifeline at 1-800-273-8255.
This post originally appeared on The Gift of Second.
The Mighty is asking the following: Tell us a story about a time you encountered a commonly held misconception about your mental illness. How did you react, and what do you want to tell people who hold his misconception? If you'd like to participate, please send a blog post to community@themighty.com. Please include a photo for the piece, a photo of yourself and 1-2 sentence bio. Check out our Submit a Story page for more about our submission guidelines.
Originally published: April 14, 2016