I Refuse To Feel Ashamed of My Suicide Attempt
---
Editor's Note
If you experience suicidal thoughts, the following post could be potentially triggering. You can contact the Crisis Text Line by texting "START" to 741741.
A few years ago, I was out on a walk. I tripped on nothing. My iced coffee and myself went flying. I knew right away I'd hurt my ankle, I've done so many times and I'm pretty aware of that particular pain. A guy on a bike stopped to help me; he was laughing but so was I. I told him I was fine, and limped home minus my iced coffee.
I went to the walk-in clinic to have it checked out to make sure I hadn't broken anything. The doctor and I had a good chuckle when I asked him to evaluate my "wrapping technique." Of course I wasn't dropping beats, but that was the joke. He sent me for an X-ray, and the technician let out a good-natured sigh when I couldn't understand her positioning instructions. All was well.
I posted pictures of my aggressive bruise and people affably chuckled and wished me well. Apart from the pain, if I were being honest I'd describe the whole situation as funny and in an odd way almost enjoyable.
I once tried to end my life. I was taken to the hospital under hushed and awkward tones. A nurse yelled at me when I didn't do something exactly as she'd asked. Multiple doctors asked me questions that were either harmful or rude. I was sent home from the hospital that same day, with very little assistance.
At that time, I felt a lot of shame over my own actions and regarding the whole experience. The two incidents stand in stark contrast. Of course trying to take your own life isn't a laughing matter, but it doesn't mean you should be treated poorly or with scornfulness. I've since had much better experiences utilizing the hospital for my mental health, so I know it's not always this way.
This shame I experienced led me down a path where, for a time, I felt I couldn't be truly honest about how I was. It hindered my safety and healing. I don't exactly know when or even why it was, but at a certain point I decided I needed to change my thinking. So I did, and that change has kept me alive. I refuse to feel shame.
I now know that I have major depressive disorder (MDD). Oh and let me check my notes … suicide is most certainly mentioned in the diagnostic manual in MDD's list of symptoms. So yes I've felt suicidal again. Do a quick Google search on mental illness symptoms. One of the symptoms right there in black and white is "suicidal thoughts or actions." This is a symptom, not a weakness. This is a symptom, not selfishness. This is a symptom that we need to speak about because by speaking we can treat it. By speaking, we save lives. Not being ashamed to speak has saved mine.
I've since required hospitalization twice. Both times I walked into the ER of my own choice and flat-out told them I needed help. I'm not saying this is necessarily an easy thing to do, and it does require a lot of self-advocacy. But the point is I did it, and I didn't let shame stop me. I've chosen to separate myself from the behavior and attitudes of the past.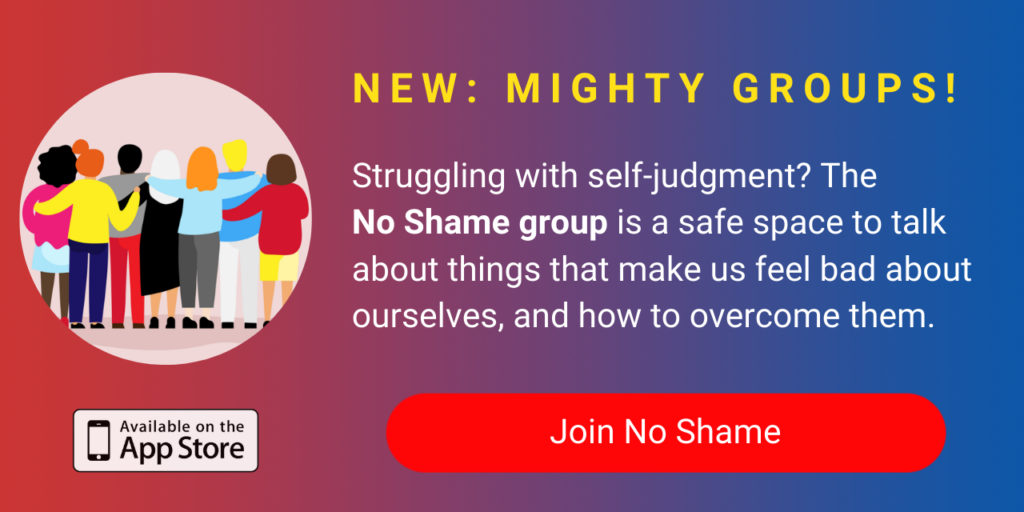 On several separate occasions, I've sought out other support to keep myself safe, such as early appointments with my psychiatrist or a phone call to my therapist. We then set up extra appointments, do medication adjustments, make safety plans, and more. I've even made a scale that helps me express myself when things get tough. All things designed to keep me safe and healthy, which would not take place if I were too ashamed to talk about feeling suicidal.
Here's another little story that I think illustrates my point. I have a distinct memory of my first hospitalization. During this stay, a nurse commented to me that I had a lot of visitors and that was unusual for most. She was happy to see I had lots of great connections. If I had to guess, probably 10 people came to see me.
The point I'm trying to make by telling that story is that, I had so many visitors because I didn't keep my situation a secret. Even if it was a bit outside people's comfort zone, they came to visit me anyways. And for those that didn't come to the hospital I had plenty who came by my apartment later.
A friend visited whose brother is often also hospitalized, who noticed me in fact because he was there at that time. A breath of fresh air that acted like this was the most "normal" thing in the world, because to her it was. A work friend came who knew I was struggling but not how much. She was able to then tell my other work friends what was going on, and helped facilitate some post-hospital hangouts. A good friend took me to see movies, and shared she's been suicidal before. A friend brought her young son and even tried to explain to him sometimes people need to go to the hospital if they get too sad. He seemed to get it, and brought me Lego. Connection, connection, connection.
By not feeling ashamed, I was able to invite people into my dark place, and in many cases we grew a deeper relationship. Connections are what help me when I'm depressed; I think this is true for most people with a mental illness or not. Shame wants us to disconnect, to hide our suicidal feelings and thoughts. Connection says it's OK to be your authentic self. People who feel connected won't walk away from each other during the yucky parts; they'll walk together and grow.
I also know not everyone has a wide circle, or people who they can trust. I also want you to know that's OK, and that can change. It's possible to build yourself a circle and find great connections over time. Get yourself some awesome professional supports, join support groups, try out a nerdy club you'll love, join a group on The Mighty. Over time you can build yourself an awesome network. When money is low, it's also important to know many of these options are free or can be reduced. It does take time and effort (and yes, sometimes money) but it's worth it. You are worth it.
It is a shame that folks don't always get the treatment and support that they deserve when they are feeling suicidal. It is a shame that the medical system isn't always designed to properly care for folks in such a crisis. It is a shame that folks don't get cards and balloons when they are receiving psychiatric care. I am not ashamed of being a suicide survivor, nor am I ashamed of suicidal thoughts that still arise. These thoughts are a part of my illness, and so I treat them as such.  I reach out to my connections, without shame.
If you enjoyed this article, please take a moment to check out some of my other articles here on The Mighty. If you'd like to follow along with my journey, you can find me on Instagram as @mentalhealthyxe.