A Memoir of a Man Who Dared Greatly, Then 'Slipped Away'
---
"Slipped Away" is a celebration of the life of Steve Tarpinian, my soulmate, best friend and the love of my life for more than 33 years. At the age of 54, Steve took his own life on March 15, 2015 in Sedona, Arizona, the day after checking out of a one-month stay at an inpatient mental health facility there.
After he died, I didn't want Steve to be forgotten. I wanted him to be remembered not only as a good athlete, a great coach and a visionary entrepreneur who laid the foundation for the sport of triathlon on Long Island. More importantly, I wanted him to be remembered most as a kind, compassionate man who tried his best to help people and in the process, profoundly impacted the lives of many in positive ways both in sport and in life. This, I believe, is Steve's true legacy. Thus, the telling of Steve's story became a big part of my grief journey.
"Slipped Away" had its origins in the daily Facebook postings I made about Steve in the weeks following his death. My friends told me I should write a book as they loved reading my anecdotes about life with Steve. Since I didn't consider myself a writer and knew nothing about publishing, I decided to channel my grief into creating a Shutterfly photo book, which I now call my first edition of the eventually published "Slipped Away." The hours I spent creating this photo book gave me a respite from the crushing grief I was dealing with.
After I finished the photo book, I felt I was ready to publish something. Since I still didn't feel like a  writer, my thought was to publish a children's book based on the true short story Steve had written about the mice that came into our home after Hurricane Sandy in 2012. However, I felt that I wanted to do more than write a children's book, but I couldn't quite put my finger on exactly what I wanted to do. Eventually, in June of 2015, my true purpose for writing Steve's memoir became apparent to me. I wanted to carry on Steve's legacy in such a way that he could still help people even though he is no longer with us. I believe the telling of his story will inspire conversation about suicide and mental illness.
In the early days after Steve died, I did not want to talk about Steve's suicide and was adamant with a local reporter that he could not publish the cause of death. I was telling people that Steve died in his sleep. Then, I realized I was guilty of propagating the stigma with my silence about the true cause of Steve's death and re-enforcing the shame associated with suicide. We, as a society, are OK with talking about other causes of death. We do not feel embarrassment when one of those illnesses may be the cause of death for a loved one. The same is not usually true for suicide.
In years past, breast cancer and HIV/AIDS were stigmatized. Society has made tremendous strides since then. Due to awareness campaigns, there is less embarrassment around talking about these illnesses, which I believe has resulted in more treatment options and those who struggle now have more hope.
We need to get to that point with mental illness. Until we as a society can talk openly and freely about suicide and mental illness, things will not change. Yes, progress has been made, but we still have a long way to go.
Steve, like so many others, had a disease that was unseen, and like so many others who are similarly affected, his anguish was further exacerbated by trying to hide his pain. So many people were shocked that Steve took his own life. Many thought Steve "had it all" as he was handsome, athletic, intelligent, well loved and successful in business.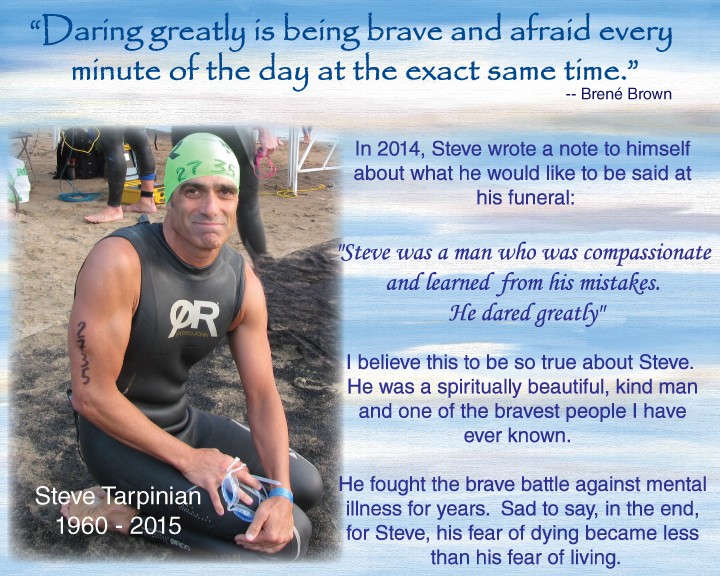 Although I knew he struggled, I had no idea to what extent. I never would have thought he would take his own life. Steve was my pillar of strength, my rock. I believed he would be able to win his war against his demons. If I only knew then what I know now…
Steve will continue to help others even though he is no longer with us. The proceeds of his memoir are donated to Project 9 LINE, a nonprofit organization of veterans helping other veterans by offering outlets in the arts to those struggling with post-traumatic stress disorder (PTSD) and depression.
And so, my grief journey continues, along with my mission to carry on the legacy of a man who dared greatly.
Follow my journey on Slipped Away.
If you or someone you know needs help, visit our suicide prevention resources page.
If you need support right now, call the Suicide Prevention Lifeline at 1-800-273-8255. You can reach the Crisis Text Line by texting "START" to 741-741.
We want to hear your story. Become a Mighty contributor here.
Image via Thinkstock.
Originally published: December 22, 2016