What You Should Know Before Sharing That Viral Kate Spade Facebook Post
---
Sometimes the news isn't as straightforward as it's made to seem. Elizabeth Cassidy, The Mighty's news reporter, explains what to keep in mind if you see this topic or similar stories in your newsfeed. This is The Mighty Takeaway.
Editor's Note
If you experience suicidal thoughts or have lost someone to suicide, the following post could be potentially triggering. You can contact the Crisis Text Line by texting "START" to 741741.
Renowned fashion designer Kate Spade died by suicide on Tuesday. Since then, fans have shared their condolences on social media. One customer's Facebook post about Spade and mental health stigma went viral with over 200,000 shares by Thursday.
Claudia Herrera Hudson posted a photo of her Kate Spade bag and wallet with a lengthly caption on Tuesday. She said in her caption she knew details about Spade's life, but she didn't know she had depression. Herrera Hudson pointed out celebrities who she knew had physical illnesses — Cynthia Nixon had breast cancer and Lance Armstrong had testicular cancer — but her awareness of celebrities with mental illnesses didn't match that of those with physical illnesses.
"Because somehow society has made it more acceptable to talk about breasts and testicles than about the mind and the chemicals and hormones it releases and controls and the messages it relays," Herrera Hudson wrote.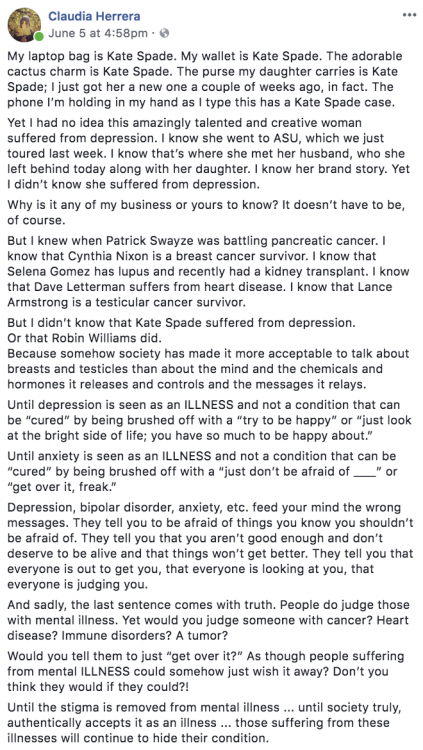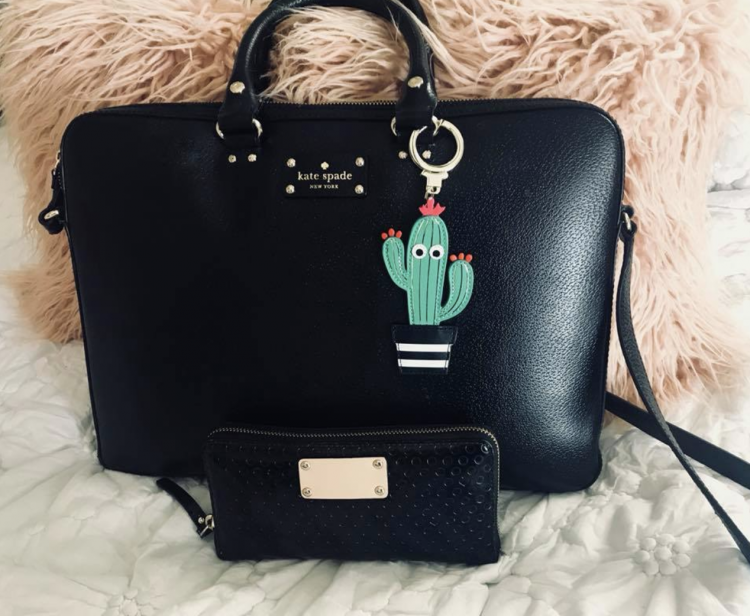 Spade's sister, Reta Saffo, said Spade hadn't sought treatment for fear it would hurt her "happy-go-lucky" image. An unnamed source told NBC News that her sister was estranged from the family and her comments were not of someone who knew Spade. Spade's husband, Andy, said his wife had anxiety and depression and had been seeking treatment for five years.
Even if Saffo's comments are untrue, it isn't unheard of to hide a mental health condition from others because of stigma.
"Until the stigma is removed from mental illness … until society truly, authentically accepts it as an illness … those suffering from these illnesses will continue to hide their condition," Herrera Hudson wrote.
While the overall message of the post is important, there's one problem. Herrera Hudson included Spade's suicide method toward the end of her post. (The Mighty is not linking to the post for this reason and the part of the post mentioning the method has been cut off above.) Sharing the method goes against suicide reporting guidelines. The guidelines state that publishing the method could increase the chance of suicide contagion — copycat suicides following media attention of a suicide, often by a celebrity.
Herrera Hudson isn't a journalist. She wasn't aware of the guidelines, she told The Mighty. She read the information on "prominent sites" that disregarded these guidelines. I say disregard because, at this point, if you're in journalism, you know these rules exist. You're choosing to ignore them.
"I wouldn't include those details again now that I know the reason behind not doing so, and I'm surprised now that other articles on prominent sites do," Hererra Hudson said.
While the guidelines are made for journalists, everyone should be aware of them when posting to social media. Of course, we can't expect people to follow these guidelines if major news outlets continue to violate them by publishing methods and suicide notes. This information doesn't help anyone. These details may feed into people's morbid curiosity, but that should never come before protecting those at risk of suicide.
It's also human decency not to publish details about a suicide. The way Spade was found shouldn't be an image people have of her. What she wrote during a time when she was probably distraught shouldn't be the words people remember her by. Spade deserves better — as do all of those who have died by suicide.