7 Ways to Get Involved With National Suicide Prevention Week This Year
---
In honor of this year's National Suicide Prevention Week (Sept. 5 to Sept. 11), we're highlighting ways you can help shine light on the 10th leading cause of death in America — suicide. In some cases, you don't even have to put down your phone. From social media campaigns to volunteer opportunities, here are some things to keep in mind if you're wondering how to get involved.
1. #Bethe1to speak up about suicide.
This year, the National Suicide Prevention Lifeline is empowering individuals to learn about suicide prevention with this month's theme #Bethe1to. To get involved, you can download their tool kit to access sharable graphics, read stories about people who have made an impact in others' lives and join them (and us!) for a Twitter Chat at 1:00 ET on Sept. 9.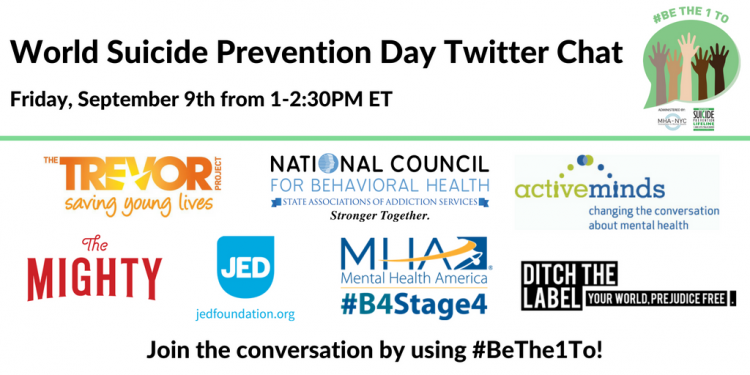 2. Fill your social media with reasons to "Live for Tomorrow."
Because there's something beautiful in every day, join the mental health awareness project "Live for Tomorrow" on a 10-day social media challenge celebrating life in the days leading up to World Suicide Prevention Day (Sept. 10.) Every day, a prompt challenges you to post a picture of something to stay around for. Post your photo with the hashtag #LiveforTomorrow.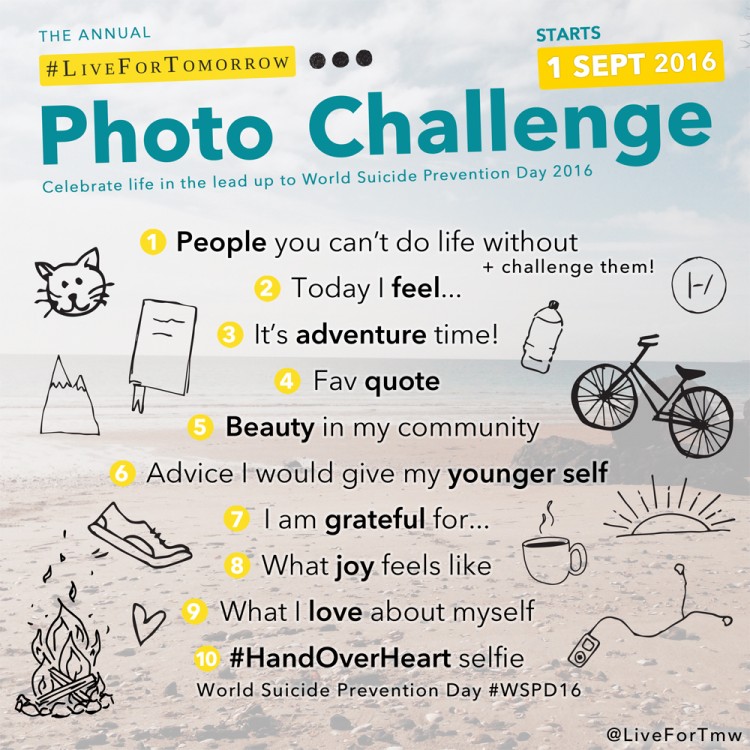 3. Read "Reasons to Stay Alive" by Matt Haig.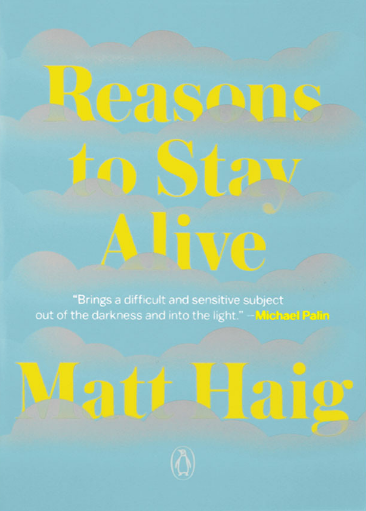 The book that inspired this year's To Write Love on Her Arms' World Suicide Prevention Day theme — "And So I Kept Living" — is also available to purchase on their site. In a blog post explaining the theme, To Write Love on Her Arms founder Jamie Tworkowski provided the follow excerpt:
"I think life always provides reasons to not die, if we listen hard enough.

Those reasons can stem from the past—the people who raised us, maybe, or friends or lovers—or from the future—the possibilities we would be switching off.

And so I kept living."
While you're there, check out the To Write Love on Her Arms' World Suicide Prevention Pack. You can also follow the hashtag #IKeptLiving to see people sharing their reasons to stay.
#IKeptLiving so that I could spread the message of hope to those who needed it the most. @TWLOHA pic.twitter.com/V1TWurWvSi

— Monika (@monika_a_soto) August 18, 2016
4. Donate your data!
If you've ever wanted to make a real impact on suicide prevention research, this is your chance. By visiting OurDataHelps.org, you can become a "data donor" (think donating blood, except Facebook) to give researchers access to what you post on social media. These researches can use this data to develop technology for suicide prevention. To learn more details, read our coverage here.
5. Text a friend who's going through a tough time.
It may seem like a small gesture, but lack of connection can be a huge risk factor when someone is considering suicide. So when you're available to a friend in crisis, it can actually reduce the risk of suicide. Even if it feels random or unimportant, checking in on someone can be exactly what they need. Or if you know someone who's a suicide loss survivor, check in with them, too. Survivors of suicide loss are at higher risk of developing major depression, post-traumatic stress disorder and suicidal behaviors — so we can't forget about those left behind.
6. Become a volunteer at the Crisis Text Line.
If you're able, the Crisis Text Line is always looking for volunteers. It's just like a traditional suicide hotline but allows people who need extra support to reach out via text. If you're struggling with your mental health, they suggest you talk to your counselor before pursuing this opportunity — but if you're ready, it's a great way to give back. Click here to find out more.
7. Take a pledge to talk about suicide.
To prevent suicide, it can no longer be a dirty word. People who experience suicidal thoughts need to know it's OK to come out and seek help as soon as they start experiencing distress — not when it's too late. By refusing to stay silent, we are encouraging others to use their voices as well. You can take the American Foundation of Suicide Prevention's "Let's Have a Conversation" pledge, to let others know you're someone they can talk to about suicide.
If you or someone you know needs help, visit our suicide prevention resources page.
If you need support right now, call the Suicide Prevention Lifeline at 1-800-273-8255. You can reach the Crisis Text Line by texting "START" to 741-741.
Originally published: September 1, 2016