How We Told Our Children Their Grandfather Had Taken His Own Life
---
I remember the first time I heard my mother's voice after I found out my father had taken his life. I was in the back of Whole Foods, where I had received the devastating news, sitting with my friend Pam. My husband was on his way to me. But I needed to speak to my mom. So, with my hands shaking and an endless flow of sobs and tears, I dialed the number to the house that my father and mother had shared for over 40 years.
My mother answered, and as she recounted what had happened, we sat on the phone crying. And she said to me, "Deborah, I don't want the girls to know how their grandpa died." When I asked her why, she answered, "I don't want them to think he didn't love them enough to stay." We both knew we could not keep this from them. And even more, that we could not possibly grieve a lie. That wasn't truly what my mother wanted. Her words were not born of shame, but rather the fear that my children would come to see their beloved grandfather as selfish, or perhaps see themselves as "not enough" to keep him here.
I promised my mother, vowed to her in fact, that I would make sure my daughters knew how much their grandpa loved them. I would tell them the truth about how he died, but I would remind them of all that they meant to him in life. Somehow I would find the words to impart all of that.
My husband took me home. And soon after, our daughters began to arrive from school. They did not all come home at the same time. And while it would have been easier to say the words only once, and to have them all together, it was obvious to them as they walked through the door that something was terribly wrong. There would be no postponing the conversation.
It began with my middle daughter, who was beaming because, on that same day, she had gotten her braces taken off. A friend had picked her up from school so she could keep the appointment. And it fell to us to rob her of that smile, as we told her that her grandpa had taken his life.
Then we told our oldest, and finally our youngest.
We began each conversation with the reminder that I promised my mother I would give. "You know how much Grandpa loved you, right? He loved you so much and he was so proud of you." As the words came out, the expressions on each of my daughters' faces quickly changed. They could see in our faces that something was wrong. We then tried to gently frame the harsh news that we were about to deliver, "You know how much Grandpa has been struggling these last months? You know he has been dealing with depression and anxiety." And before we could go further, my daughters knew. The tears and cries spilled out as they asked if their grandpa had killed himself. And my husband and I had to answer them with the hardest truth they would ever have to take in. "Yes. Grandpa took his life early this morning. He's dead." And then through my sobs I said the same thing my brother had said to me that morning when he told me of our father's suicide: "I'm sorry. I'm so, so sorry."
The cries and screams that escaped from my children's mouths, cries that came from a deep and primal place, will never leave me. They are forever seared into my memory. And I can say with certainty that those were the hardest and most painful words I have ever spoken to my children. Everything about them felt wrong. And time hasn't changed that.
My daughters know their grandfather died by suicide. They do not know the details of his death. They don't need to and they are not ready for the imagery that my brother, my mother and I struggle with. They also know their grandfather loved them very much, and that he died of an illness. It's taken time for them to reach that place of understanding, and it doesn't mean they don't still struggle at times. We talk about it openly. They know there is no right or wrong way to grieve this loss. But just as we did from the moment we shared that painful truth, we face and process the loss honestly.
Before my father was buried, each of my daughters wrote him a letter. They told him how much they loved him. They told him how much they would miss him and they shared their own personal memories and feelings. And in each of their letters, they told their grandpa that they were not angry at him. They offered their forgiveness.
Those letters were placed in my father's casket. He was laid to rest with their words and their love for all eternity. They know the truth. Their grandpa died of an illness. It was not a reflection of his love for them. He loved them fully, deeply and wholly. That is his enduring legacy. His suicide is the final footnote they must live with, but it is not and never will be the whole story.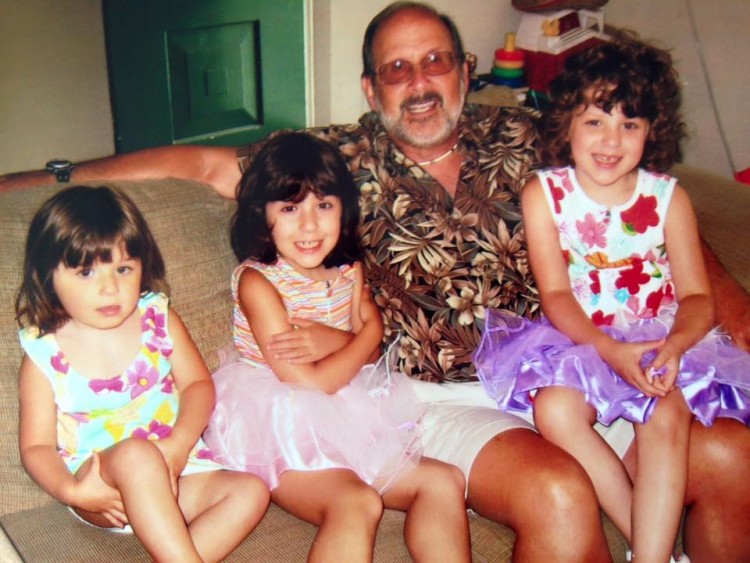 Follow this journey on Reflecting Out Loud.
If you or someone you know needs help, see our suicide prevention resources.
If you need support right now, call the Suicide Prevention Lifeline at 1-800-273-8255.
The Mighty is asking the following: If you're a parent with a mental illness, tell us about a time you tried (either successfully or unsuccessfully) to explain to your children about your mental illness/mental health issues. How did they react? If you'd like to participate, please send a blog post to community@themighty.com. Please include a photo for the piece, a photo of yourself and 1-2 sentence bio. Check out our Submit a Story page for more about our submission guidelines.
Originally published: March 29, 2016