How to Apologize When Bipolar Disorder Ruins Everything
---
Years ago, I learned about making amends. I know a few people who've gone through Alcoholics Anonymous and they've shared how powerful it was for them to do the hard thing of apologizing to the people they hurt. They talked about how it's important to go into these conversations with zero expectations. Their purposes are to share what they did wrong and sincerely admit responsibility and remorse for it.
When I heard this was even a thing I thought, "Wow, that's intense!" But, I never thought I'd be on my own journey of forgiveness.
Last fall, I experienced one of the scariest and most isolating events of my life. I had just turned 31 and was going through my first full blown manic episode. Everything burned down. I hurt a lot of people because of my disorder and left so many tears and broken relationships in my tracks. This year has primarily been about healing — which is a lifelong process. Because I've always been committed to personal development and growth, I took it upon myself to reach out to people I've hurt, and apologize for my actions.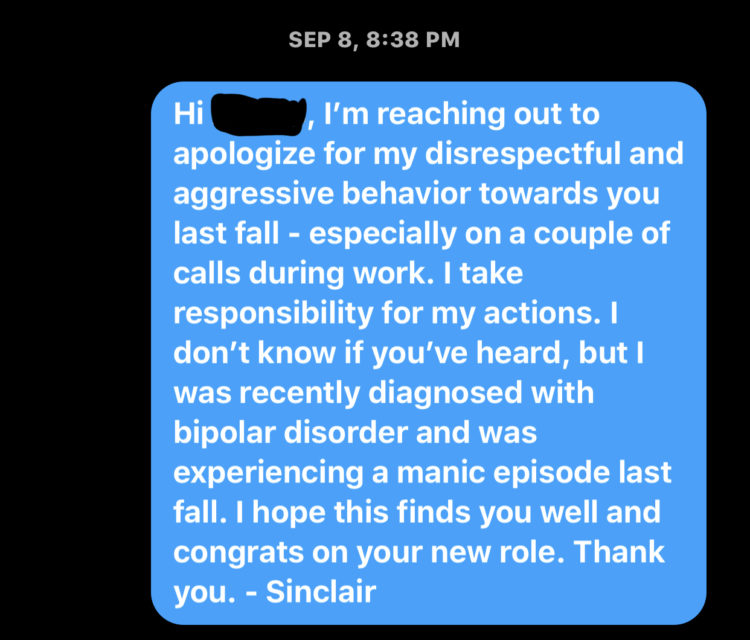 This hasn't been an easy process. Typically, I'll text or email the person, and once I hit send, beads of sweat begin to collect on my forehead. My heartbeat quickens and my mouth dries. I panic. What if this person is still angry with me? What if they don't accept my apology? What if they stigmatize bipolar disorder so much that they don't believe me?
These fears are all valid, and if you've ever apologized to anyone, you know what I mean. It's hard to be vulnerable and put yourself out there. But, it's important to remember that making amends is for you as much as it is for them. For me, it's about freedom, owning up to my stuff and allowing myself to move forward.
Whenever I reach out to someone, I make sure to get right to the point. I acknowledge and point out my actions, I take responsibility for what I did and I share my diagnosis.
There's a reason I do it in this order. First of all, yes, I know in my heart and mind that I didn't purposely hurt them, but this isn't about intention or fault. For example, if you accidentally step on someone's toe, they don't want to hear about how you were distracted, they want to hear an apology. They want to know that you recognize the impact of your actions, even if it was an accident. So that's what I do. This is the hardest part for me because I didn't intend to hurt anyone.
Mania can take over you and wreck everything in it's path. Still, taking responsibility for the impact of my actions has helped me have so much peace and freedom. I take the last step of sharing my diagnosis so they have context as to what happened.
As far as responses, most people either:
Tell me they forgive me. This one rarely happens.
Ask me how I'm healing and what I'm doing to heal.
Hit me with the "hope you're doing well." This is honestly annoying because I've poured my heart out only to receive a message that essentially says "good luck" with nothing else in it. But, this is why it's so important to continue to drop expectations when apologizing. I can't get anything from anyone that I don't get myself.
My life truly has begun to change and I've reached out to so many people this year. Yes, it still hurts to think back to all the things I did. Yes, I've lost friends, business contacts, customers, followers and family because of my disorder. And, yes, this is only the beginning of my healing.
But, I'm a better person for even attempting to make amends and I feel more and more empowered every single day.
Image provided by contributor and Milkos