How My Borderline Personality Disorder Helps Me Help Others in Crisis
---
Editor's Note
If you experience suicidal thoughts or have lost someone to suicide, the following post could be potentially triggering. You can contact the Crisis Text Line by texting "START" to 741741.
For a lot of people who struggle with their mental health so much of the time, we are so lost in the darkness of our illness that we never get our heads and into a space of acceptance. We aren't able to see and truly appreciate some of the traits that make us different to others in unique and beautiful ways. And it's hard; I am not going to sit here and say that it has been easy to be able to accept my own mental health as being part of who I am, the good and the bad and the ugly, but once you do, it can make the ride less frightening and less isolating and ultimately more humbling.
Throughout my own journey with major depressive disorder (MDD), generalized anxiety disorder (GAD) and borderline personality disorder (BPD), I have finally come to a place where instead of just accepting all of the difficult aspects of these illnesses and there being a constant feeling of pain and anguish, I have also learned to celebrate the positive ones as well. It has taken a long time, more so to be able to admit to myself that there are positives that come through having mental health issues. By their very nature, it is all too easy to focus on the negatives, what they have stolen from me and how much harder things seem to be for me than those around me. The idea that these incredibly difficult illnesses can bring me something positive and actually quite beautiful took me a long time to accept, but now I celebrate it as often as I can.
I also think my sexuality plays a part in my understanding of others, especially younger gay men whom I have seen struggling with their identities over the years. Having accepted mine long ago, under difficult circumstances it gave me more insight into how someone might be feeling and why they may act in certain ways. It means I have, over time, been able to help and support other young men in their journey of coming out.
I see all of these examples as my "superpowers." When my symptoms of BPD became more prominent, it was like that emotional armor that we all wear on a daily basis just got stripped away. It can still shock me how deeply I feel emotions and how quickly they intensify. I am what you would call a "quiet" borderline, so my rage and emotional outbursts are very much directed inwards, which can be catastrophic to say the least. I decided I needed to learn as much about borderline personality disorder as possible because I am a firm believer that knowledge is power. I read as much as I could, trying desperately to relate and in some ways, I did. But it wasn't until I started writing about it and my own experiences that I was truly able to look inwards and start to learn. As much as I learned the things I needed to work on, I also realized how much I was already giving back, and have been for a long time. BPD, in particular, can give a real insight into how someone else is feeling emotionally. Because of those intense feelings of chronic emptiness and instability of interpersonal relationships, I have been able to apply my own knowledge when friends and loved ones have been in crisis. They may not have BPD, but I am able to see the signs of struggling sooner and also having navigated the mental health system for many years, I can direct them in the right way for treatment.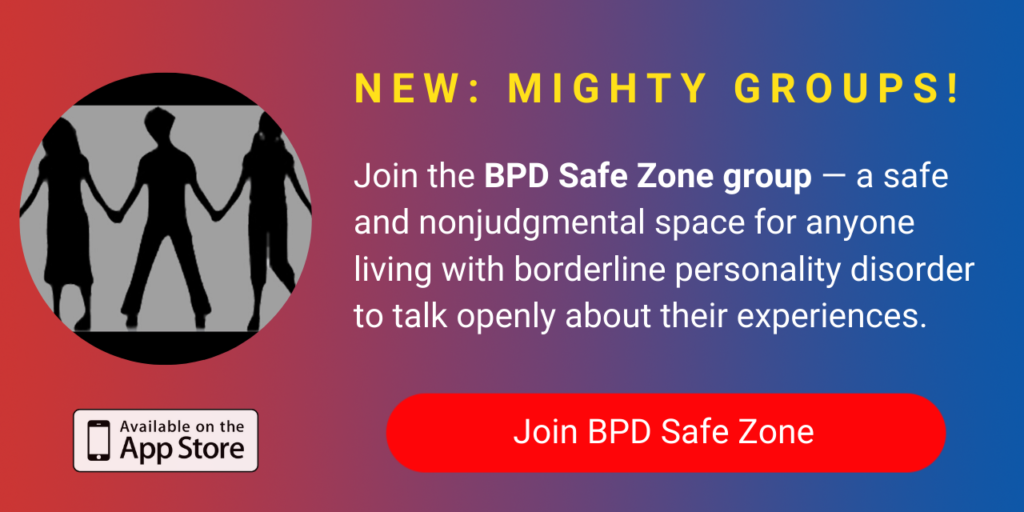 Through my own mental health, I am able to see someone else is either on the brink or about to be in crisis and have on many occasions stepped in before the situation has escalated. I am extremely aware of how other people are coping and feeling. I've learned that kindness is worth gold. Having been hurt so much in my personal life, it makes me even more determined to be the opposite. It reminds me of a time at work — we had a guy who had been experiencing terrible depression for some time but was due back at work. He came one day and then just didn't turn up the next. I had known him for years and although I wasn't his direct leader, I was extremely concerned that he had not shown up and not called anyone. I went to my vice president and said I was going to go over to his house to check on him. Two other senior leaders were present and insisted that I shouldn't go and that I could be putting myself at risk by doing so. I told them no matter the consequences, I couldn't live with myself, sitting there doing nothing, and so I went anyway, not knowing whether I would be in trouble at work or not. As it turned out, he was on the brink of a suicide attempt. I was able to call an ambulance and get him help straight away. Despite my career, I was appalled that people didn't see the situation the same way I did. I knew he wasn't dangerous, as did they, but they were following "policy" which, if I'm honest, I found repugnant. I took it as an opportunity to educate my colleagues and we had a frank and honest discussion about the situation. I was able to articulate to them that it is all of our responsibility to look after one another, not follow a process you know in your heart is the wrong thing to do. Challenge the status quo when you know something is wrong because the result is further embedding the stigma of mental illness into society.
Borderline personality disorder is, of course, a double-edged sword. There is no denying that it can be so hard to manage that it feels like you are waging a never-ending war. But it has absolutely given me the capacity and ability to have far more insight into someone else's emotions than I would otherwise have. Even more serious topics like self-harm and suicidal ideation are something I am able to talk openly and honestly about with other people. Being able to do this can often disarm the other person as far as the intensity of their emotions because having someone who can talk frankly about it can lower the levels of panic in the other person. Being able to relate to such scary emotions is rare, so the conversation is often more impactful. 
I say all of this because we often focus so much on the uphill battle of mental illness, forgetting the understanding, compassion and kindness we put back into the world. For too long, mental health and the stigma that goes along with it has been incredibly negative. People miss the times at work, or on public transport, where you can see someone else struggling and are able to help, even if its in a very small way. They miss the times we feel guilty for being a "burden" on people, but if that person needed help, we would do it in an instant. We are so busy being hard on ourselves that we don't stop and think how kind and compassionate we are. 
In these past and coming months, our superpowers are more crucial than ever. There are so many people newly struggling with grief and loss, with people struggling with their mental illness for the first time on the rise in many countries hard hit by the coronavirus (COVID-19) pandemic. While it is incredibly tricky to navigate this ourselves, we should also be mindful and celebrate when we do help someone else out. 
For me, sometimes the most comforting words to hear are: " I understand." If I can give that to someone, then that's a big win.
Photo by Elijah M. Henderson on Unsplash
Originally published: July 15, 2020