How I Keep Birthday Traditions Alive for My Brother With Down Syndrome During the COVID-19 Pandemic
---
"So… are you coming back for my birthday this year?"
My very first memories as a child are not of my own birthdays but instead of those of my older brother, Das, who has Down syndrome. Das's birthday parties are always epic and include at least 30 of his best friends and family joining the festivities. His parties always include time for "the band" to rock out to N*SYNC, the Backstreet Boys, and Michael Jackson. Following that, everyone rapidly — often, too rapidly — scarfs down burgers and French fries. And then comes the pinnacle event: speech time, when Das goes person by person and individually shares how much each person has meant to him. There is often not a dry eye in the house when he finishes. Almost as soon as his birthday party is done, Das already begins making plans for his next birthday.
Each weekend, Das and I have a scheduled Saturday morning phone call during which we catch up on the events of the week. During each of the phone calls, Das will inevitably remind me that his birthday is coming up — even if it is 364 days until his next birthday. In the 25 years since I've moved away, I have made it a point to request Das's birthday weekend off from work so that I can attend the festivities. There's nothing like Das's birthday party, especially to see the love and acceptance Das and his friends have always had for me. Quite literally, Das's parties have always felt like a slice of heaven to me.
Unfortunately, the COVID-19 pandemic put the entire world in lockdown. Family visits that were previously filled with joy have either been postponed or held with some level of trepidation. This fear has been especially relevant to me as a healthcare worker who is exposed to COVID-19 patients daily. Am I inadvertently bringing the virus back with me? Could I accidentally harm my elderly parents or my at-risk brother? So while I have mostly been able to be with Das on his birthdays, during the pandemic, the lack of a "real" birthday party has been difficult for Das. Thankfully, Das has persevered well during the pandemic, but mental health in people with Down syndrome has been an area of tremendous neglect over the years.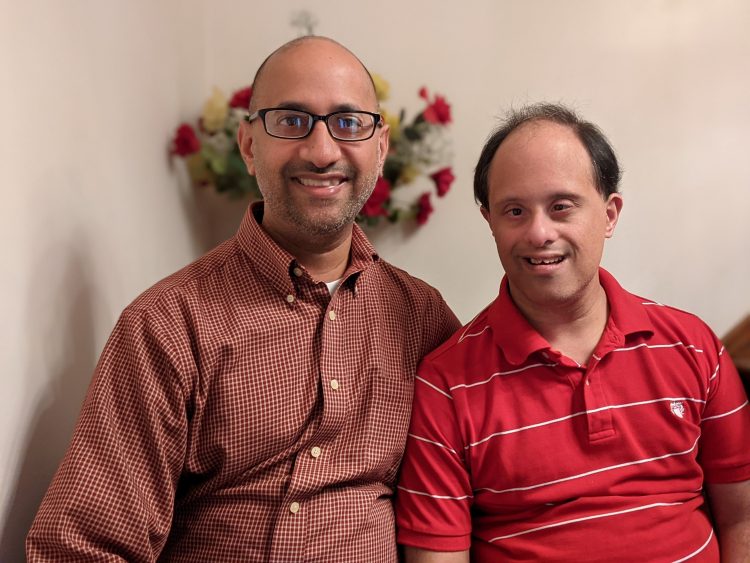 People with Down syndrome, like my brother, are often automatically assumed to be "always happy" – which brings about so much potential for harm due to the under-recognition of mental health diagnoses in this population. People with Down syndrome struggle with the same emotional challenges as we all do. They can experience depression, anxiety, and fear, and many people with Down Syndrome have been impacted in some way by the COVID-19 pandemic. Many people with Down Syndrome desire routine, and this pandemic has rocked any semblance of normalcy for them and for the rest of us too. I have personally witnessed the significant emotional toll of the pandemic in my patients with Down syndrome.
Das' workplace has intermittently been shut down during this pandemic. Social gatherings with his friends — including his famous birthday parties — have also not been able to happen. Even though so many of us have tired of constantly saying the word "COVID-19," Das won't even say the word "COVID." He calls COVID-19 "the thing outside" so that he doesn't have to say the name.  
Now more than ever, social connection using phone calls and video platforms has been so crucial for my brother. As we look to the coming months when in-person group gatherings will hopefully become safer to have, we must all be intentional to remember our at-risk family members and friends with Down syndrome. I hope we can eventually make hugs a priority in our lives once again.
Das, there is no need to worry — the "thing outside" can't keep us apart. Even if I have to be there wearing a spacesuit, I'll be there for your birthday again. And if we can't get the whole "band" back together, you and I both know that we've been able to sing some beautiful duets together over the years. I love you, bro!
Originally published: March 7, 2022