12 Reasons I Recommend Attending a Medical Conference for Dysautonomia
---
I drove 400 miles to see about 600 people who have at least one thing in common with me: they each live with  dysautonomia.
Dysautonomia is an umbrella term used to describe the deregulation of the autonomic nervous system (ANS). The ANS controls such vital functions as heartbeat, blood pressure, temperature regulation, digestion and pupil dilation. When this system goes haywire, many unpleasant symptoms can occur.
But little of that mattered recently when I attended the seventh  annual Dysautonomia  International Conference  in Philadelphia, Pennsylvania.
Upon arrival I met up with other volunteers at a planning meeting. My assignment included running an icebreaker session in the teen room at the conference (for about 40 young people) and supervising the room each morning.
I had Friday night free, but knew I wanted to see the local artist creating a mural of words provided by conference goers describing our lives. I was so excited to see the word I chose — "dream"– added to the mural as one of the final touches. And the word was painted purple, which made it stand out. I have been working on integrating the concept of dreaming into my life this year despite six chronic diagnoses.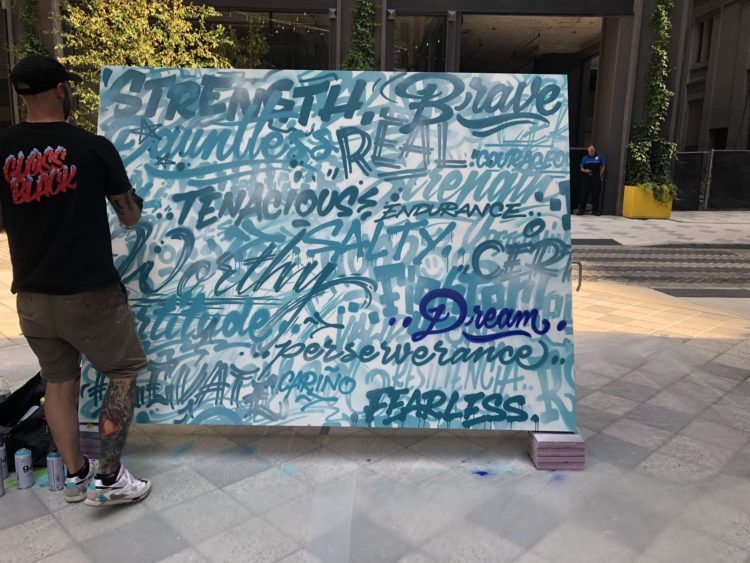 Dream. A cherished aspiration, ambition or ideal. 

My definition of dream includes to hope and live my best life despite physical challenges. I dream and hope to do things and try to accomplish them. Driving alone to Philadelphia, which took two days, was a dream. And despite exhaustion, I stopped on the way to the hotel to stand on the steps of the Philadelphia Museum of Fine Arts and posed like Sylvester Stallone in the "Rocky" movies.
Trekking alone to this conference was a challenge. And despite one serious body crash which left my gut exploding and me chugging sodium-enriched drinks before sleeping the afternoon away, the dream was successful.
Was it difficult to travel alone, volunteer and attend the conference? Absolutely. But I would do it again in a heartbeat. And if you have a chance to attend such a conference, I recommend it for many reasons, including the following:
It is empowering to meet other people with the same diagnoses. I met those who shared similar diagnoses, like postural orthostatic tachycardia syndrome (POTS), mitochondria myopathy, Sjogren's syndrome; autonomic neuropathy and hypermobile  Ehlers Danlos Syndrome (hEDS). I am sure there were others living with hypothyroidism too.
Everyone speaks a common language. We are well educated about our diagnoses but can learn from one another.
We do not compare illnesses. No one thinks they are sicker or luckier than the next. We all deal with chronic conditions and persevere the best we can.
Instant friendships are formed. We have been through huge challenges and somehow that makes us value relationships more. I am certain the fact we understand one another's medical condition allows us to connect more quickly.
No one judges at these conferences. People rest on the ground, escape to a quiet place or go to their hotel room to sleep. And we all understand.
The food is excellent. There are always salty snacks (to keep our blood pressure up) and healthy choices. We have dietary restrictions and are well taken care of at these conferences.
There is a lot of laughter. Sure we talk about our struggles, but also laugh while facing such absurd problems. My table companions at the conference dinner laughed a lot while playing and winning the trivia night competition.
Top doctors often attend. We heard from experts throughout the world. They validated our struggles and provided information and hope that they are working for better treatment.
You might have the opportunity to participate in a research study. More than 100 people at this conference gave blood that will be used for DNA, RNA, serum antibody and cellular analysis and also  provided  information to researchers about their experiences with POTS.
The conference energizes us to continue to raise awareness within the  medical community and dysautonomia population. Watching 11-year-old Aubrey McLin receive the volunteer of the year award for her dysautonomiaadvocacy, education and fundraising leaves  me in awe of such a poised young lady. Despite physical challenges, Aubrey and her family advocate for all of us.
If you are a caregiver or loved one, there is plenty for you to do. In addition to supporting the person you attend with, you will meet others in the same role. Your bond with others will equally form quickly. And you will learn from the experts.
The conference is a lot of fun! So if you are able to attend such a conference, give it a try. It will be exhausting and you may have to recoup for a week once you are home, but every second will be worth the physical challenges you face.
Originally published: October 2, 2019