Learning How to Recover After Leaving a Homophobic Household
---
Editor's Note
If you have experienced emotional abuse, the following post could be potentially triggering. You can contact the Crisis Text Line by texting "START" to 741741.
Recently, I collected what was left of my personal belongings from my abusive homophobic father's home after completing my year-long graduate program in Washington, D.C.
That three-to-four hour stop to my childhood home was one of the hardest, but most necessary things I've ever done.
Today, I identify as a nonbinary lesbian, but it took me far longer than it should have to feel even remotely comfortable with both of these labels, and really myself as an individual.
During my life before college, I was indoctrinated into the cult mentality of the Independent Fundamental Baptists (IFB). This way of life organized by several baptist pastors, homeschool Quiverfull women like the traditional wife and is designed to hold young women to absurdly high standards of purity (to the extent of, do not engage even in friendship with any individuals of the opposite sex lest you lead them astray). Its design also includes having a courtship and borderline arranged marriages, as well as teaching women to be silent in the presence of men (each of whom were seen as the true, spiritual leaders of households). This way of life additionally prohibits engagement with any "secular" and "demonic" media (this can include anything from Disney's "Frozen" films to "Harry Potter" and "SpongeBob SquarePants").
I was also one of the thousands of children raised on the child-rearing book written by Debi and Michael Pearls entitled "To Train Up a Child" which encourages corporal punishment, child abuse beginning in infancy and the "breaking of a child's rebellious will." The book has caused the deaths of several children and some individuals are currently campaigning to get it removed from Amazon.
The reality is adults like myself find themselves later in life reeling from the effects of a childhood full of shame, overt control and ignorance to what is actually the "real world," as opposed to whatever twisted, patriarchal structure is enforced in the IFB cult. LGBTQIA+ individuals were not even discussed as that "lifestyle" was considered not just forbidden, but damned.
Consequently, I didn't realize I was gay until I graduated out of said homeschool co-op group in rural Virginia. I distinctly recall both of my parents weaponizing the term "butch" and "queer" against how I looked during my middle and high school years. The picture below this paragraph is a casual outfit my father called "butch," saying he "didn't know who I was anymore" because of how I looked.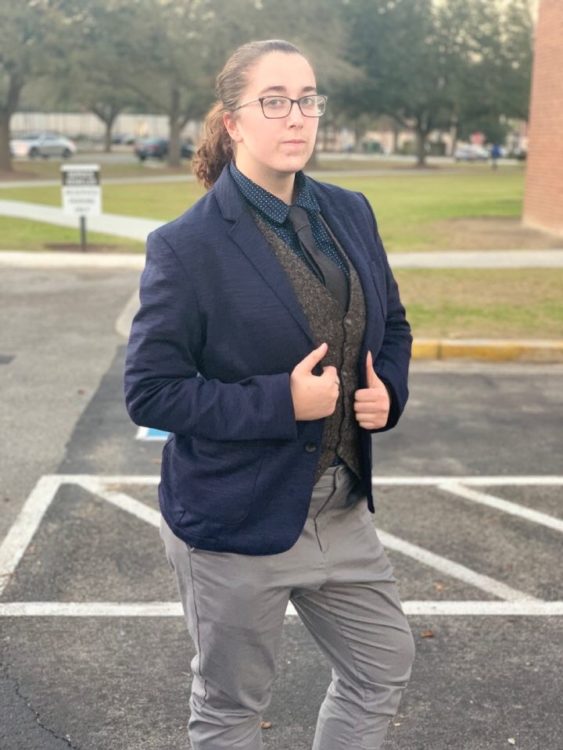 It wasn't until finding my career path of journalism and taking my freedom and control back over my own life that I realized I could have not only a happy existence, but one where I was able to have a sense of joy, fulfillment, gender euphoria and healthy relationships in both romantic and platonic ways.
My late mother Lisa passed away from aggressive brain cancer and kidney failure in early 2019 and was succeeded a month later by my grandmother Gerry, the matriarch of our family. It was in the last month of my mother's life while she lie dying in the hospital that I was outed by an unknown individual to my father. When my mother died, my college therapist helped me recognize the importance of not only protecting one's energy, but also pursuing peace.
It brings me sorrow to admit it, but I don't believe my mother was ever truly content or at peace in her life. She was always in pursuit of complete perfection and maintaining a standing in the IFB-centric, Quiverfull community we found ourselves in. Between the standards for herself and the unbearable weight of the standards of the cult, she was a discontent woman, never able to find peace in seemingly any situation for one reason or another.
Her passing words to me were that she was glad I had others in my life to love me because loving me had never once been easy or come naturally to her. It's because of these words I realized if I wanted to enjoy a joyful life and pursue the path I felt called to walk, I was going to have to make the choice to permanently cut myself off from someone who was once my best friend in all the world — my father.
Almost immediately after I began placing my needs first, he recognized he could no longer control me and began to panic. His insults haunt my head constantly — about not only my LGBTQIA+ identity, but about my physical appearance (weight, haircut, lack of makeup and other perceived to be feminine accessories), intelligence, career path, friends (most of whom were LGBTQIA+ individuals like myself), my spiritual experience and my partner.
While continuing his pattern of abuse, my father began dating a COVID-19 denier, anti-masker and Q-Anon conspiracy believer. After pleading with him one night to socially distance and follow CDC protocols to protect me because of my immunocompromised state with Ehlers-Danlos syndrome type 3, he said words I will never forget:
"I'm not going to do that. If I die, I die. And if you die, you die."
It was then I recognized I had to leave, and the sooner, the better. I packed my things and left with my partner while he was at work. It wasn't until a month ago we spoke on the phone to prepare for me to get what remained of my things.
Since that point, his partner moved in, they were wed in Las Vegas during the pandemic and she is now expecting a child. In the meantime, he has not spoken to any family members, took away my access to affordable healthcare he has with his employment and refuses to respect my use of the nickname "Dani," my pronouns or acknowledge my now fiancée Lauren.
Pride month this year means a new chapter is starting for me, and despite it being incredibly painful, I have a newfound family, many of whose members were able to rally around me, pack up and load my belongings into my future mother and father-in-law's van and leave.
I spent most of my young life feeling alone, but I have a strong suspicion those days are behind me.
They always say, "it'll get better," and "your parents will come around eventually," but the reality is sometimes, they don't. It's trite, but it's up to you to make it better, and sometimes the people you most wish would come along for the ride end up never joining you.
What is your life and sense of joy worth to you?