5 Simple Steps to Creating a Consistent Therapeutic Journal Habit
---
Editor's Note
If you experience suicidal thoughts, the following post could be potentially triggering. You can contact the Crisis Text Line by texting "START" to 741741.
I wrote my first journal entry on January 3, 2018 — one day after my last suicide attempt. Since I started journaling, I haven't had a single suicide attempt — before, I had daily thoughts about suicide — simply because I finally had someone to talk to. Someone I could talk to without the fear of rejection and shame. Let's be real. Who can you call at 3 a.m. expressing your deepest fears and concerns without any hesitation? This special someone is my journal. And today, I want to teach you how I stayed consistent with my journaling habit and how I get the most out of it.
1. Create a safe environment.
Before we start a therapy journal, we have to set up a writing environment. Don't worry, you don't have to buy an old typewriter and a pipe. But I highly recommend you to find a calm and quiet space in which you feel safe and comfortable. We need a space in which we can get soft so we can get in touch with our emotions. For me, it is my desk at home. I always write in the same space. This helps me a lot to get into a journaling headspace.
Pro tip: I always meditate before journaling. This helps me to ground myself and to get in touch with myself.
2. How to build a journaling habit.
Starting new habits isn't hard. Staying consistent with habits is the hard part. We all have been there. Buying a gym membership and fancy new clothes. Working out for a week and then life gets in the way. Suddenly, all our resolutions become a distant memory. For the most of my life I have been that guy, until I learned some crucial lessons in habit development. These are:
Pick a time and place. Write down the following sentence for yourself: "I will journal at time in location.
Integrate the habit into your life. One powerful tool to stick with habits is to integrate them into our life. There is a simple recipe you can use:

After current habit, I will journal.
For example, after brushing my teeth, I will journal.

Make it easy to access and hard to forget. Every morning, my journal waits for me at my desk. There is nothing on my desk but my journal. It stares right at me. So, I cannot forget it in the daily hustle. You can use this for anything. If you always place a glass of water next to you, you will find yourself drinking more.
Doing less is better than nothing. Sometimes life gets in the way. I know that. Therefore, I'm not always expecting to write a full journal page. No, I'm telling myself to write at least one sentence. This takes less than a minute and still has a benefit on my life. Doing less is always better than doing nothing. It's showing up for the person you want to become.
3. Pick a journaling theme.
There are a million different journals out there, but I sincerely don't believe in one-size-fits-all. Because journaling is expressing your true self, I encourage you to find your own style. Still, you have to start somewhere. Therefore, I highly recommend The 6-Minute Diary and The Five-Minute Journal. I've seen the power of these two journals with my own eyes. Every Christmas, I buy these two journals for those I love. If you want to develop your personal journal theme, I have a lot of resources on my blog.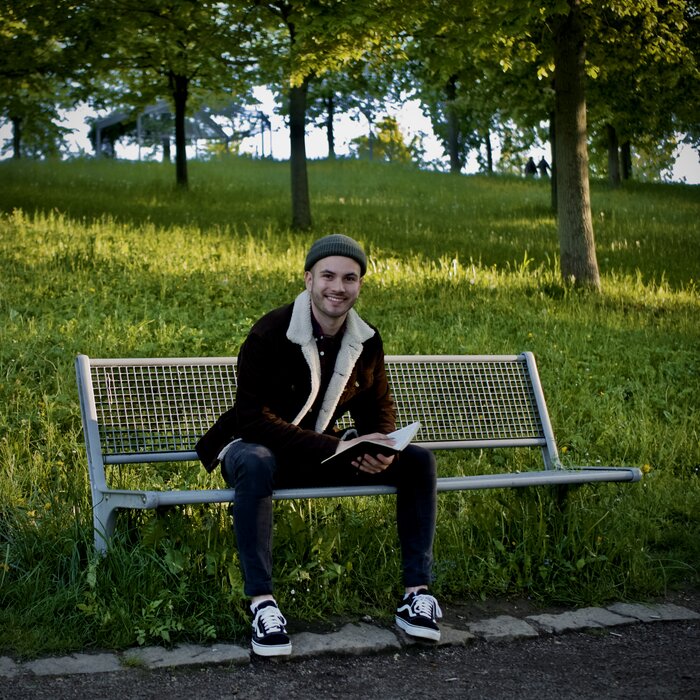 4. Express yourself.
Your journal is your safe space for expressing your true self. So, if you want to draw, then draw. If you want to add photos, then add photos. Whatever floats your boat. Anything is possible, from goofy drawings to collecting memories. In these pages, you can be who you are!
Pro tip: If you want to gain more insight about yourself, then evaluate your actions, thoughts and emotions. Don't just write about what you did but write about why you did it. How did you feel? Why did you spend two hours in bed today? What are you afraid of? Say the things you normally don't say!
5. Treat your journal like a friend.
This last point may sound a little bit weird to you, but stick with me for a second. My journal has been the first "person" I've talked to. The first person I could talk to about my fears and problems because I didn't fear rejection or judgment. I simply could be my true self. For the majority of my life, I've played the role of a happy person. I neglected myself so much that I became depressed and suicidal. And my journal had been the place where I found the deep rest I needed. No more pretending to be someone else. No more fake smiles and people-pleasing. No, my journal had been the friend I needed in my teenage years. It thought me self-reflection, self-acceptance and self-love.
My mission is to help people journal
I became a blogger, speaker and advocate for male mental health, suicide, and childhood abuse because I experienced the devastating cost of inactivity. The pain you feel when you suffer in silence. It almost destroyed me. I had been literally on the edge of dying by suicide, but I turned around and started a path of healing. And the first step was writing in a journal.
Therefore, I'm here today to teach people the power of journaling. But as I said before, one size doesn't fit all. We all come from different backgrounds. So I locked myself away for the last few weeks going through all of my old journals, looking back at all the mistakes I've made, trying to understand the different journal techniques I needed at different times in my life. Then I taught close friends and loved ones. I had so many positive responses that I decided to teach everyone who is willing to change something in their lives.
If you are looking for a change in your life or if you simply want to learn something about yourself, I highly encourage you to write me a short message here on Mighty, on Instagram or my blog. Feel free to contact me. Every journey begins with a small step and I will forever be grateful for the step I took.
Originally published: July 14, 2021