Quiz: Should You Go Home for the Holidays?
---
For many, thinking about going home for the holidays conjures up images of comfort, love and probably some dancing sugar plum fairies. But for others, these kind of warm thoughts are a far cry from their actual experiences.
For some, going home for the holidays means fielding incessant questions about why you're "still" depressed. For others, going home for the holidays means being in the same room as a family member who abused you as a child. Maybe for you, going home for the holidays isn't a "holiday" at all, and you usually end up running yourself ragged to the point of exhaustion.
For most people who struggle with the holidays, there's one question that likely pops up every year: Should I even go home for the holidays?
The decision of whether or not to go home is a deeply personal one, and if you're struggling to make that decision, you're not alone. To get some insight into what you should consider before deciding what to do for the holidays, we spoke to Annie Wright, a licensed marriage and family therapist (LMFT), and came up with a "quiz" that can hopefully guide anyone who's not sure what to do for the holidays this year.
This quiz is not traditional in the sense that it doesn't have "right" or "wrong" answers — and it won't definitively tell you what to do. The quiz is instead a set of reflection questions that may guide you in whether or not you want to go home this year.
As you answer each question, pay attention to your physical reactions. Wright is a huge proponent of paying attention to your body as a way of giving you "clues" to how you're really feeling. She told The Mighty:
I think our minds can trick us and bypass our bodies quite often, but if you're really paying attention to your somatic signals — to your body — if you notice heightening in your stomach or your chest or like your jaw clenching when you think about going home, these are clues. Then dig into that, lean into it. What does that tension in my jaw say? Does that say I'm super excited? Probably not. Really use your body as a clue, as signals to pay attention to what you truly do or do not want.
Below we've listed the quiz questions for your reflection. For a printable PDF version, click here.
Is there part of you that thinks you "should" go home?
What are you afraid will happen if you go home?
What's it going to cost you if you go home? (Emotional cost, financial cost, time cost, etc.)
What's it going to cost you if you don't go home?
What's the most likely outcome if you go home? If you don't?
Can you cope with and tolerate what will most likely happen?
Does part of you want to go home and another part not want to go home?
In your heart of hearts, how would you actually like to spend the holidays?

What would it take for you to choose what you want to do vs. what you think you "should" do?

If you set boundaries for the holidays, will there be positive "spillover" to other areas of your life?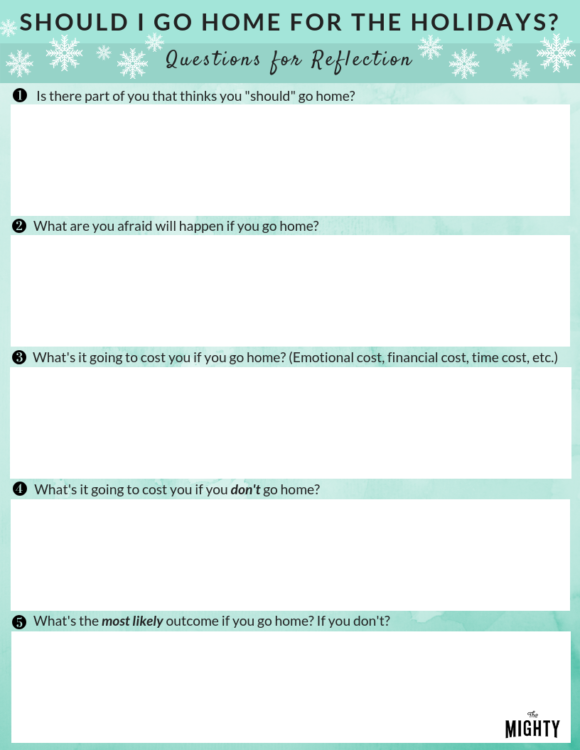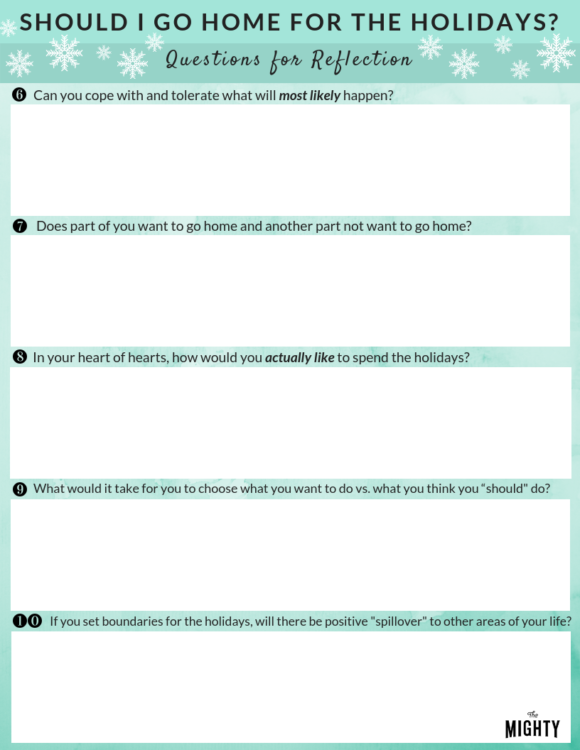 If you are struggling to make the decision of whether or not to go home this year, you're not alone. This is something Wright says is very common and is something she helps her clients with every year.
When asked for one last piece of advice she would give someone struggling with making this decision, Wright wanted to remind folks of their own agency when it comes to making tough decisions about the holidays.
As an adult, you get to make choices that aren't necessarily popular with the people you grew up with, but are self-supporting for you… So I am a big, big fan of: if you don't want to go home for the holidays, don't. Create the holiday that you want instead. Don't spend the entire year dreading the holiday season because you feel like you have to go home. You're an adult, create the holidays you want instead.
Are the holidays difficult for you? Join the conversation by using the hashtag #HolidaysAreHard when you post a Thought or Question on the site.