5 Mighty Sports Stories You Don't Need to Be a Sports Fan to Love
---
Maybe you're not a huge sports person. Maybe your favorite parts of the Super Bowl are food and commercials. Since that's the case for a lot of people, we thought we'd round up some of our favorite Mighty sports stories. The best part? You don't need to be a fan to understand why we root for moments like these to happen.
In 2014, when a peewee football team's official water manager, 6-year-old Danny, was being bullied because he wore suits to school and had difficulty communicating due to apraxia of speech, his team stepped in. All 40 boys wore suits to school to support Danny and send a message to his bullies. It worked. Months later, Danny's mom told The Mighty the only reason kids call him out now is to say they saw him on TV.
2. –>
We've written about brothers Hunter and Braden Gandee a few times on The Mighty because their relationship is something else. Last year, Hunter, a sophomore on his high school wrestling team, carried 9-year-old Braden, who has cerebral palsy, on his back over the course of a three-day, a 57-mile walk, –>. The year before they walked 40 miles. To date, the brothers have raised more than $200,000 and opened the CP Swagger Shipyard, an inclusive and accessible playground. Sports Illustrated named Hunter its High School Athlete of 2015.
3. A Special Olympics Pep Talk
Last summer, Los Angeles hosted the 2015 Special Olympics World Games. We met up with athletes from all over the world and asked them, "How does someone achieve their goals?" Their responses are worth revisiting:
4. –>
Last April, Kayley Drake set out to run the 15th annual –>. The 24-year-old from Yukon, Oklahoma, has cerebral palsy and was approaching the 12-year anniversary of a –>. Around the 10-mile mark, when Drake's energy began to falter, she thought she'd failed. Two firefighters who'd been walking the race in their gear, noticed this happening and offered to help. Together, the three completed the 13.1-mile race.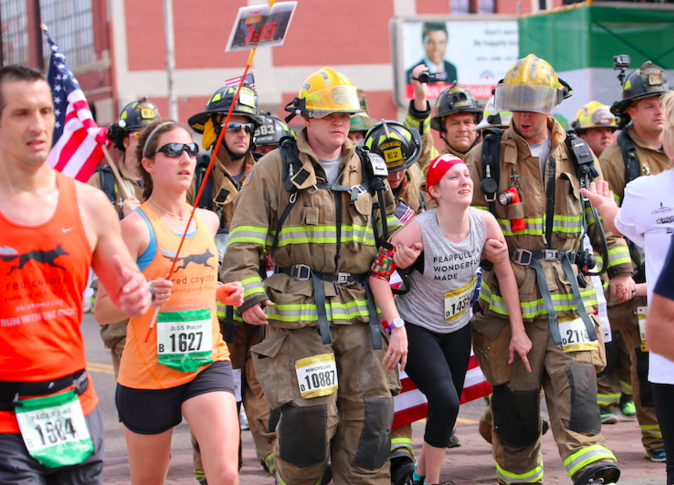 In July, Nike debuted a sneaker for people with disabilities. The shoe was inspired by Matthew Walzer, a 16-year-old who has cerebral palsy. The teen wrote a letter to Nike asking the company to consider developing a shoe designed for people who have trouble tying shoelaces. "My dream is to go to the college of my choice without having to worry about someone coming to tie my shoes every day," he wrote, according to Nike. "As a teenager who is striving to become totally self-sufficient, I find this extremely frustrating and, at times, embarrassing." Nike listened.
Do you have a sports story you'd like to see featured on The Mighty? Send one to community@themighty.com.
Originally published: February 7, 2016