Does PTSD Cause Dissociation?
---
You feel like you're living in a movie. Things don't quite seem real. You're observing yourself from high above. There's a blank spot where a memory used to be. These blips could be temporary or you may always feel like the world around you is a little fuzzy or far away.
It can be scary to realize you're experiencing an altered sense of yourself or the world around you, but you're not alone. Dissociation — feeling disconnected or like things aren't real — is common among people who have experienced trauma. And in fact, almost everyone experiences dissociation at some point in their life, such as zoning out while driving and not realizing how far you had gone.
It's chronic dissociation that can get in the way of your quality of life, and that's when you may be evaluated for a mental health condition such as post-traumatic stress disorder (PTSD).
What Is Dissociation?
According to the Diagnostic and Statistical Manual of Mental Disorders (DSM-5), dissociation is defined as "an altered sense of the reality of one's surroundings or oneself." It can take many forms that vary from person to person. You may always feel dissociated or it may come and go depending on the situation or your thoughts and feelings in the moment.
You might experience dissociative amnesia, which means you can't remember aspects of your trauma or you "lose time." For others, dissociation can feel like a lack of connection to others or being disconnected from your body. You may experience the world as feeling unreal or out of focus and it may feel like you're operating on autopilot more often than not.
Dissociation serves an important survival function. It's part of your freeze response, which can occur if your fight or flight survival responses aren't viable options to escape danger. This often happens when you experience chronic trauma or abuse as a child. Unlike fight or flight, which rev you up to take action, the freeze response (and dissociation) shuts everything down and disconnects you from the trauma as a protection mechanism.
Is Dissociation a Symptom of PTSD?
Dissociation is strongly associated with trauma and trauma-related diagnoses, including post-traumatic stress disorder (PTSD). Your doctor or therapist may ask you several questions to assess whether or not you experience dissociation. Questions may ask about not being able to remember aspects or your trauma or life or how connected you feel to the present moment.
Other diagnoses that may have dissociation as a symptom include:
Acute stress disorder
Complex PTSD (C-PTSD)
Borderline personality disorder
Dissociative identity disorder
Depersonalization-derealization disorder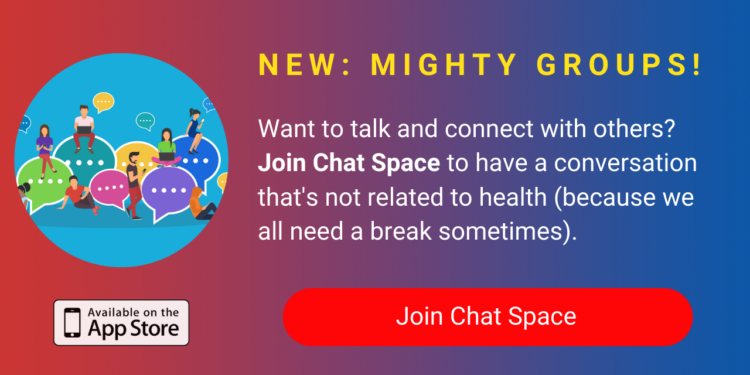 Want to talk with others who get you? Join the Chat Space Group on The Mighty here.
What Does Dissociation Feel Like?
Dissociation and feeling like things are unreal or disconnected can be disorienting. Mighty contributor Mary F. explained how she experiences dissociation:
For me, it means I am never truly 'present.' There is always a part of my brain that is shut down. Some days, this means I have no concept of time. I will function on autopilot for hours or even days at a time, and nobody else is aware I am not thinking or feeling anything.
Mighty contributor Christine Tate shared a snippet of what it's like to lose time due to dissociation:
I might have an hour long conversation with a friend, and due to some sort of stressor, perhaps before the conversation even started, my psyche starts to dissolve. I continue the conversation, and no one around me is the wiser. However, if it's brought up again, I have no memory and seemingly no ability to recall the memory of what was talked about.
Where to Learn More About Dissociation
To learn more from others with PTSD who get what it's like to experience dissociation, take a look at the stories below. And if you want to share your experience with others who have PTSD, post a Thought on The Mighty. Here's how.
Other Symptoms of PTSD
If you live with PTSD, you know the condition is more than just dissociation. Here are some other common symptoms of PTSD: