Hope Didn't Cure My Schizoaffective Disorder, but It Did Give Me This
---
Receiving a mental health diagnosis isn't the end of your life, it's just the beginning of a new chapter. But it may be daunting or terrifying. When I was diagnosed with schizoaffective disorder, I had no idea what my future would look like. Would I go to college? Would I be able to work or live independently? I honestly didn't know, and I'm not sure anyone else did either. While my mind went spinning into denial, fear and acceptance that life as I knew it was over, a part of me clung to hope and refused to give up.
Hope wasn't enough to solve all my problems.
There are many factors involved with the outcome of mental health disorders like schizophrenia and schizoaffective disorder. This includes how quickly you received treatment, how well your body responds to treatment, the kind of support you have outside of the doctor's office, as well as genetics. While genetics weren't in my favor, I was lucky that many things were. I received treatment at the very first sign of psychosis. While I take many medications and the dosages on some are high, I do respond to medications. I'm also lucky to have support from my family, boyfriend and friends. I held on to hope, but it was rivaled by fear, shame and denial.
In the beginning, I was so ashamed and afraid that I hid my diagnosis and my struggles from all but a few people.
Schizophrenia and schizoaffective disorder carry a high level of stigma. I was worried people would buy into the stereotype and think I was dangerous or even sub-human. Mostly I was afraid they would all abandon me when I was most vulnerable. Because of those feelings, I only told people when I desperately needed their support. I only disclosed to the teachers of the classes where I was struggling the most due to my cognitive issues. I only told the administrators whose help I needed to address my needs for those classes. And I only told my closest friends because I didn't think I could do it without their support. To my shock, they were all supportive, which unfortunately is not the case for everyone. When I got to college, the first year consisted of pretty much the same thing. Part of why I reached out to people was desperation. I did not feel like I could do this on my own. But the other part was that small spark of hope that maybe they wouldn't see me differently.
While I held on to that little bit of hope, denial and shame quietly led me through my healthcare decisions.
Inpatient treatment? It probably would have been helpful in my stabilization, but I turned down the offer from my doctor without even considering it. I didn't want people to know anything was wrong. When I moved to Illinois for college, I continued getting my medication refills from my doctor back in California. Unfortunately, the pharmacy and I both had difficulty getting ahold of her. Rather than find care locally, I would end up rationing my medication as I came closer to the end of my supply to make it last until I could get a refill, which was an awful idea. I wanted my medication, but I also wanted to pretend that everything was OK and I didn't need more help than my doctor could give me from 2,000 miles away. Once I finally did find a local psychiatrist, I didn't feel like he listened to me, but I liked that he made me feel like nothing was wrong. However, during my most severe episode, I realized how detrimental both of those things were to my mindset and mental health. As the denial faded, the shame held me back because I was worried other doctors wouldn't share my spark of hope that I wasn't a lost cause.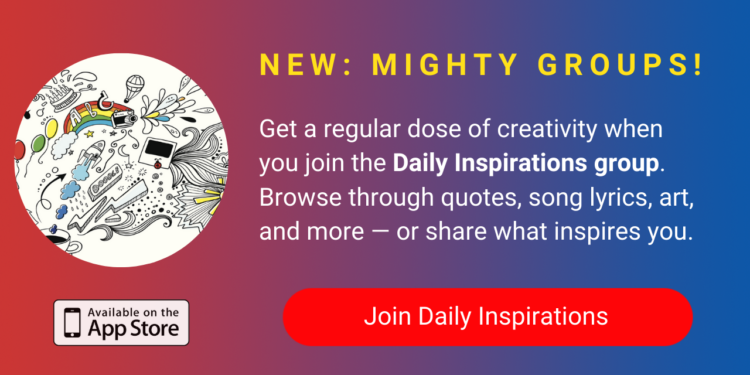 I didn't realize just how much help was available.
During my time in college, I was introduced to the Office of Services for Students with Disabilities. With their help, I received the basic accommodations I needed to work around my cognitive troubles. I also began to share my diagnosis with more people to build a local support system. Slowly, I was realizing the power of opening up and asking for help. Speaking up was and still is one of the most difficult things for me to do, but it has had a major impact on my recovery. Being realistic about my situation and understanding that I deserve care from a doctor I can trust have also been key. But what about hope? Hope didn't make my treatment work. Hope didn't give me a strong support system. And hope didn't make speaking up any easier. Positivity is not enough to stop your symptoms or guarantee a full recovery. So why should you hold out hope?
The truth about hope.
Hope is the only reason I tried. I followed my treatment regimen because I held out hope that it could save my life. Hope is the reason I got out of bed every morning and tried to continue living. It was the reason I believed that there was a chance people wouldn't abandon me when they learned my diagnosis. At the time of my diagnosis, I didn't know if it would be possible for me to live independently, hold down a job or even survive my symptoms. But a small spark of hope is the reason I didn't give up on myself and stop caring. Even though it can't ensure "high functioning," a spark of hope can still help you. It can help lead you through the darkness — all those thoughts and fears and times you felt so alone. Hope can help you make it through the day or the hour or the minute. And even when everything is against you, you can still hold on to hope that tomorrow will be better than today. When you turn the page and begin that new chapter, don't give up on yourself. Hold on to hope. Even if you don't know what will happen, isn't it worth finding out?
Follow this journey on Not Like the Others.
Photo by Elia Pellegrini on Unsplash