On Creating My Own Rare Disease Podcast
---
Did you know the World Health Organization estimates that approximately 1 in 15 people worldwide live with a rare disease? That actually means that having a rare disease isn't uncommon, so why are a lot of rare diseases so unknown? In the midst of the COVID-19 pandemic I decided to make it my mission to educate others, raise awareness about different health conditions and give my guests a platform to share their stories and explain how illness can affect different elements of your life, not just physically.
Don't get me wrong, I wasn't the first person in the world to come up with this idea. But from living in the UK and not finding another rare disease podcast based in the UK, I wanted to create a podcast so people here have a chance to share their experiences from the health care world. To be honest, another reason I decided that August 2020 was the right time for me to create my podcast was because I became fed up with health professionals not understanding my rare disease, scimitar syndrome. Of course I get that professionals can't know about every single condition out there, but the way they react or ask rare disease patients needs to be acknowledged. Another reason I decided to start my podcast was because I have been involved with the InvisiYouth Charity for a number of years. From recent conversations with other members of the charity, we found that illness can impact so much more than just causing physical symptoms. When you are a young person trying to navigate the world of employment, first relationships, studying, transition and so much more (although it can be at any age), these are barriers and challenges that so many don't realize there are. I am not glad that so many people with illness struggle with these challenges, but I have used this to motivate me to make my podcast as good as it can possibly be. My motto for this podcast is "if it helps one person, I am genuinely happy with that," and it will always be the same.
Since I first tweeted about it in early August, I had some many great responses from people wanting to be featured on my podcast from all over the world including UK, USA and India. However I had to learn every single bit about creating a podcast. I had no idea how to edit, I had to research the site to post each episode on which is then distributed on to Apple Podcasts, Spotify and several others and I had to do the work to find out that recording episodes on Zoom was a good idea because it has good sound quality. It has taken a while but I love every part of it.
I have a Twitter page to promote each episode, and to be part of the rare disease community and educate others about rare disease. I am in awe of all of the guests I have had so far, sharing their stories so openly and raising awareness about such important topics that affect so many. I am so proud to say that I am nearly close to 1,000 listeners (which doesn't sound like a lot to some, but for me I am so pleased). Not that it is about numbers, but of course more numbers means more awareness and education!
If you would like to listen to my podcast you can search for "My Rare Disease" on Apple Podcasts or Spotify. You can also keep up to date with the latest information and episodes on my Twitter page @myraredisease.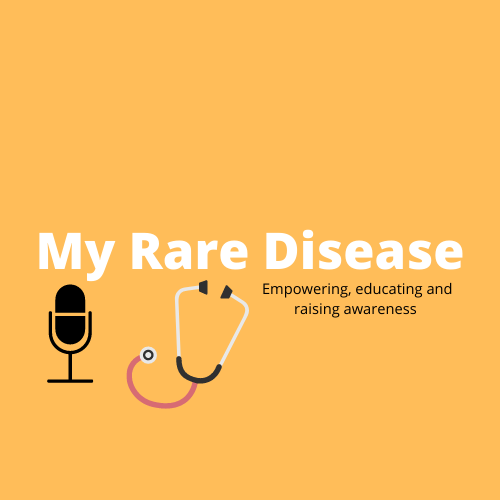 Photo submitted by contributor.
Originally published: January 31, 2021