This Suicide Scale Can Help Others Understand Your Suicidal Thoughts
---
Editor's Note
If you experience suicidal thoughts or have lost someone to suicide, the following post could be potentially triggering. You can contact the Crisis Text Line by texting "START" to 741741.
Talking about suicide isn't easy, especially when you're struggling with suicidal thoughts. Reaching out to others is crucial, but not always easy. Thanks to a group of artists who go by Emmengard, this new Suicide Scale can help you communicate how you're feeling with just a number.
Emmengard's suicide scale graphic breaks down levels of suicidal ideation. The scale starts at a one, colored blue, to indicate "I am so happy that I will literally go insane if the happiness is sustained for any length of time." The scale then progresses through green and into cautionary yellow. A six on the scale, for example, moves into passive suicidal thoughts. It reads, "I am seriously thinking about suicide a lot. It is seriously troubling. I can distract myself if I really try."
In the red zone, starting at eight, it's time to reach out for help. Emmengard's suicide scale reminds its users at a level eight, they need to call someone for support. A level nine indicates you may be actively considering suicide such as making a plan. The comic says, "I am actively suicidal. I need to tell someone." Level 10, the highest number on the scale, reads, "I am actively trying to kill myself. If I do not get medical attention it is very likely I will die."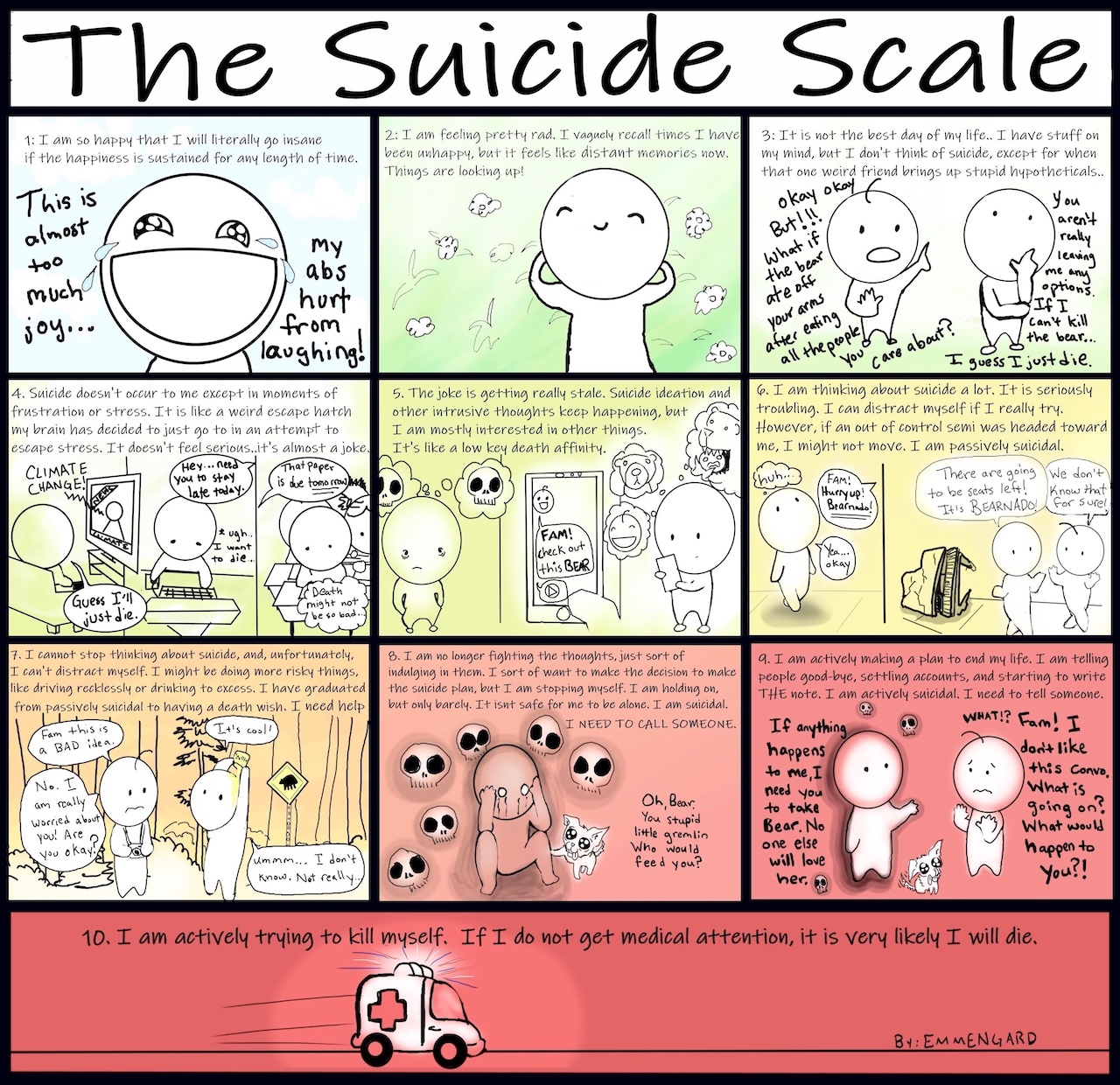 In a May blog post introducing their suicide scale, Emmengard wrote the loss of a friend who died by suicide prompted them to take the graphic public. Emmengard said they and their best friend Megan had been using the scale as a short-hand in their relationship.
"We made up the scale to get our best friend to talk about suicide in a non-accusatory, almost playful way, and it worked," Emmengard told The Mighty. "Then it developed into a tool for communicating safety needs. So when the scale ends up doing its job despite how people feel about its aesthetic or its accuracy or whatever, it just make[s] us laugh. We are just glad people are talking."
Emmengard, lives with dissociative identity disorder (DID) and identifies as plural, uses their art to get people talking. Through a comic series called "The Blobbies," for example, Emmengard shared their experience of living with DID. Whether it's through their comics or paintings, art allows them to practice self-acceptance. Emmengard said:
Art doesn't have to be pretty, or serious. It doesn't have to follow the rules, it doesn't have to be perfect, it just has be genuine to itself, and whatever that is, it is okay.  Our relationship to art has taught us more about self-acceptance, self-love and self-compassion, than anything else. Because love is an action and you get better at it with practice. Art is one way to practice. There are a lot of other ways, but this is ours. Art is a way to communicate and connect, not only with other people, but with oneself (or in our case ourselves).
Since sharing on their blog, Emmengard's suicide scale was posted in Reddit's r/coolguides community on Wednesday, where people post charts, infographics and other useful visual references. It has garnered nearly 20,000 upvotes so far, with many using the comments to start an important conversation about suicide. One of the most surprising responses, however, has been the appearance of the suicide scale in doctors' offices.
"I think one of the most shocking things is how quickly it has ended up in the offices of psychiatric professionals," Emmengard shared. "One person on Reddit commented that their psychiatrist had it up in his office when they went to see him two weeks ago, and we only posted the scale a little over a month ago. That was really shocking to us, but in a good way."
Emmengard's suicide scale has since been updated with a vertical and horizontal scroll and translated into Spanish. (You can find all versions of the scale on their blog and see the rest of their work on Instagram.)
The suicide sale has been going viral and someone translated it to Spanish. Wow! This is amazing.
Thank you to whoever did this. Our Spanish is not good enough to have done this ourselves. #laescalasuicida pic.twitter.com/vVRj9q4fiq

— Emmengard????️‍???? (@Emmengard1) June 26, 2019
Emmengard said they hope the suicide scale can help others have an open conversation about suicide and another way to reach out for support if you're struggling.
"We are sharing this now, because we [hope] that this could help other people," Emmengard wrote in their blog post. "Maybe it could start a conversation. Maybe it could give friends, like Megan and us, a tool for really talking about this honestly. Maybe it can help things turn out differently for someone else."
If you're struggling, know you are not alone and help is available. If you need support right now, call the National Suicide Prevention Lifeline at 1-800-273-8255 or reach the Crisis Text Line by texting "START" to 741741.
To connect with a community that cares, head to our #CheckInWithMe page. There you can read stories and post a Mighty Thought or Question to give and get support.
Originally published: June 27, 2019