The 7 Levels of Suicidal Thoughts: A Comic to Feel Less Alone
---
This happy, smiling picture had been taken days before a severe suicide attempt. It's a smile to cover the pain and numbness inside. My last desperate attempt to show a glimmer of humanity inside this body of mine.
Today, over five years later I created a little comic to express my seven levels of suicide. To speak out loud what I couldn't say back then. To provide some compassion, for all the souls suffering alone in silence. To make you feel less alone. Because you are not alone with your suicidal thoughts. Every 40 seconds a human dies because of suicide.
I had my last suicide attempt on January 2, 2018. On that day I decided that I deserve to heal. And all I can say is that it has been the best decision of my life. Instead of the last one.
Before we start
I'm not a professional therapist. I'm just a guy on the internet who chose life more than once. I've been suicidal more than once. Still, I can only speak for myself. This story is a reflection of my reality. But it doesn't have to be your reality. ⁠⁠If you have a gut feeling about someone please reach out to this person. It's better to be safe than sorry. Show some genuine interest in their life. Ask twice how they feel. But don't ask if you don't have the time or interest to listen. It takes a lot to open up. It's nothing you do during a quick chat. ⁠⁠Most importantly, listen without prescribing. Don't talk in between or put your autobiography into the story. Seek to understand instead of being understood.⁠
1. Level — A Bad Day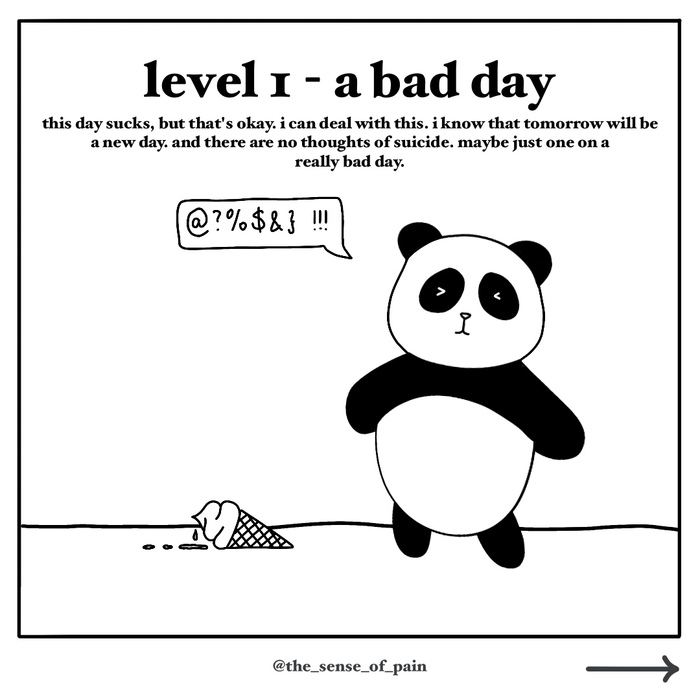 We all have bad days. Life isn't always painless and smooth. But that's OK. A rough day alone doesn't derail us. At this stage we can deal with the adversity life throws at us. In the end, we know that our comfy bed is waiting for us at home. And we can start over again tomorrow. But what if we don't have just one bad day? But bad weeks? Or even a bad month?
2. Level — The Suicide Jokes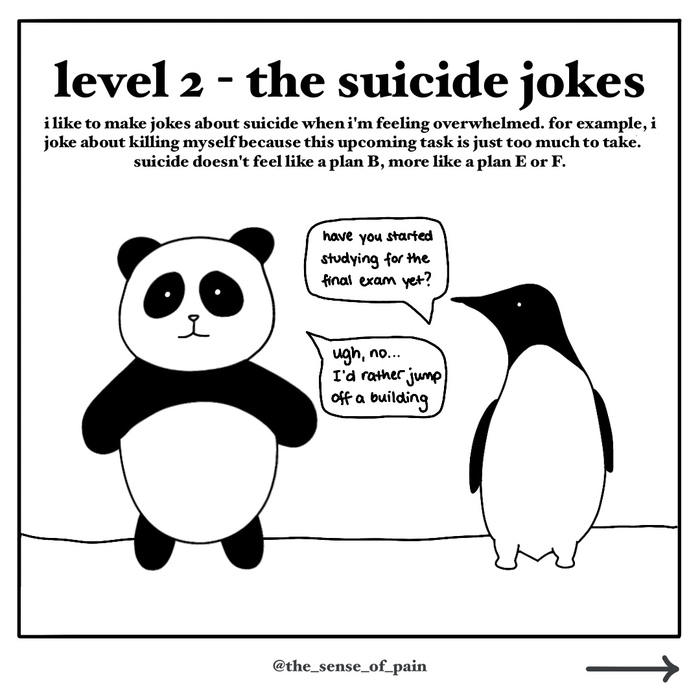 At this stage, suicide feels like a joke to us. Nonetheless, we start talking about suicide. That is how suicidal thoughts creep slowly into our life. For me, jokes had always been a way to express pain, stress and fear without feeling it. I use jokes to say the things I don't want to feel. The problem here is that it makes friends and family think you are so stable that you can joke about suicide. But it's often the first sign of imbalance.
3. Level — The What If State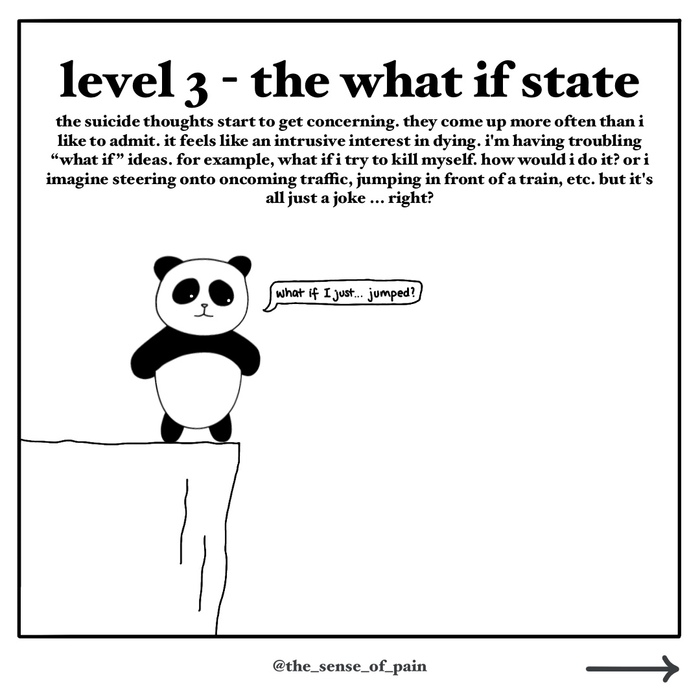 How it felt
At this point, suicide doesn't feel like a joke anymore. Somehow it became this concerning constant in my life. I should talk to someone about the number of suicidal thoughts I have. But I'm too afraid to speak about it. So I push them away. Whenever these thoughts scare me, or when I think I should talk to someone, I distract myself by saying things like: "Don't worry it's just in your head. You wouldn't do it."
What I want you to know
There is no shame in talking to a friend, helpline or therapist about these thoughts! You are not weird for having suicidal thoughts. All I want is for you to be safe.
4. Level — The Passive Suicide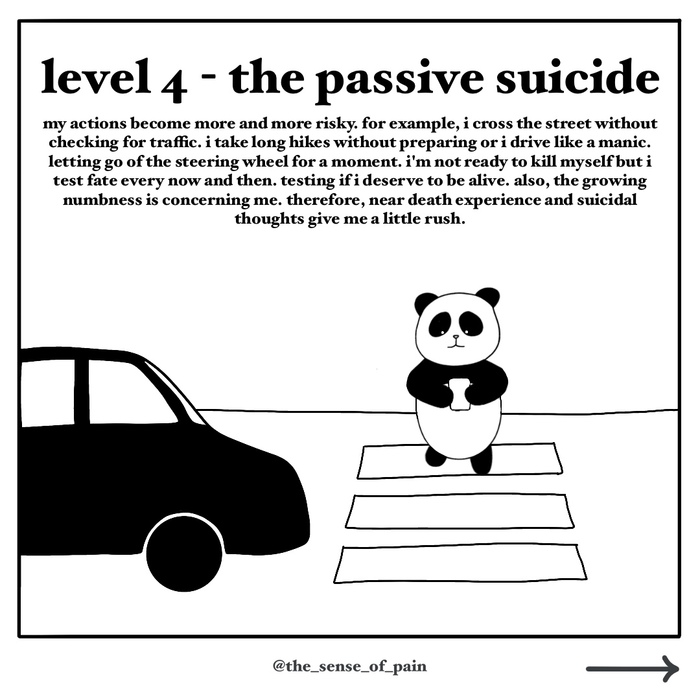 How it felt

The suicidal thoughts stopped bothering me. Furthermore, most things stopped bothering me. I feel an overwhelming numbness for everything and everyone around me. Mostly myself! It almost feels like I can't connect with anyone anymore. When I look at other humans, I can't help but feel alienated. On the one hand, it scares me. On the other hand, I don't feel anything.
What I want you to know
For decades I felt like I didn't belong anywhere. I always felt awkward, goofy and not welcome. What helped me to connect with others and myself again was self-love and self-acceptance. How did I do it? Journaling and therapy. All I want you to know is that there is good help out there!
Some other articles I wrote about journaling:
5 Reasons Why Journaling is Important For Mental Health
5. Level — The Plan B State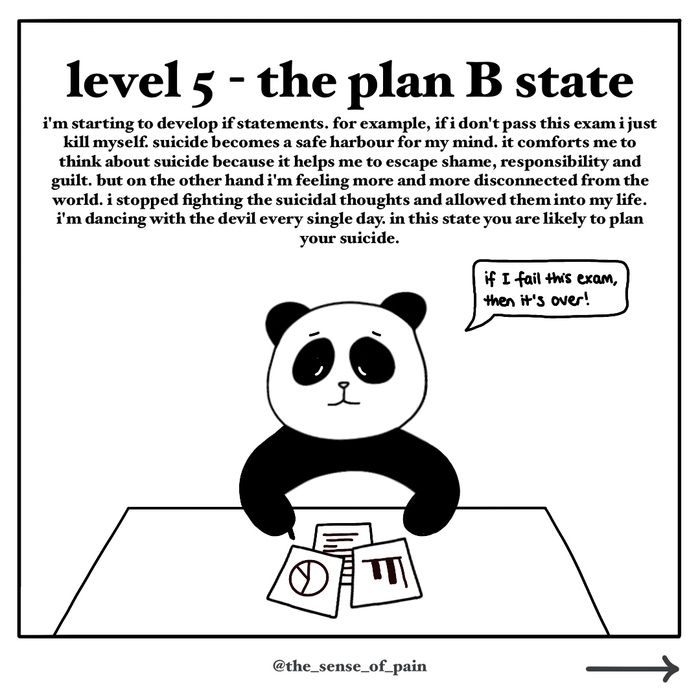 How it felt

At this point, suicide had become something like an escape plan. I use if statements to evade responsibility, shame, guilt or other negative emotions. I stopped fighting the suicidal thoughts. I don't know how but they consumed my thoughts. I don't feel stressed for having these thoughts. Suicide doesn't burden me anymore. It feels like a valid way to deal with my problems.
What I want you to know
This is the most concerning state because it stops concerning you. It feels like suicide is a rational idea, but it's not. When I look back on this stage I don't recognize myself. It wasn't me anymore. There is no shame in feeling overwhelmed by life. I had been at this point many times. But there is a way out. And this path is worth taking. You are worth it!
6. Level — The Hidden Goodbyes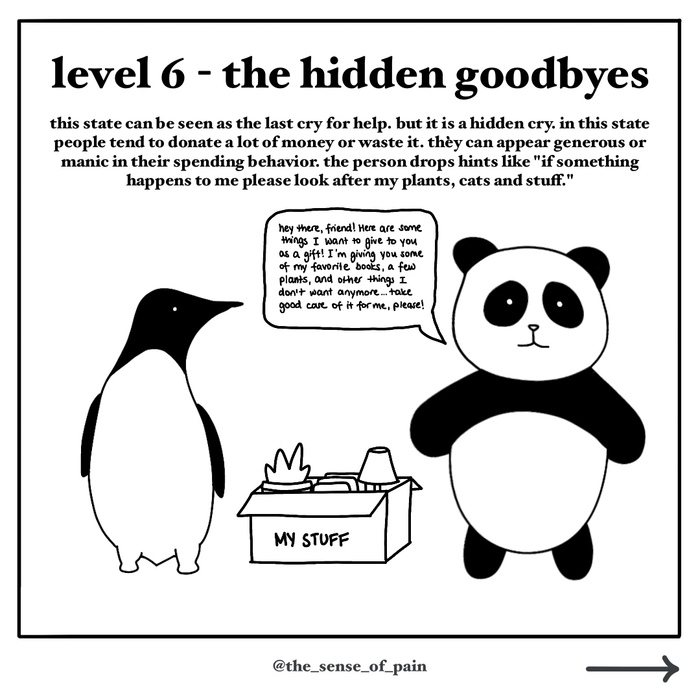 How it felt

Suicidal thoughts became my reality. But I was too afraid to address them healthily. I was too ashamed to tell anyone about how I feel. Instead, I spent money like a maniac and dropped hidden goodbyes. In the end, I didn't even think anyone would care about me. How could they? I felt like human trash and I didn't even care for myself anymore. It felt like I wasn't even worth being taken care of.
What I want you to know
These destructive thoughts of self-hate aren't real. My suicide would have been spiritual murder for those people who love me. I had my girlfriend, friends and my family. But I couldn't see this. I want you to know that your life is precious. No matter what you think! Your depressive mind created a twisted reality for you. But there is a way out!
7. Level — Active Suicide Attempts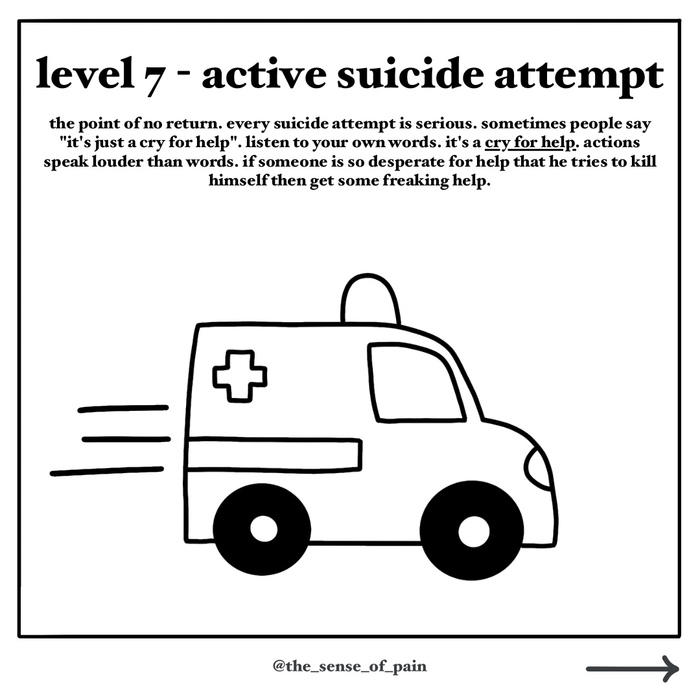 There is only one thing I can say about this. Every suicide attempt is serious! Some people say "it's just a cry for help." Now ask yourself: how desperate has it be to cry for help in such a way? It's a cry louder than anything else. It's a cry you shouldn't overhear because it might be the last cry.
Some Last Words
I had my first suicide attempt when I was 14 years young. I didn't listen to my cry for almost 10 long years. My hands are shaking while I write this paragraph because I understand how lucky I am to be still alive! It was reckless to neglect my mental health for such a long time. Please acknowledge that you deserve to heal before it is too late. The costs of inactivity are just too high.
Every morning I'm grateful that I survived these 10 long years. Because I can finally see the light at the end of the tunnel. And trust me when that light hits you, you will be overwhelmed by gratitude.
It doesn't matter if you are at level 1 or level 7 of this scale. Or if your reality is different from mine! You are worth being healed.
Read my honest and open talk about my suicide experiences and how I managed to fight my suicidal thoughts.
Here you can download the seven levels of suicide for free.
If you want a printed version of this comic for your organization or school, feel free to contact me!
Thank you for your time. Drop a comment below and let me know what you think about this story.
Originally published: August 30, 2021