A Notebook for Growing With Suicide Grief
---
Editor's Note
If you experience suicidal thoughts or have lost someone to suicide, the following post could be potentially triggering. You can contact the Crisis Text Line by texting "START" to 741741.
In 1997, fresh out of graduate school, I landed a job at a tri-county agency covering a range of services and simply called The Crisis Center. I staffed the crisis hotline, provided crime victim advocacy services, and counseled adults, children, and families. I stayed for five years.
I learned a technique — a tool utilizing collage, words, and photos — to help clients who'd experienced sexual assault create a new narrative about themselves, their relationship with the abuser, and a healthy path forward.
The process I mastered to help clients reframe their trauma became an important feature of my own healing 17 years later when I lost my teenaged son to suicide. I call it my Grief & Growth (G&G) Notebook. It's filled with sketches of the future I want and the past I try to see differently. It's a mixed-media assemblage to display the messages about living in the present while acknowledging both the heartbreak and joy of memories. The various pages together help me see a more nuanced and fuller picture of my past juxtaposed with the solid, sustaining, and loving relationships in my current life. My G&G Notebook is a personal roadmap for the grief I have to carry.
Reflection & Direction
Reframing, in the most basic clinical definition, means to shift your mindset or perspective about a situation, person, or relationship. Similarly, our personal narrative or the story we tell ourselves about our experience within the world can be examined with a strengths-based approach instead of a deficit model.
Before my son died, I'd experienced the loss of a dear friend to cancer when she was 35, a younger cousin's drowning, and the deaths of my grandparents. None of those events prepared me for the bulldozer of grief that flattened me when I lost my son, though. The manner of his death felt like the bulldozer shifted into reverse the moment I tried to stand up.
In a lot of ways, I had an ideal life: loving partner, extraordinary children, beautiful home, meaningful career. I never imagined suicide would touch my family. My G&G Notebook helps me see the positive aspects of my life mixed with the bereavement, through a lens that honors what I've built, given, and lost.
An Example From My Experience
I started by tapping into the troublesome, raw, and omnipresent thoughts that plagued me in those initial weeks and months in the immediate aftermath of my son's death. A priority: designing a page to transform the unsettling and disturbing memory of sitting by my son's bedside for two days in the ICU, hoping he'd wake up healthy and whole. My family were the "lucky" ones — experiencing a hospital death pre-pandemic — when so many of us surrounded him and held him. We squeezed his hands, kissed his forehead, offered up his favorite music, and whispered in his ears. All his grandparents, an aunt, uncle, and cousin were there together with his older brother, father, and me. I wanted a page to remind myself to remember the warmth and reverence shared in that place as he left, just as many of the same people were there on the early spring afternoon when he arrived.
When the Wall Street Journal paired its February 8, 2019 essay by Katy Butler about having a good death with a large, colorful illustration by Brian Stauffer of a person lying in bed, an arm outstretched with a flat palm to receive the rainbow-colored droplets, three figures standing nearby, their arms entwined, and another figure behind the dying person, laying loving hands atop their head, I knew I'd found what I needed. After reading the piece, I carefully went about constructing the visual I needed to shape. I used oversized stickers to spell out L-O-V-E, superimposed on the graphic.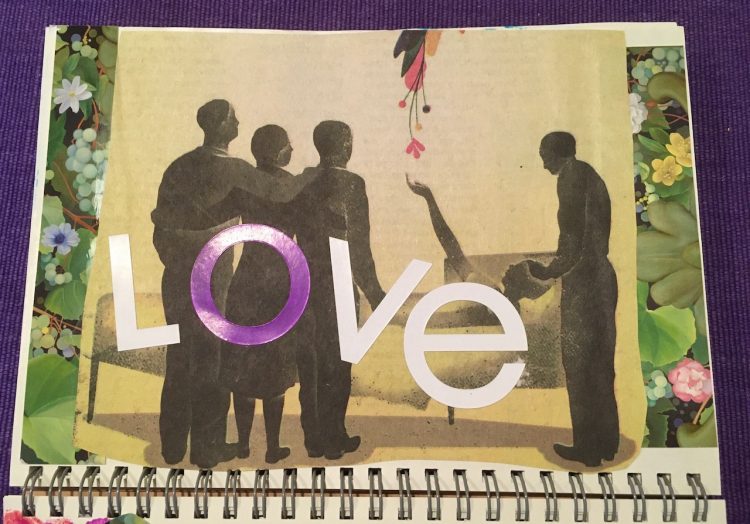 Portable & Personal
Integrating the loss of a loved one into your life means being patient and self-compassionate. This project was one of several I engaged in during the first 18 months of my grief journey. Designing my G&G Notebook is part of my healing process of shifting the question from "Why?" to "What now?" — a constant refrain I heard during the videos I consumed about post-traumatic growth from the National Institute for the Clinical Application of Behavioral Medicine (NICABM) and reiterated by author, researcher, and bereaved parent, Dr. Lucy Hone in her deeply moving "Resilient Grieving."
There are pages I've redesigned with time and distance. Days and weeks go by when I don't create a single piece for the notebook; sentences I've salvaged from newspapers and magazines, graphics, and photos pile up on my studio table. I understand I'll create when and if I'm inspired to do so.
The loss of my dear boy changed the trajectory of my personal path and his memory is never far from my mind. I cannot change what happened to me, but I can do my best to chart a future that feels purposeful and safe. Having visual reminders bound together in one illustrative journal to turn to when the winds of regret, guilt, and sorrow blow in helps me attend to those emotions and recalibrate so I can function more effectively and productively in the life I have now, with the loved ones here. My former Crisis Center clients would be proud of me.
This story originally appeared on What's Your Grief? 
To see more from Lauren, visit her site. 
Image provided by contributor