Coping With the Silent Triggers of Seasonal Trauma
---
They say time heals all wounds. Unfortunately, time also has a way of opening the deepest ones back up.
The Events that Define Us
There are a handful of moments and events in our lives that define us or otherwise change us in some way. The day you gain or lose someone you love, the day your beliefs about yourself changed, the day you started to see the world differently. These can be positive or negative — but for all of them, we are never quite the same.
The positive of these events will become happy memories we enjoy sharing around the dinner table. The moment we met our significant other, the day we came up with the idea for an important project or goal, the time we realized something special about ourselves. These are the events that add something to our lives and gives us the motivation to get up every day. They affect us in subtle ways and eventually add to our routine and positive identity.
The negative events in our lives, however, tend to cut deeper. They leave scars that will heal with time, but never quite go away. The loss of someone we loved dearly, a near-death experience, a significant failure. These are the events that leave us raw and vulnerable. They remain with us, and sometimes if the scars are deep enough, with the right conditions they can be opened back up.
My Trauma
It is strange how many of these negative events in my life seem to occur during the same time over different years. At the age of 17 I nearly died by my mother's hand, at the age of 18 I would be raped, at the age of 21 I would miscarry and discover that I would not be able to carry a child to term, and at the age of 29, I would lose my best friend in a car accident. Each one occurred within the same three-week period between the end of April and the beginning of May.
These events would have a significant impact on my mental health resulting in post-traumatic stress disorder (PTSD), anxiety, depression and grief. I am not ashamed to say I have sought therapy services on two separate occasions to process these traumas and have been prescribed anti-anxiety medication in order to improve my quality of life. Even with these interventions, there is still a rawness that comes with the memories of the things I experienced. I have the coping skills, but nothing can change the reality of what I went through.
Most of the time I can live in the here and now, grateful for the person I have become despite my trauma. I am a survivor of childhood abuse; I am the best aunt and godmother I can be and have made a good life out of tragedy. It is a balancing act of knowing and accepting what I went through, while not letting it rule me. Memories and emotional scars are tricky things and sometimes there is no ignoring them.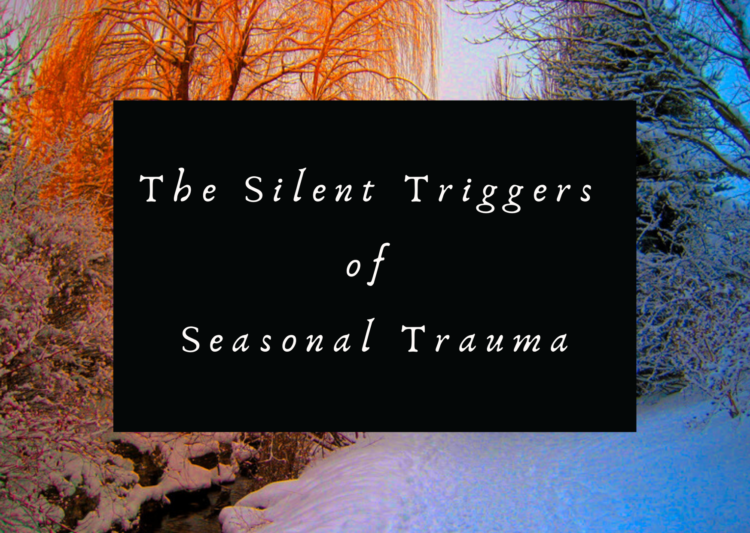 Trauma Anniversaries
A trauma trigger can be almost anything that reminds the individual of trauma or grief they experienced. This can include a sound, smell, image, situation or many other things. They are as diverse as the people who experience them. Furthermore, the response to a trigger can be unpredictable and inconsistent. For example, a song I hear that reminds me of my trauma may not manifest into a reaction until I go to dream. On the other hand, one small reminder of my friend, in the right situation, may create a more intense and immediate reaction than usual.
Aside from specific triggers, many who have experienced trauma or grief must also manage trauma anniversaries. This can come on in response to specific calendar dates or be related to weather changes or holidays. Ironically for me, this time of the year brings with its Mother's Day. For a person unable to bear children and lacking in positive motherly love myself, this holiday can add insult to injury during a time where I am almost certainly vulnerable. Social media posts talking about the only true love being between a mother and child hurts on many levels and brings with it grief for what I will never have, along with memories of the reality I did have.
There is an escape from the memories that this time of the year brings. Mother's Day aside, spring is in full bloom bringing with the ghosts of my past. The smell of the flowers and the new presence of butterflies are bittersweet, both comforting as sad. I mourn the life I wish I would have had and begin to resent the struggles I faced due to those who were meant to love me. It is unstoppable, a force of nature itself. These are the triggers that those with trauma anniversaries cannot hide from.
Keep Living
Over the years my reaction to this time of the year has grown as the weight of my pain has grown. Earlier in my life when the trauma of abuse and infertility was still fresh, I had my best friend and sister to help. Then suddenly she was gone, and the memory of her support became my burden to bear as well. This year has been no exception.
As the first days of April pass, memories creep back in without effort. Even when my conscious self forgets, my body remembers. I begin to feel phantom pains of my old injuries, the asphyxiation and bruised ribs. My dreams travel back to both the days I wish I could relive and the ones I wish I never lived in the first place. It is not until I look at the calendar and see Mother's Day on the horizon do I even realize what my subconscious is telling me. Somehow it is always a surprise.
The prospect of trauma anniversaries is daunting and bleak. There is no happy ending or magic cure. Time, effort and learning to cope make this time of year manageable, but memories are not easily controlled and trauma and grief are not easily forgotten.
Instead, the takeaway is understanding and understanding alone. The impact of trauma and grief for many may be a lifelong struggle, so remember to always show kindness and compassion. Just because you do not see a person's scars does not mean they are not there.
Follow this journey on Serene Life Consulting 
Photo by Allef Vinicius on Unsplash