Watching the World Face COVID-19 as Someone With Terminal Cancer
---
I know. You're thinking I'm out of my mind. Bear with me.
I have terminal cancer, but I am a lucky person with terminal cancer. I am dying very slowly and leading a fairly normal life. I have metastatic breast cancer in an era when drugs are buying years of time, with few side-effects and little if any immunosuppression.
Having been diagnosed with cancer, originally in 2008, at the tender age of 31, I have confronted my mortality. Upon recurrence in 2015, it was unlikely I would live to 2020. (The fact that I am seeing 2020 is due mostly to the revolutionary drug that was FDA approved in 2015.)
I see my life in weeks and months. Not years.
I am 43. Most of my friends are between 35-45. And as COVID-19 descended on the general human psyche, I noticed my friends seemed irrationally fearful, taking precautions to extremes.
I, on the other hand, feel I am taking "reasonable" precautions. In the lovely evening breeze, I will walk alone and mask free.
As I biked to work today, while most people I know haven't set foot in their office places in months, I thought of my office building where there will be eight other masked people. I will be in my own office, the doors propped open to encourage airflow, the surfaces sanitized. I had absolutely no fear of going to work. (By the way, you may ask, why am I working? Well, aside from the fact that healthcare in America is expensive, I can sit at home waiting to die or work, which generally I enjoy.)
My two scenarios, a solo evening walk and my office, are both low risk. Most of my healthy friends would never dare to do either.
And while I biked to work today, I suddenly understood.
I never expected to live to today. I definitely don't want to die and I do fear the uncomfortable path to death, but it has been my persistent reality and awareness, a thorn in my mental state, for over a decade.
And for the first time ever, many of my friends are afraid of dying. They are confronting their mortality when they never have before.
Many cancer patients have met the other patients who try something obsessive or radical, that have little if any basis in western medicine, let alone chronicled evidence, but are "treatments" that the cancer patient themselves fully control, such as alkaline or raw diets.
When we are told we are dying, much sooner than we are mentally prepared for, there is this zealous, fanatical, desperate attempt to control the situation, as if we can change the outcome. Thus, fight or flight, we fight even if the means hardly has the vaguest rationale.
And that is what my friends are doing. They are taking the extreme actions they can control because for the first time in their lives, they are scared.
As a cancer patient, who makes decisions assuming I will live months, not years, I have always tried to explain how I see things and why my decisions are different. I have never felt understood.
For the first time in my life, I feel my peer group has gotten a taste of my reality.
I am not going to live 20 or 30 years. I am grateful to be here today. I make decisions for three months, not next summer. The year 2021 is a myth, until I see otherwise and science, in which I hope, delivers.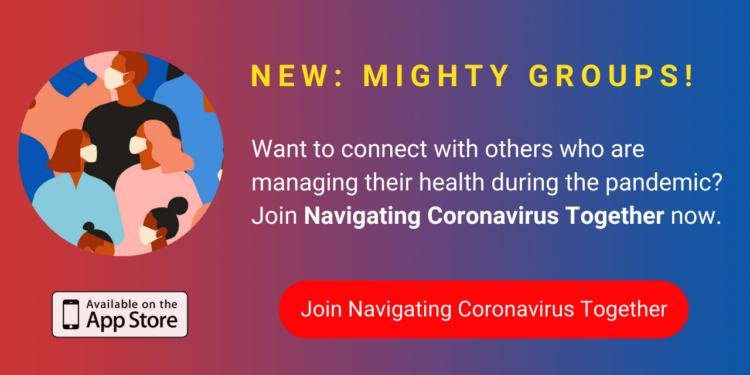 The reason why COVID might be good for a cancer patient's mental health is because for the first time in our lives, everyone is afraid and confronting their own mortality in a way the vast majority have never had to in their entire lives. And that confrontation is just unrelenting, on TV, in their actions, in every, every conversation.
So while we, as cancer patients, fear more for our lives now, we finally have broad understanding across all of humanity. Almost everyone, to a varied degree, fears for themselves.
Put this secret knowledge in your coping tool box, because it has unfortunately made everyone an ally. When confronted with someone who doesn't understand the mental burden of living, always, as a dead man walking, remind them of their first real confrontation with their mortality, which may very well be now, COVID. Remind them how they felt when they realized it is real; they may get sick or die; their loved ones may get sick or die. Remind them of how this is driven into their psyche, day-in and day-out, while at the supermarket, listening to the radio, or canceling long-awaited, once in a life time, plans.
Ask them how that affected them.
Then, tilt your head to the right, let your eyes get a little damp, and welcome them to your everyday reality as a dying cancer patient.
We never wanted others to understand confronting mortality, but, if nothing else, accept the solace of being understood.
Image provided by contributor
Originally published: November 9, 2020