Mighty Style Diaries: A Unique Way to Wear Dresses When You Have Chronic Illness
---
Welcome to The Mighty Style Diaries, where our community showcases their favorite outfit and shares how they combine fashion with their illness or disability.
Editor's Note
We hope the products below, all recommended by our Mighty community members, help you or a loved one in your health journeys. Just so you know, The Mighty may collect a share of sales from the Amazon links on this page. Prices and product availability are accurate as of publication.
When this week's Mighty Style Diaries fashionista is out and about, you may not be able to tell she is wearing a PICC line and port-a-cath. Heidi, who lives with Crohn's disease, psoriatic arthritis, dysautonomia and adrenal insufficiency, shares how she makes clothes work for her and her medical needs, and why she's OK with looking OK, even when she doesn't feel well.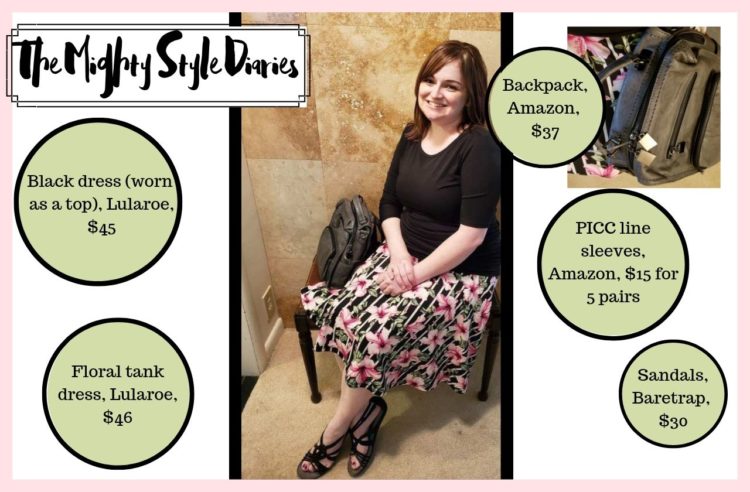 Name
Heidi
Diagnoses
Crohn's disease, psoriatic arthritis, dysautonomia and adrenal insufficiency
How would you describe your style?
Like most of us, I long for the days when I wasn't sick. I love my PJ's and comfy around-the-house clothes. (I refer to these outfits as my "sick attire.") But, when I go to a doctor appointment or have a small errand to run, I prefer to look like my best self. I currently have a port-a-cath and PICC line to help manage my hydration and hypotension. My infusions run for several hours a day. I also use a walker or wheelchair to get around. I get a lot of stares and questions from strangers. When I wear "regular" clothes instead of my "sick" clothes I have the confidence to ignore those stares and answer those questions.
How does your disability influence your style and the clothes you wear?
When choosing my outfits, I consider the following:
Is this cute and comfy?
Can I get this clothing on and off easily? Buttons and zippers are hard when my arthritis flares in my hands.
Does this allow my healthcare team to access my central lines?
Will this top irritate my port site or dressing?
How will I keep my PICC line safe?
Is it easy to wash and care for? It's hard enough to do laundry, let alone worry about dry cleaning.
Is it cost-effective?
Is this shoe going to be a trip hazard? Think about your shoes my friends, there are some that are just too dangerous for mobility devices. (Note: If you are unsure about which shoes are the safest for your situation, check with your physician. A physical therapist or occupation therapist can also provide valuable insight.)
Will this catch onto any part of my wheelchair? Will this ride up or keep my backside covered in my wheelchair? (Seriously, why does that always happen?)
Why did you choose the pieces you're wearing in the photo above?
Finding clothing that works is hard, but not impossible. In this photo, I am actually wearing two types of dresses. The black top is a pencil dress that I have scrunched up, giving the illusion of a ruched top. I love that I can wear this as intended, but that it also doubles as a top. With Crohn's disease, I experience a lot of belly bloat (hello prednisone). The ruching helps hide this. My floral skirt is actually a tank dress. I love that I can wear it alone as a dress or cover it to make it appear like a skirt. These pieces are a lightweight knit fabric, so they don't irritate my port site. They also stretch enough that my nurses can access the port without me needing to change. There are no buttons, zippers, or closures of any kind to worry about. They slip on and off easily. The dresses are both by Lularoe.
Believe it or not, I have on a PICC line cover! Look close, it's on my right arm. I found some cooling sleeves on Amazon that are cost-effective and come in a big pack of different colors. I love when I can blend the PICC cover into my outfit.
As mentioned, my IV fluids are running even though you can't see them. I found the backpack on Amazon. It holds the pump, fluids and extra supplies. The double zipper makes it so I can adjust the tubing. The extra handle makes it easy to carry around the house so I am not tripping over an IV pole. When out and about I use it as a backpack. Bonus is that it fits the back of my wheelchair.
Then, my shoes. Oh, how I love cute shoes. My balance is terrible and psoriatic arthritis affects my feet, so sandals are usually not an option. I was so thrilled to find these sandals. They are wide, have a good cushion and zip in the back. I can happily wear them without the fear of a strap coming loose or having them slip off my feet. These are by Baretraps.
What fashion advice would you give others with chronic illness and disabilities?
I think "style" as an illness and disability warrior is all about adaptivity. Just because I'm sick, does not mean I have to look sick. I know this is a tender subject. Many of us have been hurt by the comment "But, you don't look sick." I've decided that I don't need to prove my illnesses to anyone. Consider that dreaded comment as a compliment. It means you've got it together enough to do what needs to be done. It means you look amazing today. Be proud of that! I can't control my illness, but I can decide to take the best care of myself that I can. Getting up and dressed —even if it's just into clean PJ's for the day — helps me feel so much better about myself.
I hope this will help you, my fellow warriors. Remember, it's OK to look OK even if you're not.
Like Heidi's style? Here's how to get a similar look: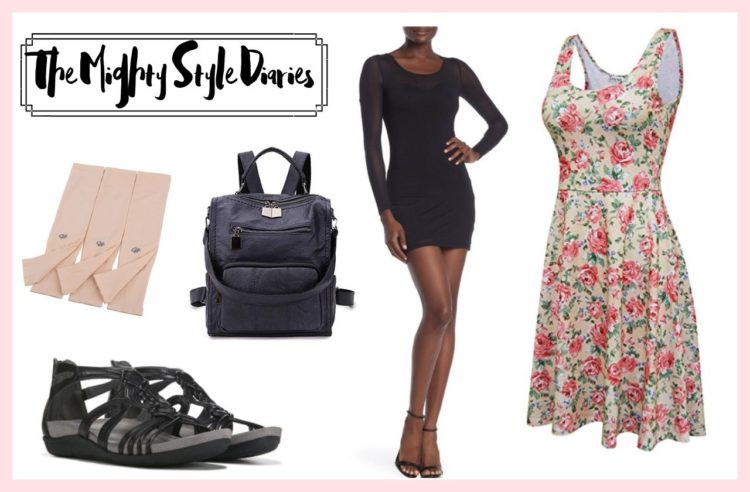 Black dress: Nordstrom Rack, $29.97
Floral dress: Amazon, $19.89
Backpack: Amazon, $36.59
Black sandals: Famous Footwear, $25.98
PICC line cover: Amazon, $11.98 (3 pairs)
Want to be featured in an upcoming Mighty Style Diaries? Here's how to show off your best look: