What Getting Tested for COVID-19 Was Like as a Trauma Survivor
---
March 14, 2020.
I'm writing this from my hospital bed, on day three under quarantine while we wait for the coronavirus (COVID-19) results to come back. The coronavirus is a new-to-humans viral strain in the coronavirus family that affects the lungs and respiratory system. I'd be lying if I said I'm not scared, and that my post-traumatic stress disorder (PTSD) isn't spinning out of control.
On Thursday evening, I began to show symptoms of the virus. I called my clinic asking what the protocol is and was directed to a website that allows doctors to make video calls. I spent an hour trying to figure it out, only to give up in a fit of frustration, fevers and a cough. I was ultimately told to go to the emergency room.
My mother, being the mother she always is, drove me to the ER and helped me advocate for myself. And most importantly, she knowingly possibly contaminated herself for me.
Originally, I didn't meet the requirements of being tested because I didn't have contact with a positively tested person or have travelled to an outbreak country. This is despite having moderate asthma and having traveled to Chicago, where there is known community spread. (That's where it spreads in the community but there is no direct line or knowledge of contact to the newly infected person.) As all of these tests came back negative, and since I was presenting quite sickm they decided to test me. (It takes 24 to 48 hours? This is the most ridiculous setup in the world.)
We spent seven hours in the ER, with it being one of my scariest visits.
The doctors and nurses, donning large hazmat suits, came into my room to put an IV in and draw blood.
I was given a breathing treatment and within seconds of it finishing, my body was vibrating and my limbs became contracted and paralyzed. I couldn't move my hands, fingers or feet for over an hour. Screaming in pain, nobody came. When my mom finally got someone to pay attention, the doctor called it "anxiety" and my PTSD; if I took some deep breaths it'll go away. It didn't, I was given a relaxant and they opened again.
As the night went on, my tests came back only to see that I also have a kidney infection (which could be the cause of a fever), so I was also put on IV antibiotics.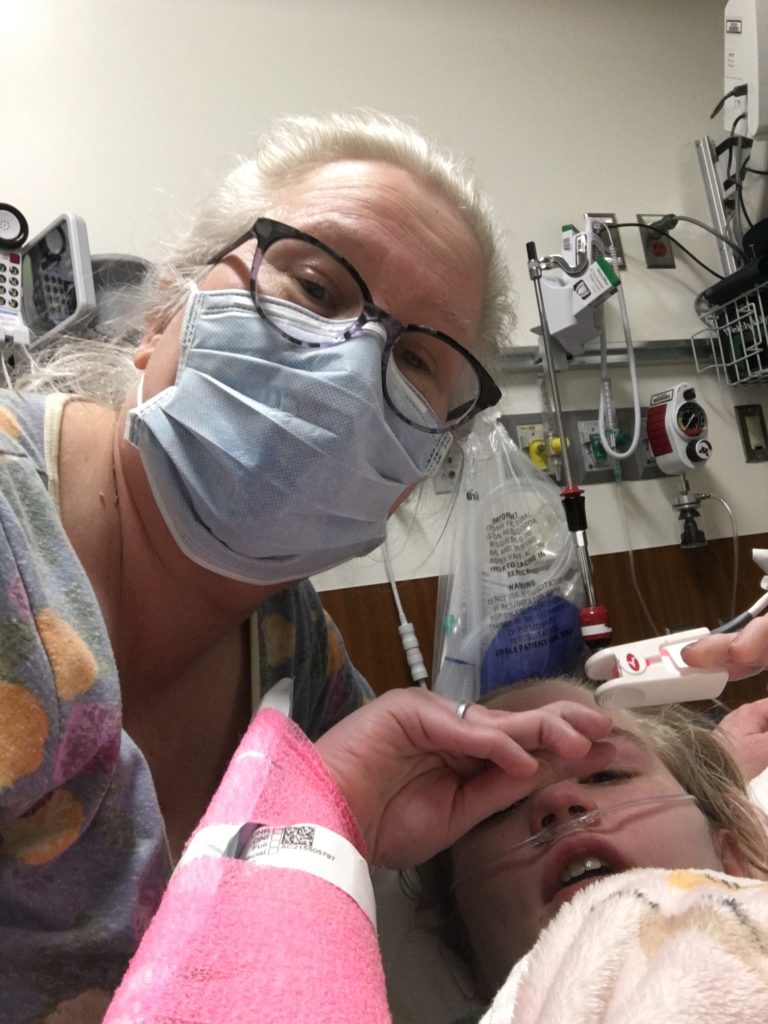 I had a slightly tearful "see you later" with my mom. If the tests are positive, there's no way of knowing how long we'll go without seeing one another.
Eventually, I was pushed up to an isolation room overlooking the Mississippi river. (Its beautiful and there's a lot of sun.) Between Thursday and Saturday afternoon, I had nine blood draws, two IVs infiltrating and three IV placements.
With my PTSD spinning, I yelled at the lab technicians to get out of my room because they couldn't tell me what blood draw six and seven were for. It's Saturday evening right now as I'm writing this, and still waiting on the test results.
As the public falls into fear, check in on your friends and family who have chronic or preexisting conditions. Not only can they get sick faster, but this is an especially scary time for them. Flashbacks, sense memories and panic attacks has my PTSD beating me to a pulp.
I write this in sadness and fear, but mostly anger.
Sadness for the lives lost, and that 3% mortality rate is expendable to some people.
Fear for my vulnerable loved ones and clients.
Anger to those who thinks that breaking quarantine is OK.
Anger to the health professionals who were rude just because I was under quarantine. Anger to the health professionals who discredited my fears and why this might be extra scary for me.
Anger to those who think spreading misinformation is OK. Health care professionals are putting their lives on the line and they are not there to dampen irrational fears that are created by misinformation. If science doesn't support your hypothesis then it isn't science. Misinformation and not following quarantine protocol is what will take the death toll from 3% to something much worse.
You are ableist and privileged.
You can present little to no symptoms and still transmit this disease.
Do you love your grandparents? Your friend who is just coming off chemotherapy and has no immune system? Your dad who has type-2 diabetes? Do you appreciate the nurses who are working nonstop to care for their patients, who walk into sick rooms and who break the 3-meter protocol to care for someone?
You are lucky if you don't have to care.
But 30 surgeries, four life-threatening infections and 21 years of built-up PTSD later, I can't afford to not care, and neither can so many other people.
Recognize your privilege. Follow the rules, and understand that your actions do not only affect you.
We're entitled to our anxieties and fears because this world everyone is living in has been my world for my whole life, and for others with preexisting conditions.
March 15, 2020.
I get to finish writing this from my own bed, under home quarantine. I was discharged with my kidney infection getting better, and no test results.
I feel a million times better than I did on Thursday. I'm on the upswing with whatever is going on inside my body.
They said 48 hours. No word from the health department. Now, I don't know when I'm going to get them. Will I get them? If I test positive, I will be in quarantine for the next 11 days. Will I be waiting for a call for the next 11 days?
The health department isn't calling individual people if they test negative.
How can I trust they will call the hospital if I test negative?
My PTSD is already bad enough and has given me hell over the past few days.
Will I be here for the next 11 days?
Tune in to find out.
Concerned about coronavirus? Stay safe using the tips from these articles:
Originally published: March 17, 2020