Worrying About What's Next As Someone With Chronic Illness
---
I am no stranger to chronic illness. It took a long time to receive my diagnoses, but I have been sick off and on for as long as I can remember. It never bothered me. I've always been able to accept that this is part of my life. In the past year, however, I've started to develop some post-traumatic stress disorder (PTSD) symptoms related to my medical history and traumatic hospital stays. It has been extremely difficult to keep my health anxiety under control while my conditions keep flaring in the middle of a global pandemic.
I know that one of the first things you learn in therapy is not to get lost in "what if" scenarios. I understand and support this wholeheartedly, but what if your fears keep coming true? What then? How can you convince yourself you're going to be OK when your body is constantly fighting against you?
In the past year, I have had severe issues with gastrointestinal dysautonomia symptoms, been diagnosed with rheumatoid arthritis, wound up in the hospital with e.coli, developed horrible bronchitis from being in said hospital, developed worsening POTS symptoms, found out the hard (and terrifying) way that I have recurring SVTs — and that's just scratching the surface! I am constantly wondering what is coming next because there is always something coming next!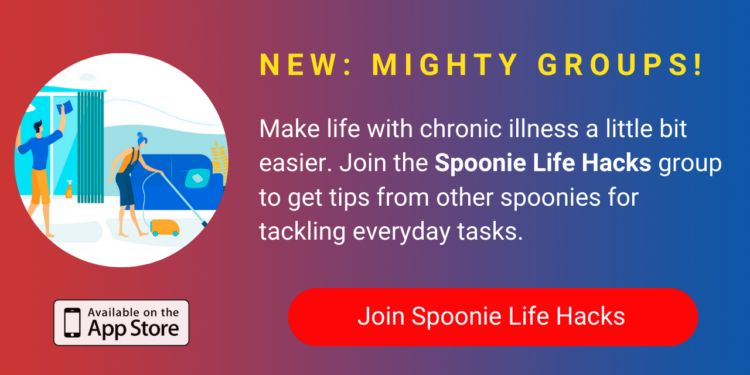 I am trying. I am working on appreciating what I have when I have it and learning to live in the present. I am extremely fortunate to have a husband who is seemingly unphased by all of my health challenges. He is able to look at each obstacle as an individual challenge rather than being overwhelmed. He doesn't see the dark looming cloud with all of the possible complications that can come along with Ehlers-Danlos syndrome and autoimmune diseases. He just sees me. When I get embarrassed about something like needing a cane for long walks and stairs, he reminds me that I'm just making an accommodation for my body so I can do more in a day. Would I rather be tired and in pain from walking up the stairs or from running around and playing with our daughter?
It is hard. It is really really hard, but I'm trying. I'm trying to see myself and my illnesses the way my husband does. I still see the shadow of the dark cloud out of the corner of my eye some days, and I still get lost in "what if" cycles, but I am trying. My body may not act the way I want it to, but it's the only one I've got. I will continue to work on learning to appreciate everything it can do for me instead of focusing on everything it can't.