Your Guide to Using Health Insurance to Get Mental Health Care
---
In September, we published the results of an investigation into what it's like for therapists to accept health insurance. In California, in fact, about 40% of therapists don't work with insurance companies.
It turns out for many therapists who work on their own, they have a hard time making a living because the amount they earn through insurance is too low when they factor in their costs. Insurance companies also don't make it easy to keep up with paperwork, follow up on unpaid claims or sign up to accept insurance in the first place. You can read the whole article here.
Along the way, we also learned a lot about mental health insurance and wanted to make it easier for patients (and their therapists) to get the most out of their benefits. Do you know how to find out what your mental health insurance benefits are? Did you know your insurance company has to provide the same access to mental health benefits as medical benefits? How do you file a complaint against your insurance company?
To make your mental health journey a little easier, we've compiled a guide to using your health insurance for mental health care. This guide is specific to California, but if you live in another state, we've included a few resources for you as well. Each section of the guide is downloadable as a PDF so you can save it on your phone or computer, print it out or email it to others. We've also translated each page of the guide into Spanish.
From your rights as a patient to resources you can contact for help understanding and using your health insurance for mental health care, here's what you need to know:
Patient Bill of Rights: Mental Health Insurance
Under federal and state law, you have many rights as a patient. From mental health parity to what your insurance company is legally responsible for providing, get clear on your rights as a mental health consumer.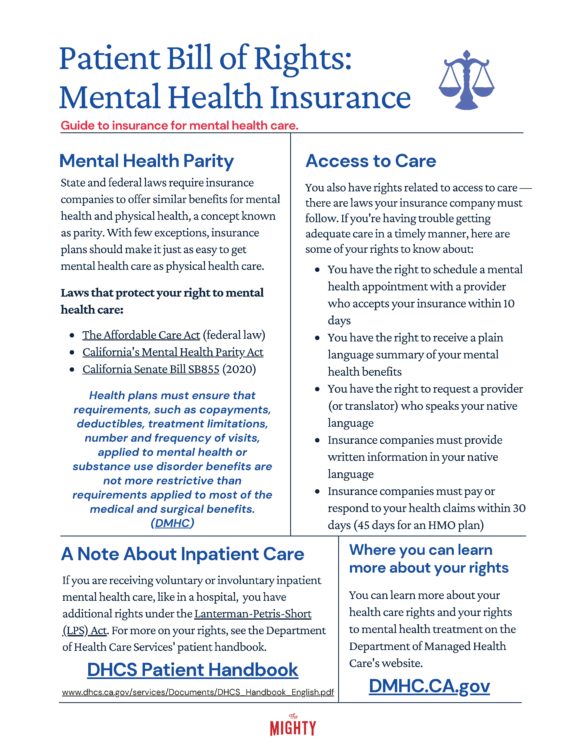 What Are Your Mental Health Benefits?
The first step to using your insurance for mental health care is understanding what's covered. Here's who to call, what to ask and what else to keep in mind.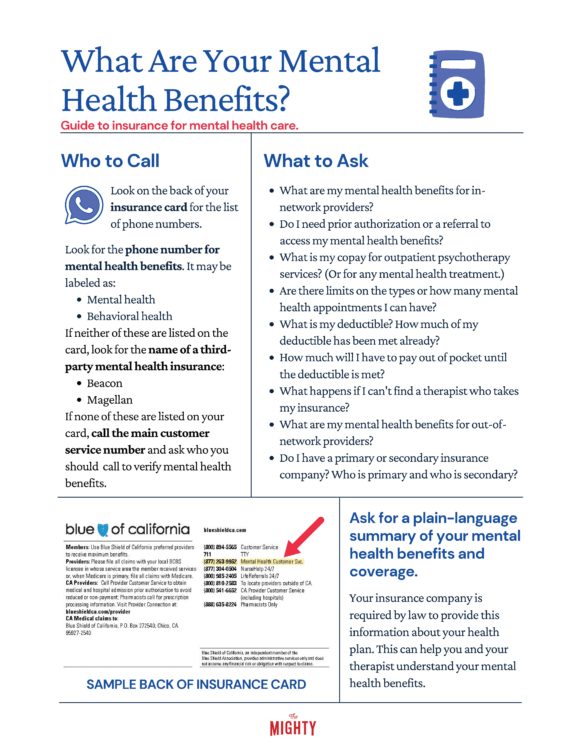 When You Can't Find a Therapist Using Insurance
We heard from many people that it was difficult to find a therapist who takes their insurance. They may have called as many as 20 therapists only to find nobody had an opening. If this happens to you, here's what you can do to get the care you need.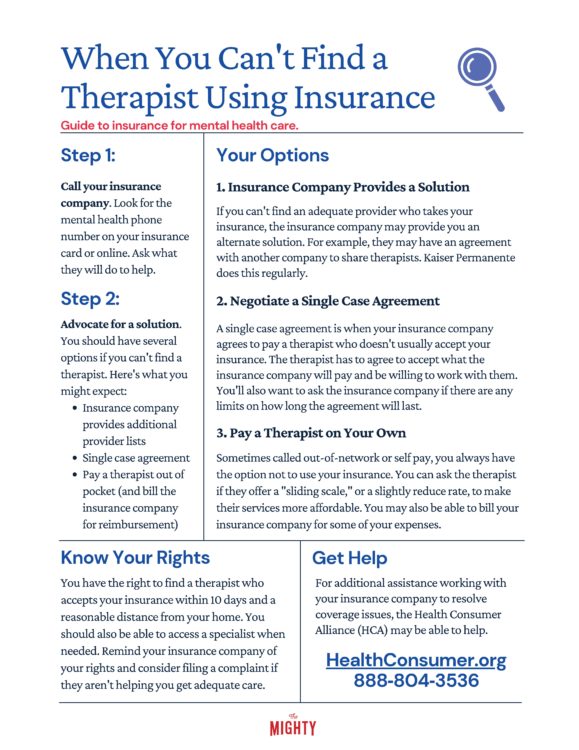 Get Reimbursed for an Out-of-Network Therapist
Some people choose to pay out-of-pocket or on their own for therapy without insurance. Also referred to as going "out of network," you may still be able to get your insurance company to cover some of your expenses.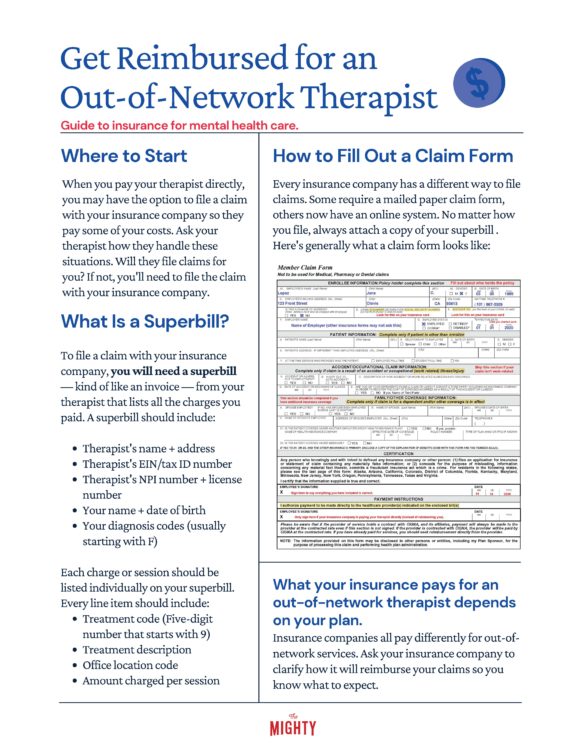 When Your Insurance Company Doesn't Pay
Things don't always go smoothly with health insurance, and the company may deny your claim or refuse to cover treatment. This is one of the most frustrating things that can happen to clients, but you do have some options.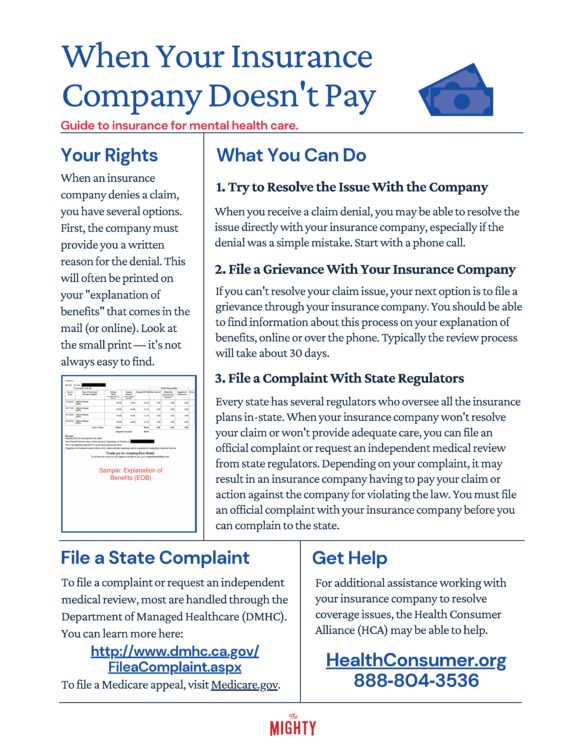 Medicare, Medi-Cal & Covered California
You may be covered by health insurance through a number of different ways in California. If you don't have insurance through your job, you may be covered by Medicare, Medi-Cal or purchased private health insurance through Covered California. If that's you, here's what you should know about mental health care.
How Clients Made Mental Health Insurance Work
When you're struggling with your mental health, advocating for yourself with an insurance company can be nearly impossible. Two clients who have been there, Amparo and Victoria, explain how they were able to get health insurance to cover the mental health care they needed.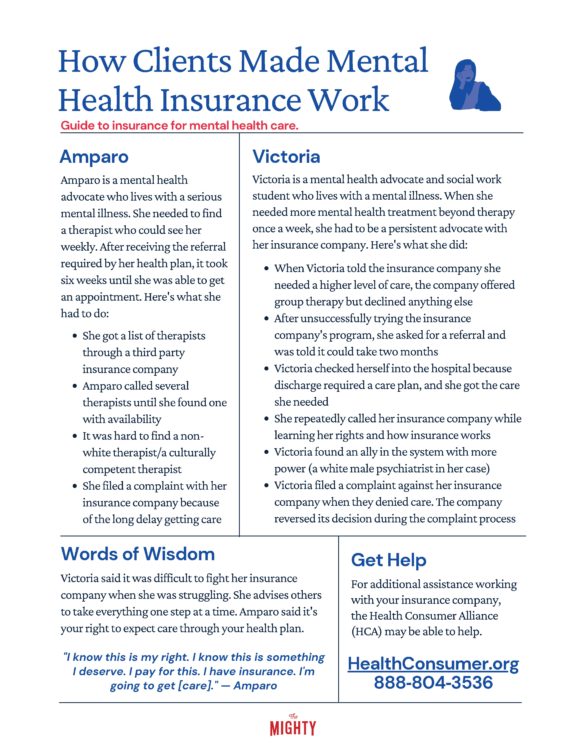 Mental Health Insurance Resources & Contacts
Whether you need a way to contact the state regulators who manage complaints against health insurance companies or a patient advocate who can help you navigate the system, this page is chock full of mental health resources.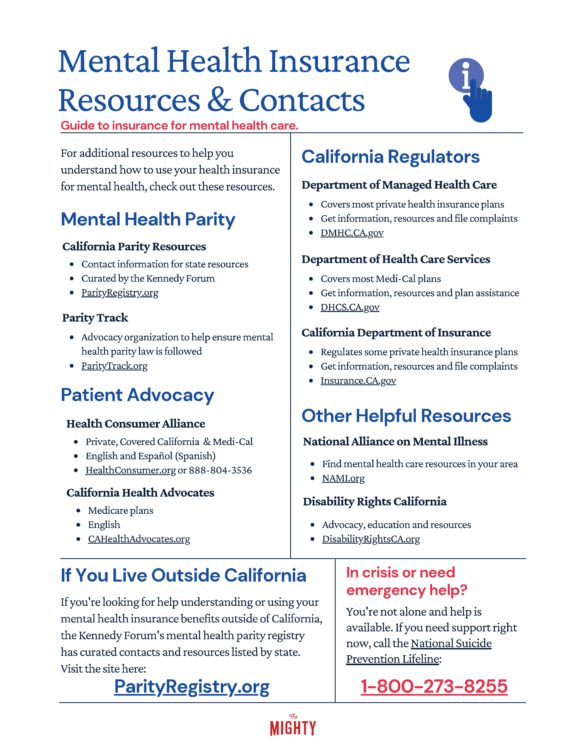 Have ideas for additional resources you'd like to see about mental health and health insurance? Let us know in the comments!
Header image via Irina_Strelnikova/Getty Images