What This Epic 80s Tattoo Represents in My Trauma Recovery
---
As a good child of the 80s, I'm obliged to inform you that we had an excellent selection of cartoons available for our viewing. I personally put in a lot of hours in front of the TV, as well as with related toys, comic books and scholastic book fair treasures. Like many folks, a lot of these characters continue to have a special place in my heart.
While many people have nostalgia for childhood things, the reasons for trauma survivors may be a bit different, and I am included in this group. When I was a kid, I experienced sexual abuse. Due in part to this trauma, I have what's called complex post-traumatic stress disorder (C-PTSD), depression and anxiety.
A part of my experience is that at a young age, my mind figured out how to dissociate, which was a form of coping for me during and after this trauma. Even now as I inch toward 40, dissociation can creep in during times of increased stress or triggering events. Dissociation is felt differently for all who are familiar with this symptom. Some folks more or less blank out, some feel detached from their body, while others may experience something similar to daydreaming or any type of combination. As a child, it became a regular occurrence for me to end up dissociating by taking "mental trips." A large amount of those "trips" were up in the clouds, where I had adventures with my friends, the Care Bears. Truthfully they were a pretty great group to hang out with. As I got older, this all faded to the background, and at times I nearly forgot about it.
I've been in therapy on and off for nearly two decades now, and with my current therapist for about a decade of that.  Trauma recovery is not a linear thing. It's common for me to find myself talking about something that I haven't thought about for a long time, or that I haven't spoken about before, even after all this time. Which is kinda what happened recently. While I'm not sure that I had never revealed my Care Bears adventures to anyone, I'm pretty sure this may have been my first mention of it in over 10 years.
I felt silly and strange when I brought it up, yet my therapist assured me I was very much "normal." It goes beyond "normal" though; we reframed it as strength to be celebrated. I've always been a bit unconventional (to state it mildly), especially with my fandoms, so it didn't take much convincing when my therapist mentioned I might want to acquire a Care Bear for myself. And oh boy, acquire I did.
It hasn't been long since that conversation, and I've already obtained quite the collection, of not only stuffed bears but of all sorts of clothes and knickknacks. No doubt my collection will only continue to grow. I love it!
One day, as I was amassing this sweet merch, another idea hit me. For a while now I've been contemplating getting a tattoo of my childhood panda bear (which, bonus info for you 80s kids out there, it is 100% a cheap rip-off of Pammy the Panda from "Shirt Tales"). Lo and behold, this idea took on new life as I contemplated an epic mash-up. I did a doodle of what I was thinking, I went through the process and eventually found myself in the tattoo chair. The artist put her even-more-magical interpretation of my original design on my arm, and it is, as I type, in the healing stages.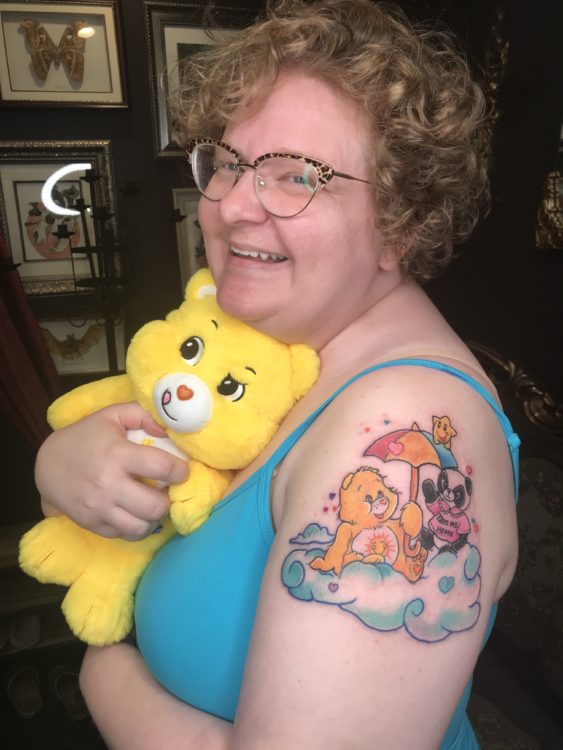 Tattoos are not an option for everyone, I get that. Yet for me, they are not only something I enjoy; they are helpful regarding my trauma healing. This ink serves me by being an important reminder, a celebration, and it also speaks to my bodily autonomy. I now have three and have plans for more tattoos that will occur sometime down the road. These too will serve a similar purpose.
I decided I wanted a tattoo of a Care Bear and my retro panda for a variety of reasons. The most simple of reasons being that the 80s rule! Beyond that, though, I wanted it as both a memento and acknowledgment of the strength I possessed as a child. Likewise, I wanted it as a reminder that with my friends in the clouds I felt safe, accepted and free from judgment. I also wanted to get this tattoo as a tribute to these creatures that provided me with fun, comfort and happiness. So, I rolled up my sleeve!
Before concluding, if ya'll will indulge me, I'm going to go on a quick tangent regarding some wild psychological stuff with all this. C-PTSD is known for causing the folks who experience it to be highly self-critical, to feel otherworldly and to cause shifts in our typical views of the world. I'm firmly in that boat, and despite a lot of inner work, these continue to be part of what I come up against. I've had a small lightbulb moment, and I think it's a good one to share.
The Care Bears are great, and so is the mind that figured out how to chill with them in horrible moments. Yes, someone else invented them, but my mind is what created the love and belonging I felt as I escaped with these fantastic bears. This is a powerful recognition, and it has the potential to be a big source of strength and compassion when my inner critic gets noisy. These are new thoughts for me, and I am so here for it!
We all have our quirky fandoms. If for some reason you don't, I highly recommend it. One of the things I love just happens to be the Care Bears, and I refuse to let anyone pass judgment over this. I know the story, how much it means, and I'm very happy I decided to put this art on my body. It is so much more than a radical 80s homage.
Are you are a fan of something in pop culture (or otherwise), which is a source of healing or strength regarding your journey? Share it with us! Has anyone judged your passions, or do you come up against these types of thoughts on your own? Share how you've overcome these negative reactions. Have you gotten a tattoo to help with your healing and/or to celebrate your nerdiness? Tell us about that too!
If you enjoyed this article, please take a moment to check out some of my other articles here on The Mighty. If you'd like to follow along with my journey, you can find me on Instagram as @mentalhealthyxe.