What Happens When the Surrogate Gets Postpartum Depression
---
Editor's Note
Sarah Toler is a Certified Nurse Midwife and health writer. This story has been published with permission from surrogate Karen Wixom.
If you experience suicidal thoughts, the following post could be potentially triggering. You can contact the Crisis Text Line by texting "START" to 741741.
The word "surrogate" literally means "substitute," but most gestational surrogates don't think of it that way.
"I considered it like the ultimate babysitting job," said Karen Wixom, a two-time surrogate and stay-at-home-mom in California. Karen has four biological children of her own, and enjoyed each uncomplicated pregnancy.
After her family was complete, Karen wanted to help a same-sex couple have biological children. She applied to be a surrogate.
Surrogacy is complicated in so many ways, for so many reasons.
Most women who choose to become gestational surrogates do so, like Karen, for altruistic reasons. In most states in the United States, surrogacy may be compensated. This additional layer means some women may also be attracted to the arrangement for its financial incentives.
In a country where parental leave is rare, part-time jobs hard to find and childcare difficult to afford, many women are pushed into a corner. Many look for ways to supplement the family's income while also being able to take care of their children. A woman who carries a surrogacy can be compensated around $50,000 per pregnancy — more than many people make in a year of working away from home full-time. This arrangement allows a woman to also work a 9-to-5 job or stay at home with her children and avoid childcare costs.
Karen didn't love being pregnant, but she was "good at it," she says.
She was attracted to the idea of helping create a family while also supporting her own. Her five previous full-term pregnancies, including one surrogate pregnancy, were flawless.
Her most recent surrogate pregnancy, however, bore a severe complication that forced her to "retire" from surrogacy: postpartum depression.
When Surrogacy Gets Even More Complicated
Ask a woman who experienced a difficult pregnancy or birth and she's likely to tell you there's no amount of money in the world that could convince her to carry someone else's baby for close to 40 weeks.
The reproductive labor of pregnancy and birth is difficult to commodify. Can you monetize a bladder injury, a tear stretching from vagina to anus or a hemorrhage leading to hysterectomy? Surrogates are informed these serious complications could occur, but they are rare, and most times they don't.
Yet, the most common complication of pregnancy is rarely discussed in preparation for surrogacy. "We never talked about postpartum mental illness," Karen said as she recalled months of pregnancy support groups and therapy sessions. Postpartum suicide related to postpartum depression is a major contributor to maternal death in the U.S., but Karen never thought she could get postpartum depression.
Estimates of postpartum depression vary from 15 to 20 percent of all new mothers. Postpartum mental health disorders (including postpartum anxiety and postpartum obsessive-compulsive disorder) can be triggered at any time within the first postpartum year. Women who choose to be surrogates generally adapt well to life after the pregnancy and don't experience postpartum depression at higher rates than the non-surrogate population.
Surrogate pregnancies are generally coordinated through surrogacy agencies unless the surrogacy arrangement is between friends or family. When working through an agency, candidates for surrogacy go through a stringent screening process, including mental health screening. Women who have previously experienced postpartum mental illness are immediately disqualified from surrogacy.
"I never had postpartum depression before, so it was weird to me," Karen said.
This was the third pregnancy she experienced with the dads and the surrogacy agency. Despite one first trimester miscarriage, the experiences were mostly pleasant and amicable. Karen was satisfied knowing she helped the dads become parents and loved getting updates on the baby she carried. Until she became depressed, surrogacy yielded her a sense of confidence and capability.
Support groups and therapy are generally offered to all surrogates throughout their pregnancies and as long as they are needed following birth. The act of growing and getting to know a child in-utero, then being separated from the child after their birth, can be traumatic. This trauma and its corresponding emotions are usually the focus of mental health services provided to surrogates by surrogacy agencies.
There are also other protections in place for surrogates. Intended parents are required to stash away a certain amount of money (usually $50,000 to $60,000) before the pregnancy is initiated so the surrogate will be compensated even if the parents walk away from the arrangement. Surrogates are also sometimes provided with a self-care fund of around $5,000 to improve their comfort during pregnancy.
What Causes Postpartum Depression After Surrogacy?
Karen wasn't saddened by the separation from the baby she "babysat" in her uterus for months. Instead, her depression developed when she began to feel discarded and exploited by the system that was supposed to protect her.
At six weeks postpartum, an umbilical hernia directly related to the pregnancy meant she needed expensive medical treatment, including surgery. The amount of paperwork and red tape required to access the healthcare she needed left her feeling defeated and unloved.
"I picked the agency I worked with because they had the best reputation of treating surrogates well," Karen said. "I was treated great when I was pregnant. There were self-care funds set aside so I could get massages or get my nails done. I felt taken care of."
Karen underwent hernia surgery and suddenly started feeling depressed while she was home recovering. Her husband pointed out she was acting out of character and asked her to talk to her doctor. When she did, she was diagnosed with postpartum depression and quickly prescribed an antidepressant that had little to no effect on her depression.
"It was stressful because I was about to lose the good insurance that the dads were paying for," she said. Without insurance, Karen attempted to pay the doctor in cash, but when the arrangement fell through, she went six weeks without treatment.
After obtaining a new and inferior insurance plan through the California marketplace, Karen was able to start receiving mental health services at the county hospital. Seven months later, she is still in treatment there and on antidepressants but hasn't seen much improvement.
"Even my psychiatrist I'm seeing now thinks it's unconscionable that I am not receiving high-quality mental health care. She thinks the dads and the agency should be providing me with better care but instead I'm left to work this out on my own."
Karen is currently not receiving therapy because her insurance through the county only covers group therapy, with which she has privacy concerns. She can still access a support group through the surrogacy agency, but chooses not to, because any involvement with the agency saddens her.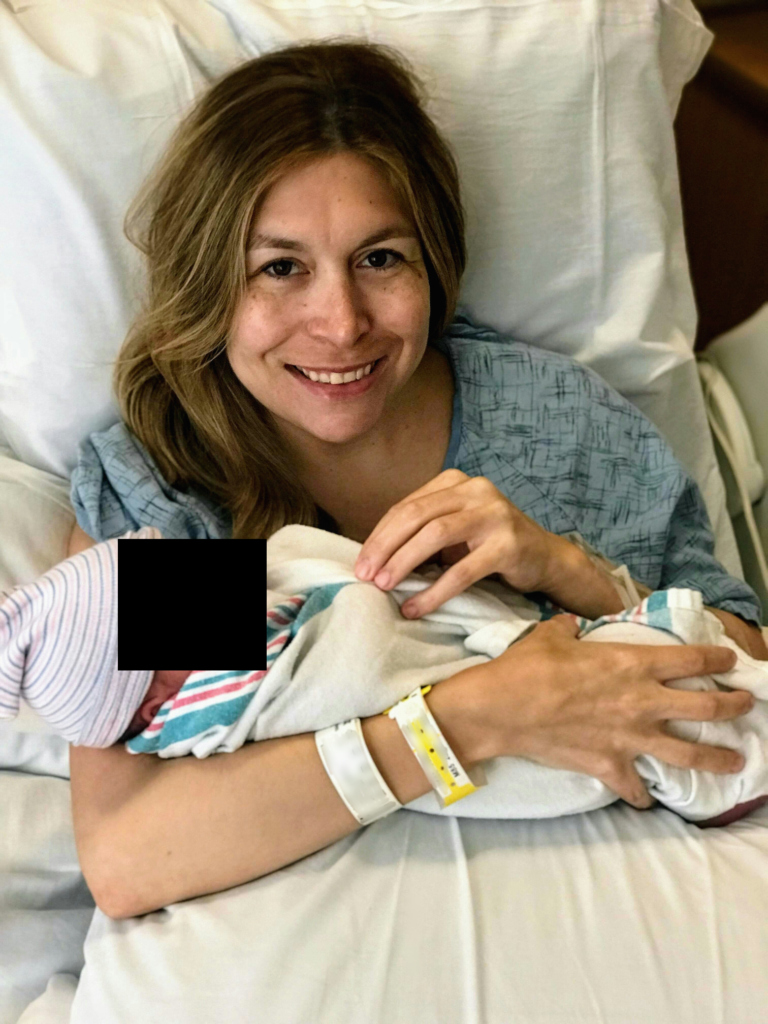 When Caring Goes Beyond Contractual Obligation
Should intended parents be held financially responsible for any postpartum complications that arise?
One function of the agency should be to thoroughly vet surrogates, and intended parents expect a finite ending to their financial responsibility after the birth of the baby.
"Intended parents won't pay for postpartum depression treatment that goes on beyond their contract, because there was no indication in the surrogate's medical history that this could happen," said surrogacy consultant and two-time surrogate, Sharon LaMothe. "This type of severe depression blindsides everyone: the surrogate, her family, the intended parents. Intended parents are going to ask why they didn't know this was a possibility in the first place."
Like any good legal contract, a surrogacy contract is designed to protect both parties. The intended parents want to protect their financial interests and the health of their future child.
The list of expectations of the surrogate is long and often restrictive, requiring the surrogate to avoid things like hair dye, chiropractic care, caffeine, essential oils, hot baths and hair spray. Some intended parents may even go as far as to demand a woman deliver the baby via cesarean section, an invasive abdominal surgery during which layers of skin, fat and muscle are all severed. It is worth noting there is little to no evidence that hot baths, essential oils, low doses of caffeine or anything else listed in these contracts could impact a pregnancy negatively. The contract also asks that the surrogate agrees to submit to any medical test requested by the intended parents, including amniocentesis, another physiologically invasive procedure.
In exchange for the loss of bodily autonomy during pregnancy, the contract should also protect the surrogate. This legal document informs the surrogate that death is a possible complication of pregnancy. It requires the intended parents provide a life insurance policy for the surrogate in case of such an event during pregnancy and for two months following birth. "That was added after a surrogate died from a postpartum complication," Karen told me, matter-of-factly.
In Karen's case, the contract specified the dads would cover a private health insurance plan for the duration of the pregnancy and the two months after the birth of the baby. "I called it rich people insurance," Karen laughed, adding, "It cost more than my mortgage." When she needed a hernia repair, the dads agreed to pay for an additional month of insurance, with the intention of canceling it once she recovered from surgery.
After the surgery, Karen's depression evolved into something serious. There was no contractual language specifically addressing what she was going through. While the contract did address postpartum needs, it identified the postpartum period to be within two months of the baby's birth.
Historically, the first six weeks after birth are called the "postpartum period" simply because this is the amount of time it takes the human uterus to return to its pre-pregnancy size and function. Yet, this time frame has no relevance to mental health. For this reason, most maternal mental health professionals refer to the entire year following pregnancy as the postpartum period.
The Cost of Postpartum Depression
Karen's postpartum depression continued to worsen far beyond the six-week mark.
It's true, she didn't have many risk factors for postpartum depression. She had no history of depression — the biggest risk factor — and no family history. But without intention, the agency and the dads crafted a risk factor that put Karen in danger. Lack of strong emotional support is strongly associated with postpartum depression.
"Surrogates may also need validation that can't be guaranteed in a contract," said Dr. Lauren Olvera, a Certified Nurse Midwife who works with surrogates. "Surrogates often rightfully find importance in what they are doing and expect intended parents to go on an emotional journey with them, while the intended parents use a much more business-oriented approach."
Dr. Olvera often pays special attention to how a surrogate is coping postpartum. "Surrogates have done this really emotional and life-changing thing, and I worry when they don't get their emotional needs fulfilled."
After the baby's birth, Karen spent a lot of time telling her therapist how she felt let down by the dads. "I didn't even get a thank-you note after the baby was born," she told me.
In an unfortunate miscommunication, Karen mistakenly believed her therapist was communicating with the agency about her postpartum depression. Yet, the agency only knew Karen was receiving therapy. Frustrated they were not receiving help from the agency, Karen's husband attempted to get their attention by posting a negative review on Facebook. It worked.
"He just wanted his wife back. He was angry. I told him not to post it," said Karen. The post has since been removed but within a matter of hours of posting his comments, the agency contacted Karen and her husband. The agency claimed they had no knowledge of her postpartum depression.
The agency's immediate response was one of concern. Karen felt validated.
The agency offered to pay for services like food delivery and housekeeping, going as far as to say the agency would be happy to financially match whatever contribution the intended parents made. Encouraged and hopeful, she made a wish list of services she thought might improve her mental health, along with their associated costs.
Karen was isolated in her house, sleeping all day and unable to care for her kids in the way she did before the hernia surgery. Depression also ate away her will to care for herself.
She drafted a list of services that would help her care for herself and her family and encourage her to get out of the house again. Karen's requests for weekly hair blowouts, food delivery, pedicures, massages and housekeeping came out to $3,950. "There was a $5,000 pregnancy pampering fund in the contract. I was just asking for something similar to that postpartum," Karen remarked, feeling her requests were reasonable.
The agency didn't gawk at her requests when she forwarded them the list. In fact, they rounded the number up to $5,000 and asked her to call the dads and explain the situation and her requests. "I called them and it was humiliating," she recalled. "I felt like I had to perform my depression. I was sobbing and embarrassed."
For a month, the agency and the dads engaged in conversation while Karen waited, believing the help was going to come through. Ultimately, the dads and their attorney decided they would only honor their previous contractual obligations and provide no additional support.
The dads cited that her medical needs were covered by insurance (a free marketplace policy) and stated they were not required to pay for any other services. Suddenly, the agency changed its tune as well, encouraging Karen to get therapy and medication and shaming her for asking for further financial support.
"These things I was asking for were to make me feel more human, like someone cared about me," Karen recalled. "I gave them two beautiful baby boys."
She never heard from the dads about her depression after the final communication declining her wish list. Soon after they refused any further financial support, they sent her a Mother's Day card with photos of the two boys she'd carried in her body.
"I can't even look at photos of the new baby," she said.
Moving Forward on Her Own
While she hasn't contemplated suicide, Karen says her depression is absolutely overwhelming.
"In other cultures, moms get pampering and better postpartum care which leads to less postpartum depression, but here in America, nobody cares," she said, sounding defeated. Many depressed moms give in to this defeat.
Suicide, although completely preventable, is the second leading cause of death in postpartum women. Around 700 women die each year as a result of pregnancy, and 7% of these deaths can be attributed to mental illnesses like postpartum depression.
Current statistics on the number of women acting as gestational surrogates are hard to come by, but the most recent reliable study reported about 31,000 surrogate pregnancies between 1999 and 2013.
If the national average of 15% of these women experienced postpartum depression, 4,650 women will have been depressed during that time. If each of these women's contracts were like Karen's, they don't provide additional postpartum support. When these women are asked to rely on the health insurance they can afford, it is likely many have untreated postpartum depression.
Karen says even if her depression didn't disqualify her from future surrogacy, she wouldn't do it again. She's still proud of the gifts she's given the dads. She just wishes she knew more about the potential of postpartum depression and thought to protect herself financially.
Her mission now is to advocate for women who choose surrogacy. She believes surrogates need more support and better education on how to incorporate postpartum needs into their contracts.
"I know the dads could afford to pay for the things on my wish list," she told me, her voice shaking. "It hurts a lot and I feel really betrayed. I gave them four years of my life."
One of the hardest emotional barriers for Karen to overcome is this disparity between how she was treated "like a queen" while pregnant and then seemingly discarded after the birth of the baby. "Once your uterus is retired, they want you to go away," she said, angrily.
She worries about how her kids will remember this time in her family's life. "My kids are too young to understand. They just look at me and ask why the baby broke me."