The Suicidal Thoughts Scale You Didn't Know You Needed
---
Editor's Note
If you experience suicidal thoughts, the following post could be potentially triggering. You can contact the Crisis Text Line by texting "START" to 741741.
Fifteen years ago I was sitting in a therapist's office, and I was afraid to tell her how I was really doing. She persisted, and over the session, I was able to tell her I was having suicidal thoughts. I didn't know what this would mean. I was afraid a "white van" would show up and take me away, or that she would get angry or not believe me. None of those things happened.
She remained calm and asked me to tell her more. She asked me lots of questions and did a lot of listening. In the end, we were both able to realize I was feeling really bad, that I would be OK with it if I stopped existing, but I didn't have a plan to make it happen. That yes, what I was feeling was serious, that we needed to keep this on our radar, but it didn't constitute a full-blown emergency.
To be honest, this was a revelation to me. I thought you could either be suicidal or not suicidal — I didn't know there was more in-between. By the end of the session, I agreed to tell her when I was having suicidal thoughts, and she agreed that she would take me seriously but not overreact, and to ask a lot of questions. This felt good, and I felt safe.
I have major depressive disorder (MDD), and experience symptoms of post-traumatic stress disorder (PTSD) and anxiety. If you crack open the diagnostic manual you'll find that each mental illness has a list of symptoms, which may indicate to a doctor that you meet the criteria for a diagnosis. For MDD and many others, you'll find "thoughts of death and suicide" listed among the symptoms.
It's a symptom, and a common one at that! And I think we need to do everything we can to make suicidal thoughts easier to talk about, because talking saves lives.
Since that first conversation, I started keeping note of the varying levels I've gotten to. It took a fair amount of time for me to realize all the places suicidal feelings can go, but over time I started having some pretty good insight. Then a few years ago, I made this scale.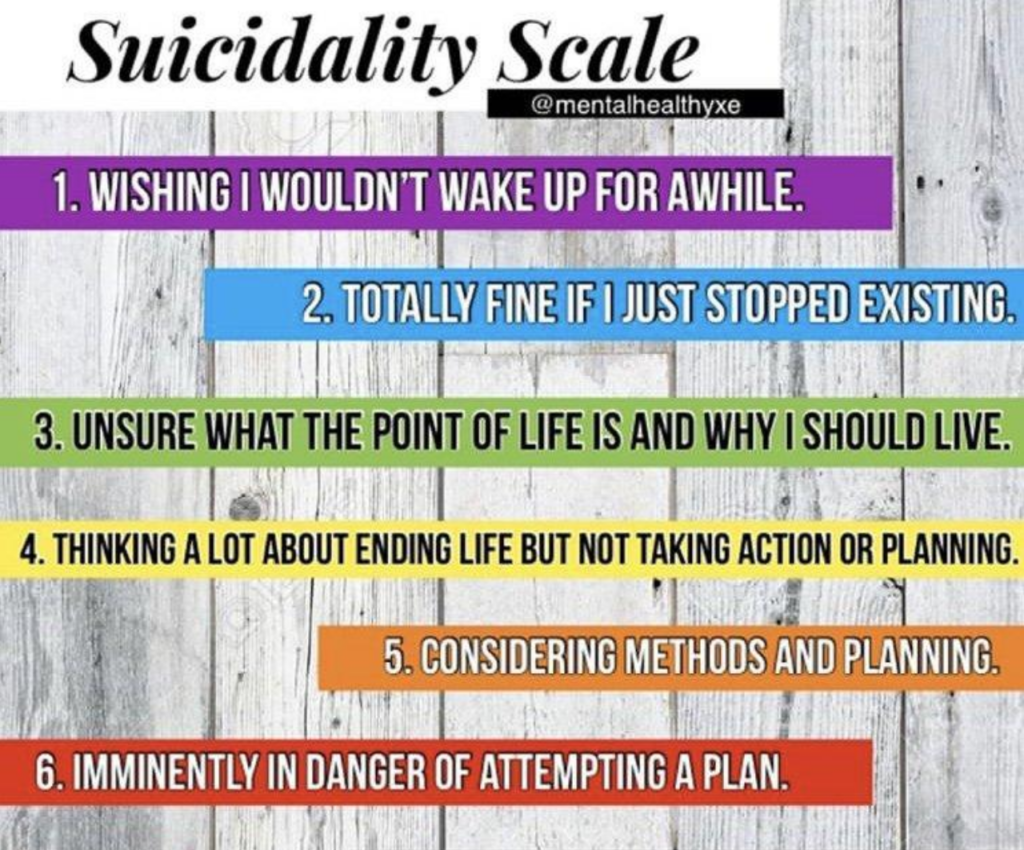 It reads:
1. Wishing I wouldn't wake up for a while.
2. Totally fine if I just stopped existing.
3. Unsure what the point of life is and why I should live.
4. Thinking a lot about ending my life but not taking action or planning.
5. Considering methods and planning.
6. Imminently in danger of attempting a plan.
I made this graphic because as I mentioned above, this can be hard to talk about, not to mention find the right words. Being able to say "I'm orange," or  "I'm a four today," is perhaps a little bit easier.
It can also help our supports to know what level of assistance we need. It might be a great way to safety-plan. For example: When I'm a three, I need weekly appointments. When I'm red, I need to go to the hospital. Or, whatever is right for you.
It's also important to know that each person is different, and each point on this list may mean distinct things to every individual. Personally, I can keep myself safe for a considerable amount of time anywhere within a one to four. For others, this may not be the case. There also may be some sub-points or different colors on your scale, and that's OK too. Individuals can use it the best way it suits, and it's an excellent discussion-starter in therapy.
I typically post this graphic on my social media once a year, along with my explanation. To tell the truth, it's always one of my most commented, liked and shared posts. I'm mentioning that not to boast, but with hopes of imparting to you just how common these feelings and thoughts truly are. It's also my hope it can help with what may be difficult conversations.
Does my scale make it easier for you to discuss feeling suicidal? Would it have helped in the past, or do you think you may use it in the future? Did you realize there might be different levels to feeling suicidal? Do you have some ideas what you might need for support on each point of the scale? Are you a therapist who will use this idea? Other thoughts or ideas? Please share!
If you enjoyed this article, please take a moment to check out some of my other articles here on The Mighty. If you'd like to follow along with my journey, you can find me on Instagram as @mentalhealthyxe.