15 Things Anxious Kids Did That Seemed 'Weird'
---
If you've lived with anxiety since childhood, you may have developed coping mechanisms that seem "weird" to you now.  You also may not have known why you acted the way you did or felt able to explain your behavior until you reached adulthood. We wanted to know what anxiety-related habits members of our Mighty community had as children, so we asked them to share the "weird" childhood things they did because they were anxious.
Here's what our community had to say:
1. Hiding From Others
"…I hid under the tables in preschool and would growl at the other kids if they got close to me." — Millie H.
"I would hide in a dark, quiet, confined space, like a cupboard or a cubbyhole." — Leah S.
"When I was little, I would always want to hide or make myself 'small.'" –Lauren S.
2. Creating Imaginary Worlds
"I had a very vivid fantasy life. I would 'live' there for hours to days." — Karen C.
3. Throwing Up for Seemingly "No Reason"
"Threw up before and on every field trip… I would get myself so worked up with anxiety that I'd puke before even getting on the bus." — Alyx L.
"I got stomach aches often and would try to make myself sick." — Denise T.
"I would get barfy [before] things that were fun, scary [or] different. –Vicky M.
4. Lashing Out at Others
"I used to lash out at everyone without any specific reason because I always used to feel like everyone hates me." — Adiba C.
5. Nail-Biting
"Biting my nails. Everyone always got on me [about] it being a bad habit, but I couldn't stop when I was overwhelmed or upset." — MK K.
"Bit my nails and cuticles until they [bled]. -Annora B.
"…Chewing on my nails [and] the skin of my fingertips." -Rene S.
"I picked my skin as a way of [releasing my] nervous energy.  Now as an adult, that's morphed into a dermatillomania diagnosis." — Kristen C.
"I've always picked my lips, even now as an adult." — Macey W.
"Picked my skin around my fingers." — Winnie B.
7. Hair-Pulling
"I pulled my hair out and still do." — Jane D.
"I used to pluck my eyelashes out." — Christina R.
8. Sticking to a Strict Routine
"I had to get up every day at the same time." — Sarah A.
9. Fidgeting
"My leg [would] start shaking uncontrollably. — Sammi S.
"[I would] tap my collarbones and palms [to] ground myself." — Marissa H.
"I was fidgety [and] easily startled." –Valerie S.
"Stuttering. It was like [a] verbal personification of the 'keyboard smash.'" -Tess E.
11. Being Afraid of Getting Sick
"I was afraid of food poisoning and vomiting, so I would 'inspect' all my food before I ate it." — Allie C.
"Scared of [being] sick and scared to be [around] anyone who was sick." –Sarah H.
12. Holding People's Earlobes
"I held people's earlobes. They were soft and warm and… they brought me comfort." — Aimee B.
13. Dissociating
"'Zoning out' in the middle of a conversation.  I now know it's called 'dissociation.'" — Karoline B.
"I would feel like I was in two places at once. [I would] not feel [like I was] in my body for a moment in time." — Pleshae M.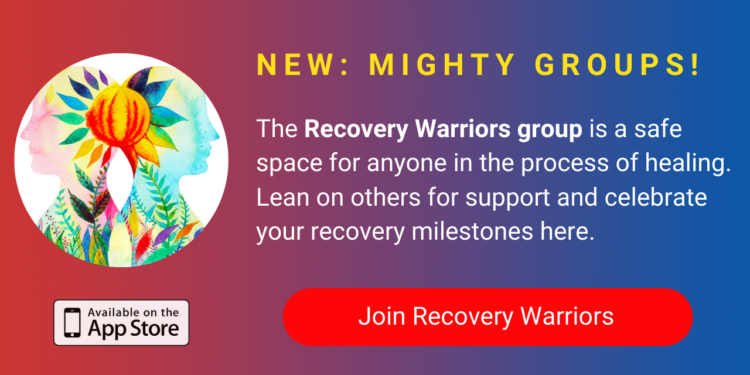 14. Talking Too Little or Too Much
"I would outright refuse to speak for days on end but 'word vomit…' to the first person who seemed kind enough to hear me." — Emily B.
15. Mimicking Other Kids
"I would never… play with other kids. I'd sit… three to four feet away and mimic their laughs, hoping to blend in." — Mary M.
If you had anxiety symptoms as a child, you might look back now and think that your coping mechanisms at the time were "weird." But if your anxiety caused you to do "weird" things in childhood, you aren't alone.
If you need support from people who understand, The Mighty community is here to help. To give and get support, post a Thought or Question on The Mighty with the hashtag #CheckInWithMe.
Can you relate?
Getty image via KeremYucel
Originally published: August 12, 2020