I Survived COVID-19 but I'm Still Experiencing 'COVID Brain'
---
Twas the week of Christmas and all through the house… who am I kidding, there's no way I can attempt something with a rhyming scheme right now! But it was an interesting thought. As I move into week nine of recovery, I'm growing more and more frustrated with my body and the lasting effects of the virus.
Despite my very best efforts to protect myself, COVID-19 invaded my home and family October 21. I was hospitalized for two weeks and came dangerously close to the ICU and the ventilator. I was on the high-flow oxygen, maxed out and my family was prepared for the worst. They were prepared that if I didn't show any improvement by the morning, those were my only options. I knew that for someone with my complex medical history, the chances of coming off the ventilator were not in my favor (understatement of the year) and fought with everything I had to come back. The doctors, nurses, techs and medical personnel were shocked with my recovery.
While I'm usually much more private about the details of my medical struggles, I chose to speak out from my hospital bed and use my battles to shine a light and educate about COVID. I used my story to dispel the myth that "it's just the flu" and spoke out to put a face on the number of people who were fighting for their lives.
My first post was shared by friends and family over 150 times. I did livestreams from my hospital bed, high-flow hose in place and answered questions. I've documented my recovery and truly thought that my video of my homecoming, still tethered to oxygen, would be one of the last posts.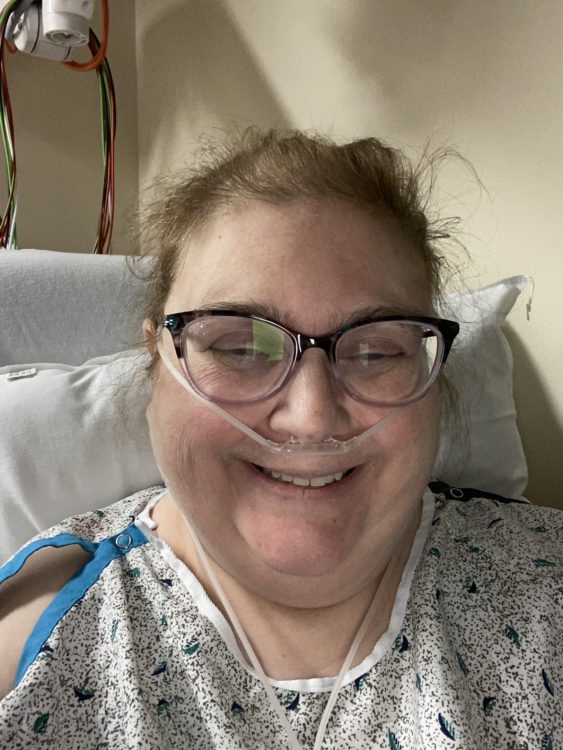 But it's now December 21 and I'm still recovering. I'm still not even close to baseline.
It still hurts to take a deep breath. No more oxygen, but I still get short of breath when I'm tired, or move a little too fast (and we're talking adagio here, music lovers) or wake up in the middle of the night or just because.
It's a horrible feeling and terrifying at the same time and sends me right back to that hospital bed and those beeping alarms and watching the numbers to make sure I wasn't going to have to go to the ICU. I still check my pulse oxygen every day. I do know I will never take the simple act of breathing in and out for granted again.
The heart racing out of control is particularly fun. We're talking off to the races, just ran a 5K heart rate and I'm just sitting on the couch. This is a common post-COVID symptom found in "long-haulers," but of course, with me, there's always got to be some sort of complication.
I have a condition called inappropriate sinus tachycardia, where for an unknown reason my heart beats too fast. My cardiologist believes it's related to the autonomic dysfunction that's also causing a host of other problems (basically a part of the brain that tells your body to do certain things — in mine it's telling my heart to go too fast, my stomach to go too slow, my temperature to go up and down for no reason and my balance to be all wobbly to put it in the simplest terms).
So now we're trying to figure out if the heart racing is related to the inappropriate sinus tachycardia since we had to stop the medication that was controlling it when I was in the hospital because my blood pressure was bottoming out, or if this is post-COVID related, since this is a very common symptom. Fun, isn't this? It's like a new detective series — what's causing Amanda to feel so crappy today?
The fatigue. It sucks. Big time. That's a whole other post.
Then there's COVID brain. I never thought I'd miss lupus/fibro fog. When I talk to my team of doctors about what I'm experiencing, their response has been unanimous; they hear the same from so many patients post-COVID. That's reassuring yet doesn't change what I'm experiencing.
The best way I can explain is that I feel like my head is no longer attached to my body. It's sort of floating above like some sort of cartoon balloon. Everything is a little out of phase. Something is just off. While I've struggled with mental math since the last major neurological episode a few years ago, even holding a few numbers in my head and simple addition is beyond me. While I've struggled with word recall as a result of the lupus and fibromyalgia for years, this is on a whole other level. We joke that in our house "charades" is just another way to communicate. I find I start a sentence then lose the important word I need — "Please bring me the ____" and gestures and synonyms and words around the word are used.
I know that cognitive decline is common post-40 but this is chronic and debilitating and frankly embarrassing. And it's frustrating. Extremely frustrating. Mine has gotten so bad that I find it easier to not talk to people and have just been isolating myself more because the effort of having a conversation, even with my doctors, is exhausting.
For some reason, I find it easier to communicate by writing, but I still struggle to find the words and it's taken an hour just to get to this point. I've always been a writer and words came easy to me. This is beyond frustrating.
Most days I just sit on my couch watching Lifetime and Hallmark Christmas movies because that's about all of the plot line I can handle right now. I've always loved reading and can't get past the third chapter of the newest book in my favorite series. I surf Facebook and Instagram. Things that don't require me to really think too much, too deeply.
I find that my brain wanders off into space — almost stuck. I can't get it unstuck and I don't know what happened. My emotions are harder to control than ever. My impulse control is gone. I've worked so hard to lose some weight and get my A1c down to pre-diabetic numbers. I've changed my entire diet to a specialized program built for me by a nutritionist to help with the gastroparesis and diabetes.
Yet, as if in a trance, I find myself shoveling cookies into my mouth and having little thought as to how they got there. I test my sugar and seem to have little care if the numbers are out of range. There's a disconnect that is so not me. There's an indifference that's never been there and I don't understand it.
I'm really trying and I'm begging my doctors for answers and help, but the only answers are that it will take time to heal. No one really understands COVID-19 yet and so much more research needs to be done. They are still studying how to fight it to keep people alive. Dealing with people who have survived is a long way off. And studying people like me, with complex medical problems, will be most likely years away.
For now, I'm trying to connect via social media with other survivors and understand, as best as I can, that I need time to heal. And be grateful that while I'm broken, I'm still here to celebrate the holidays with my family.
Originally published: December 21, 2020