The Rage of Watching Everyone I Know End Quarantine as Someone With Chronic Illness
---
It is not breaking news that everyone is dealing with complex, often negative emotions throughout the COVID-19 pandemic. I've seen countless people on my social media feeds stating they're dealing with mental health issues, often for the first time. It is, simply put, an unprecedented time that is causing anxiety, fear and anger for many of us.
I was prepared to experience that. I knew staying home for an open-ended amount of time without the relief of leaving for anything, save time outside in the safety of my own yard, was going to take a toll. I knew having the two people I live with home full-time was going to be an adjustment and there would inevitably be friction when we were all sick of being home and with each other.
Unfortunately, I also knew there would be people in the world who would disregard shelter in place orders. I expected to see them in trending topics on Twitter, ridiculed on NextDoor, and shared on Facebook. I did not expect to see them when watching stories on Instagram from people I personally know.
Maybe that was naive. But from the very beginning of quarantine, there have been people maintaining as much of their social lives as possible. Crawfish boils. Extended family and friend days on the lake. Watch parties for the virtual NFL Draft. These posts must have struck a chord with other people too because many of the offenders were quick to follow-up with, "It's just five of us!" or, "It's just my family!" as if that was going to magically prevent coronavirus from reaching them or being spread to others.
So, I started to get a little angry. It wasn't many people, but it was still frustrating beyond words to see anyone being so brazen. I talked with several friends. We were all angry at the people not fully quarantining; I knew my feelings were reciprocated. But there was another layer my friends couldn't understand first-hand.
Watching people you know risk the health of others as a chronically ill person is another type of anger. These are people that see my posts about my health. They have liked them. Commented. Messaged me. To see them so boldly and selfishly think they are immune to the effects of COVID-19 because it probably won't be more than a cold for them, if they show symptoms at all, was infuriating.
But that was about two months ago at the start of quarantine, and a lot has happened since then. I got used to being perpetually disappointed and angry every day over actions I had no control over. It's not a healthy response. But these people's actions are reaching far beyond themselves, so it's the response I had. States started reopening. I wasn't happy about it from a health perspective, but I understood. Maybe with some leeway people would get the breaks they needed and maintain social distancing?
Then Memorial Day weekend came and went, and that is absolutely not what happened. I saw hordes of people marching into stores sans masks while waiting in my car for a pickup order. I passed packed restaurants while driving home. I saw no less than 50 people take beach vacations to crowded areas. I saw the picture making the rounds on social media of the enormous crowds in the pools at the Ozarks and recognized that people I knew were posting similar scenes from their holiday weekend vacation.
I saw almost everyone I know return to business as usual because they didn't want to put up with quarantining anymore. I felt my anger grow into rage: at these people, their choices, the situation we are all in, and my own personal limitations. I'm empathetic to a fault, but this sensation was more than just taking on the pain and rage everyone at greater risk from COVID-19 must be feeling.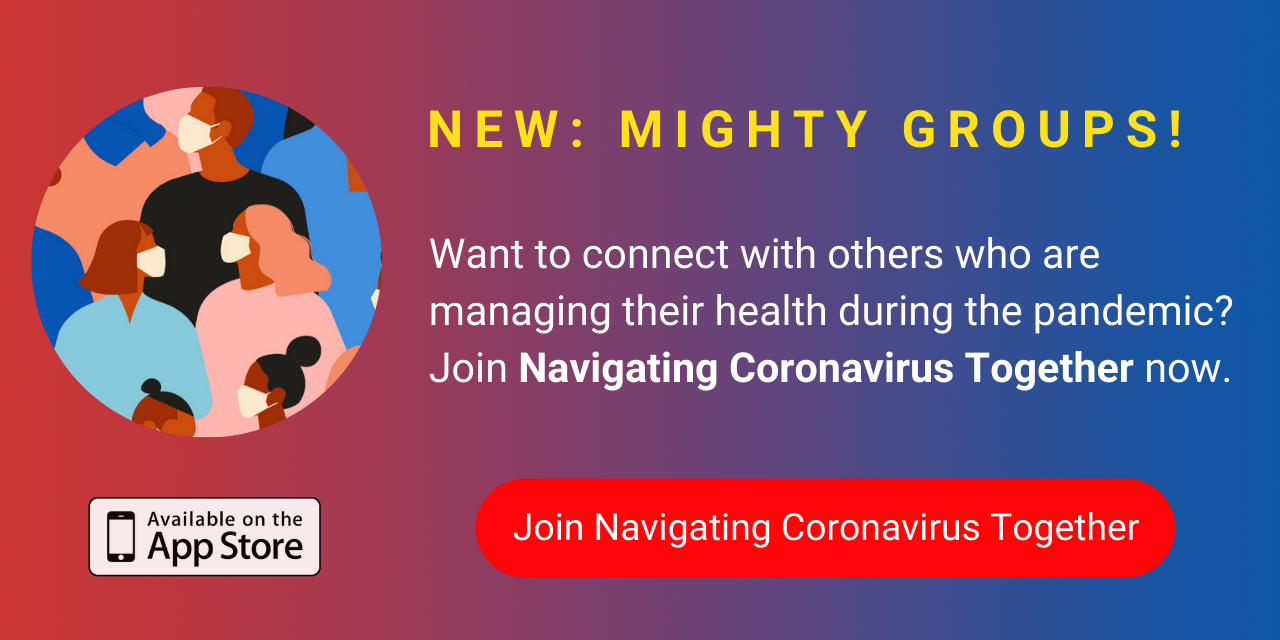 So, I did what I always do, for better or worse: I turned it inward. Why was this affecting me so negatively? How was it different than other people's frustrations? Why couldn't I let it go?
I finally got my answer after a restless night of soul-searching. I'm painfully jealous.
I'm not jealous that people made what I consider to be harmful and selfish decisions to end their quarantine and go about their lives. I'm jealous they had a "normal" life to rush back to.
I'm jealous they had plans for a fun three-day weekend. I'm jealous they are able to run errands or be out socially whenever they decide they want to. I'm jealous their health is such a non-issue that their lives have not been seriously impacted by a global pandemic, save for the mental strain quarantining may have brought on.
I was prepared to experience that mental strain and other surges of emotions because I've been living it for years now. When my life was upended by chronic illness nearly four years ago, I had just moved to a new city where I knew no one. I did not start a new job because I was unable to function highly enough daily to continue working. The only person I had contact with was my husband and he was working 10-hour days. I was mostly alone, newly ill and entirely unprepared. And thus began the loneliest, most isolating stretch of my life.
It has been four years of the same. I am not as isolated and lonely as I once was, but my day-to-day functionality has not changed. This is not a woe is me moment. I point that out because I promise I know the mental anguish that isolation, loss of routine, and fear over health causes. And many others managing chronic illnesses know it very well too.
So, I understood exactly what the world was facing when quarantine began. I called family and friends. I jokingly prepped them for what life was like inside, by yourself. I shared extensive ideas for safe activities and must-watch lists. And for a moment we were all in it together.
Until we weren't. Until it was too hard or too boring. Until it was deemed safe, but everyone forgot to keep their distance if it meant more sacrifice.
My rage presses on. The world lived the life the chronic illness community has been living and they lasted barely two months. They complained. Some protested. Some refused. They acted as if they had a choice because they've never had their choice taken away.
And my rage grows. It felt like every time someone I knew broke quarantine, they told me with their actions they didn't care or respect me enough to do something uncomfortable. When I watched everyone totally abandon social distancing over a holiday, I felt they were saying, "Your health and well-being might matter to me, but not as much as my boredom and need for a vacation."
And my rage is out of control. Because that's what anyone not social distancing is doing; they are saying, "The at-risk, the ill and elderly, are not worth it to me anymore." And it feels utterly terrible to be in those categories and watch the world say this to you. It feels even worse to watch it come from your friends or family.
I don't have a moral to the story that will tie-up my thoughts perfectly. I needed to get this all out for catharsis, for myself. My only refuge is that I know I am not alone in my rage, as I have not been alone in struggling with chronic illness, and I take comfort in that fact.
For more on the coronavirus, check out the following stories from our community:
Getty image by Ivanko_Brnjakovic