Therapists on Social Media Is Great, but It's Not Therapy
---
I've written before about my concerns with the mental health impacts of social media in general and with specific trends in particular, like "reality shifting" on TikTok. But one that is a delicate double-edged sword is the burgeoning presence of therapists on social media. Many have great things to say and are doing profoundly important work in not only destigmatizing therapy, but also providing somewhere for those who cannot access therapy for whatever reasons a place to go to feel supported.
• What is PTSD?
I confess to following a number of therapists' podcasts, YouTube channels, and social media profiles, and gleaning positive insights from them. But, I comprehend what they offer isn't therapy per se and that there are potential ethical boundary violations that come with serious liability issues for therapists offering specific advice in their posts. The content created by these therapists should always come with a disclaimer stating their posts do not constitute therapeutic advice nor should they be a replacement for individual therapy. The thing is… they don't always, and that should scare all of us.
This is particularly concerning in a world where people are learning terminology used to diagnose or treat actual mental health conditions and co-opting these terms to speak colloquially about concepts that are not in fact the same things. Take this meme for example: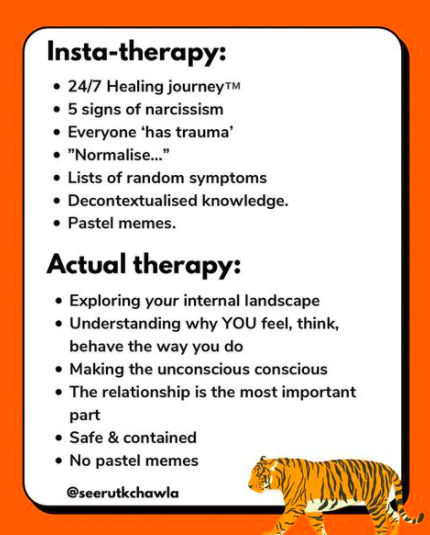 This perfectly sums up the pervasiveness of the problem.
Narcissistic personality disorder is not "narcissism" and cannot be diagnosed by anyone but a mental health professional who is actually treating a patient. There are plenty of people who behave selfishly, have inflated egos and might even exhibit complete disregard for anyone but themselves. But we cannot assume they are "narcissists" in the true definition of the word.
"Trauma" or post-truamatic stress disorder (PTSD) is not code for "bad things that happen," but rather a response some people have to things that occur that may be life-threatening. And not everyone who experiences the same event will be "traumatized" or develop PTSD. Again, this is a diagnosis that a mental health professional needs to make based on very strict criteria of presenting symptoms.
"Codependency" is a very specific dysfunctional relationship where there is excessive reliability on the other individual or the relationship to feel safe or avoid being abandoned. It's not just getting your needs met — which is something all human beings require and is a normal, healthy part of a mutually beneficial relationship. Codependency often evolves out of trauma, like growing up with an alcoholic parent, and is extremely complex and nuanced.
"Healing" isn't the same thing as "personal growth" or "self-care." It generally refers to the process of working through traumatic experiences that have resulted in mental health conditions like PTSD, or recovering from something like substance abuse, self-harm, or an eating disorder. These processes involve tremendous time, energy, and the careful guidance of a trauma therapist or treatment center with very rigorously managed protocols.
Being "happy" all the time is unrealistic and isn't even the goal of therapy. Learning how to cope in a healthy way and ride the waves of unexpected occurrences in life without becoming emotionally dysregulated is the goal. Insisting on always being positive is toxic and can be abusive. Some things suck and the appropriate feeling is to be sad, grieve, be angry, or be frustrated. All of these feelings are instructive and "normal" which is a word I shudder to say because it is a loaded one in and of itself.
And while I've had a therapist (ex-therapist) who constantly yapped at me about "feeling my feelings," the reality is sometimes we all need a break. That's why healthy distractions can be incredibly useful. None of us could have survived the uncertainty of this never-ending COVID-19 pandemic without figuring out how to escape our constant worry, fear, and hypervigilance — Thank you "Ted Lasso" and "Schitt's Creek."
Let me be clear… everyone's journey in life is unique and for each of us, therapy and what we need out of therapy looks different. The only people who can assess what kinds of treatment modalities you need are you and your therapist. Generalizations like these that take mental health tropes and hijack them to be used in normative terms have the danger of encouraging comparative suffering, delegitimizing actual mental health conditions, perpetuating stigmatizing labels about certain conditions. and normalizing victim blaming.
Language matters now, perhaps more than ever, in this age of misinformation. Using therapy lingo to describe "life" is dangerous and promotes misinformation. It also delegitimizes the field of mental health as a necessary and integral part of our health care system, and today perhaps more than ever the majority of us are recognizing mental health is no laughing matter.
Originally published: March 12, 2022