I'm Still Processing the Grief of Losing My Hair During Chemo
---
When I heard the word "cancer," I didn't expect some of my first thoughts to be, whatever happens, I can't do chemotherapy, because that means getting sick every day.
I have been climbing an uphill battle with a specific phobia of vomiting and choking since seventh grade. When I heard that word — cancer — the only thing I could imagine was the picture the media paints of someone going through chemotherapy, sprawled on the floor, constantly sick, turning to every possible remedy for nausea in order to get through the day without vomiting. You would think there would be so many other things running through my mind with such a terrible diagnosis and prognosis, but at that point I was in fight-or-flight survival mode, and one threat to my survival is my fear that no matter how far I progress, in my career, social life, or mentally, I can be knocked down to barely being able to sustain myself with the slightest physical sensation.
I attempted to push away those emotions to think rationally and do the best I could to fight what was trying to kill me from the inside. The one emotion I was just not able to turn the volume down on was that anxiety. It wasn't even all anxiety, some of my generalized anxiety didn't seem that bad because my mind zoomed in and hyper-focused on just the potential for nausea and vomiting. Looking back to some of those initial thoughts about cancer, they were all about how I had to do everything in my power to not throw up. If I had to deal with all the other side effects of chemotherapy, I would be totally fine emotionally. Please just let me trade the nausea and vomiting for a million other symptoms and I would get through it; this included the loss of my precious hair.
I wouldn't call it acceptance at all because it was driven by fear, but the thought of losing my hair was so much better than the thought of getting sick every week. There was this sense of, this won't be easy, but it's what is going to happen. In preparation for the possibility of going through chemotherapy, I cut off a foot of my hair on Rosh Hashanah, the Jewish New Year, that I would eventually donate. This was not the first time I had donated hair — at this point, I added up to a total of 49 inches since 2006 — but the meaning behind this was much different.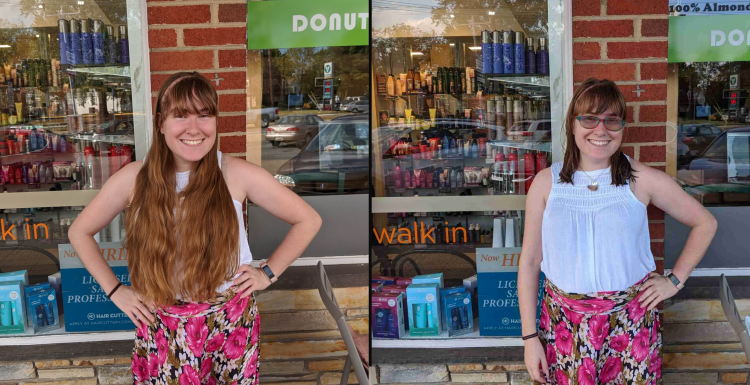 I enjoyed my shorter hair for about a month and a half before the chemo started to take that away from me. When the clumps started coming out, I debated whether to just keep it and learn to bear with each hair I saw detaching from my body, sitting on my pillowcase in the morning, clogging the drain in the shower, or if it was time to just get rid of it. In early November 2019, right before going out with a friend to a Broadway in Boston production, she came with me to support me while a stranger took off all my hair. I sat in the chair clinching my eyes shut refusing to watch this happen. I am glad, two years later, that she took photos during the process, but it took me a year to even want to see the pictures. I immediately put the hat on that we had brought with us and did not acknowledge anything else about the process.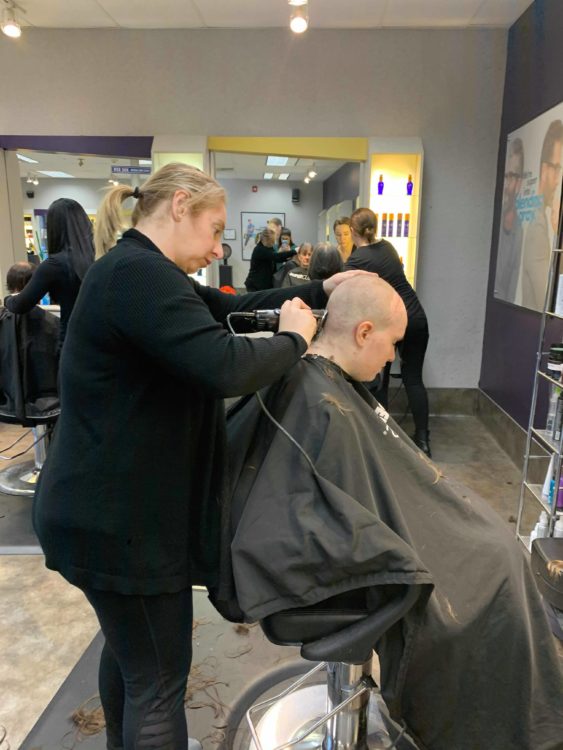 Remember how I said I was fine with any symptom but vomiting? Well it turns out, I was not. Prior to beginning treatments I told myself I would be OK with hair loss because of the intense anxiety I have surrounding my phobia, but in doing that, I didn't really allow myself space to process the bigger picture of what was going on for me, in my body and in my life. After shaving my hair off, it took me weeks to even try to look at myself in the mirror. I avoided all possible reflection sightings, from a window to a blank computer screen before turning it on. Even at the smallest glimpse at my uncovered head, I would quickly avert my eyes and try to talk myself down, telling myself that wasn't actually me. A few weeks post-shave, I finally was sitting in my therapist's office and she brought in a small standing mirror for me to take off my hat and just look at myself in a safe place where I could scream, cry, stare blankly, or do nothing, but any response would be OK. Prior to cancer, I struggled with eating disorders and body image and taking away the one feature I never really had any qualms with (besides the occasional wanting to be able to curl my stick straight hair that didn't hold any curl shapes) was heartbreaking. I didn't really give myself the opportunity to cry and mourn the loss of something so central to who I was because I told myself I can't be upset. I had told myself since the beginning that I would rather lose my hair than ever get sick and throw up, so how can I have the right to grieve losing my hair when I said that?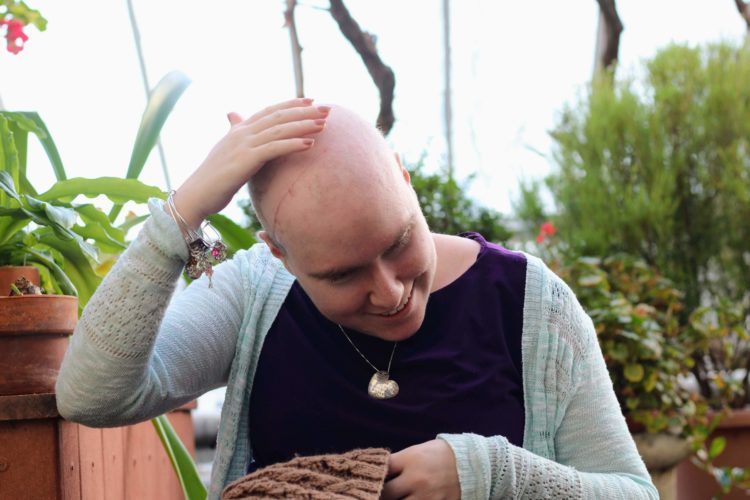 It was a slow process, but I began to be OK with not wearing a head covering in the privacy of my apartment and with certain friends. I could see myself in the mirror without freaking out, but I never got to full acceptance. I commend those who are able to embrace being bald, accessorizing with large hoop earrings and make up. I do believe bald is beautiful — but when I saw my own reflection, it just was the furthest thing I've ever felt from being beautiful. As I began stages of hair growth, I was able to find so much humor within my interactions with friends, one who coined my head of budding hairs "The FUZZ" (all caps is necessary because every time on video chat she would say it with that enthusiasm and that just made it a smidge easier for me).
No matter how many people tell me my hair is getting so long, it never feels like it is enough, but that is likely part of the grieving process I didn't fully let myself go through. Hair is one of the most visible symptoms of certain cancer treatments and seems to be a very clear delineation between "sick" and "healthy." But that's the thing — hair doesn't actually mean I or other survivors are healthy. As a metastatic patient there is always a threat the cancer will resurface and in general, for many, there are long-term physical and emotional effects of dealing with an illness such as cancer. For me, hair growth denotes how far I have come since the beginning of my diagnosis, but sometimes I worry it's a tease. I have a lurking fear of starting treatment again and wonder how long this good period will last. It is also a constant reminder of what I have been through and what the future might hold.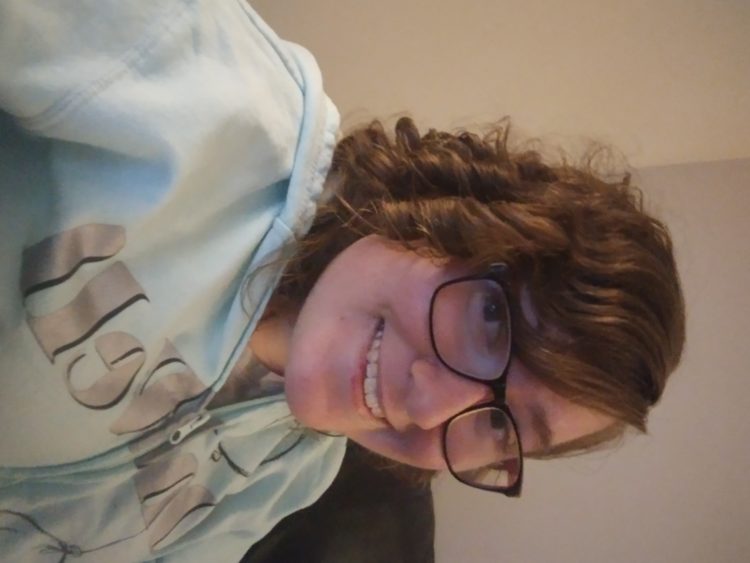 Something as simple as curly hair is a recurring reminder that things have changed. Chemo curls is a common effect when hair begins to grow back after chemotherapy treatments. I have days when I completely want to reject the idea that I have curly hair now. I have other days when I really try to embrace the curls and feel cute. I honestly don't know if I will ever be satisfied because the background story for how my hair looks today is the long-term trauma of a metastatic cancer diagnosis at 24 years old, and I am working on processing that grief and loss of a person I could have been before illness. But today, I try and remember the things I am grateful for, embrace the days I feel like my hair is perfect, and allow myself to have days when I really can't stand my hair.
Images provided by contributor
Originally published: January 11, 2022