Wondering When Things Will Improve After Experiencing Trauma
---
I wrote this piece in September 2019 and I am still not OK. I didn't submit any more pieces because I began to wonder if my stories were even helpful to "enough" people. Unfortunately, undoing the lifelong belief that my self-worth is equal to how productive I am is something I'm still working on. But I'm finally tackling my sexual trauma in therapy and recently another victim of my rapist reached out to me.
I thought perhaps this reflective piece I wrote last year might help other survivors—especially those whose mental health and access to treatment has been seriously hindered by this global pandemic.
——————————————————-
At four months into 25, I should be OK.
After all, it's not as if I had my whole life dissected by the entire nation because of some foul, biased rape trial. But I'm not. I am not OK.
I go over all the words I am now typing up silently in my head as I purge out the cheap delivery food I binged after watching Chanel Miller's short about her assault. I wonder how I could be such a pathetic, useless and idiotic disappointment. I can't even edit my baby brother's history paper because of one little trigger. Instead, I'm curled up into a ball in my dry bathtub typing this up on my phone, shedding tears and continuing to verbally abuse myself as I try to block out how much that night fucked me up.
It's been over three years. Like Chanel Miller, I was just a girl in her early 20s, a girl who just barely passed the legal drinking age. A girl who was only 21. But unlike her, I wasn't going to a frat party to join my little sister and a bunch of other people to celebrate the joys of youth.
No.
I was going out to try to find a reason to live after surviving two near-fatal suicide attempts that happened only a few months before. I was going out to try and force myself to interact with others and be like normal people around my age. But instead of finding romance, laughter or even throwaway compliments from a guy off Tinder just trying to get laid, I found a rapist, pain and post-traumatic stress disorder (PTSD). It turns out that trauma does indeed cause memory blackouts. But it's funny how only the periphery things become blurred while the most traumatic moments lie there, just waiting for a chance to strike and hurt you again. And it's funny how a little girl can grow up surviving a life full of memory blackouts and traumas, only to be destroyed by one night of sexual assault.
I mean, I didn't even pay any mind to my eating disorder before. Well, I did, but I never really went in and tried to analyze why my it developed — until I was raped. After my sexual assault, as the bingeing and purging episodes escalated, the locked box of trauma I buried deep within me as a small child, unlocked the box and gradually reappeared. The visual memories remained blacked out, for the most part, at least the specific memories of the sexual abuse and the face or faces of the perpetrator(s) did. Unfortunately, the sensory memories, on the other hand, became more vivid. Then at last, the years of bed-wetting and fear plus anxiety over any man who wasn't my father or grandfather made sense.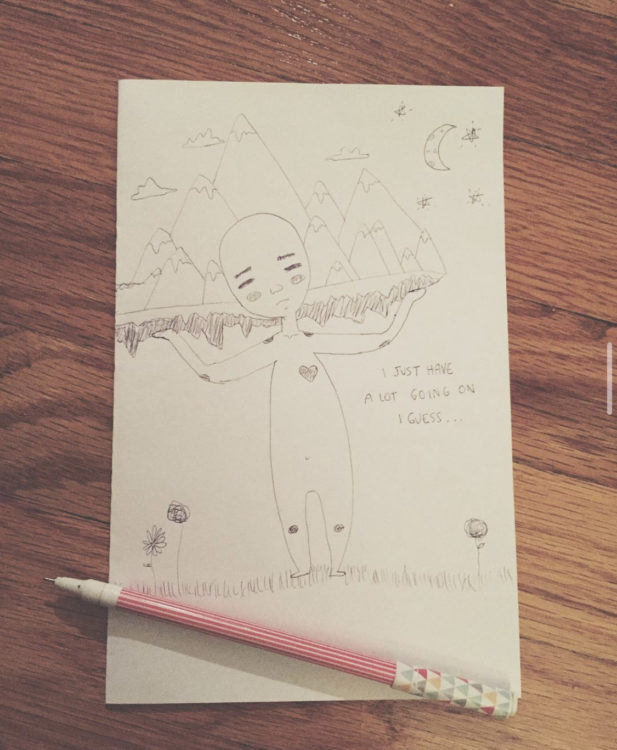 I had been violated and despite what I had previously believed, it wasn't the first time that something like this had happened. At first, I tried my best to erase the thoughts and memories that haunted me daily. It wasn't that hard; after all, I couldn't even admit that I had been raped to myself. I thought, "If I remain silent, it'll be OK." But as my friends pressed on, the lies I had tried to tell myself and everyone else quickly unraveled. I began to cry as I choked out the words, "I've been raped."
In the months that followed, everything in me that was once loosely held together, began to unravel too. My eating disorder and overall mental health worsened ten-fold. I was academically dismissed from my college. I began to act more recklessly as I made much more impulsive, irrational and out-of-character choices. And unknowingly, I began to push away the friends and community members I loved and cared about most. Despite living through the traumas I endured as a child and those that came later in my adulthood, I am not as strong as I had once believed myself to be because this one miserable night, just one night, is the one that seems to have destroyed me.
So here I am, curled in my tub, typing this all up on my phone as tears stream down my cheeks after being triggered by an animated survivor story. Four months into 25 and over four years after that night, I should be OK. I want to be OK. I tried to be OK. I worked so damn hard to be OK.
But here I am today, not OK. I am not OK. And as I type these words up, I think to myself, "Will I ever be OK?"
Header photo by Jay Mantri on Unsplash
Drawing via contributor
Originally published: August 23, 2020