Woman With Dystonia Writes Perfect Response to Disrespectful Restaurant Employee
---
Brittany Adler could have been angry when she was seemingly ignored at a restaurant in Miami, Fla. She could have caused a scene when an employee behind the register gave her a funny look and walked away from the counter instead of making an effort to understand her while she was placing her order. She could have flipped out because that same employee had just taken her friend's order but seemed disinterested in serving a person with a disability or finding someone who would. But instead, Adler remained calm, went somewhere else to eat and wrote a polite but powerfully-worded letter to the employee. Kindness and education kills negativity, she thinks.
Adler, 24, has dystonia, a neurological movement disorder that causes her muscles to involuntarily contract, affecting her speech. She told The Mighty in an email that she'd like to keep the restaurant's name out of the media because she doesn't see a benefit from throwing its employees under the bus. What she wants in the media is her response to the incident — because she thinks it can teach a lot of people an important lesson.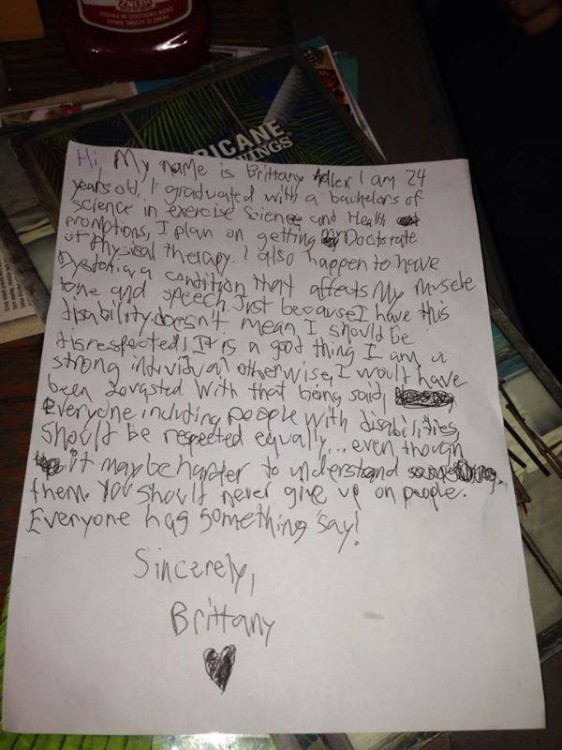 Her letter reads:
Hi, my name is Brittany Adler. I am 24 years old. I graduated with a Bachelors of Science in Exercise Science and Heath Science. I plan on getting my Doctorate of Physical Therapy. I also happen to have Dystonia, a condition that affects my muscle tone and speech. Just because I have this disability doesn't mean I should be disrespected. It is a good thing that I am a strong individual otherwise, I would have been devastated. With that being said, everyone, including people with disabilities, should be respected equally… even though it may be harder to understand them. You should never give up on people. Everyone has something to say! Sincerely, Brittany
Adler brought the note back to the original restaurant and watched as its employees took turns reading it. They were all apologetic, Adler said, and one manager tearfully approached her to talk about his own daughter who has a disability.
Carly Greenberg, who was with Adler when the first incident occurred, told The Mighty she's always revered her friend's patience.
"Brittany believes that if everyone is as patient with her as she is with them, they will understand her," Greenberg said.
"This is not disability awareness but human awareness," Adler told The Mighty. "Just like no two fingerprints are the same, no two individuals are the same. Each one of us is special and unique. We each have something to offer one another. If all of us were the same, the world would be a boring place."
Adler isn't letting the incident weigh her down. She's used to people staring at her and asking about her condition. She'd rather answer questions than let people make their own judgments. Today, she's busy preparing to attend D'Youville College in Buffalo, N.Y., this June to study physical therapy.
"Dream big. Never give up," she told The Mighty. "Don't judge. Accept all people. Be the best you can be. Inspire."
Check out Adler's Facebook page, "Brittany's Message."